Source:
https://www.halowaypoint.com/en-us/news/inside-infinite-september-2021
...more at link
BTB FOR YOU AND ME

​When crafting the next chapter of Halo multiplayer, no stone can go unturned – digital, physical, or otherwise. When we talked to the Multiplayer Team last month, we heard some of their initial thoughts on what they most wanted to accomplish when creating Halo Infinite's free-to-play multiplayer experience, from the Academy all the way to the Arena.

Now, with Big Team Battle on the menu for the upcoming Multiplayer Tech Preview, we wanted to take another opportunity to sit down with them to learn more about what's happened since our very first Tech Preview, along with some first sets of intel about what went into creating the next version of Big Team Battle. As we've discussed a few times before, Halo Infinite is going to be a live game. When creating the multiplayer experiences for Halo Infinite (maps, modes, Academy, Bots, etc.), how do you prepare for an evolving sandbox?

Tom French

: Every map and mode combination is really the sum of its parts all playing together in concert. Some of our systems like our Weapon Racks are purpose built to enable us to inject new toys into Quickplay and BTB maps quickly. Other areas like Ranked require more scrutiny which usually begins with our team talking passes on the level placements and then begins the process of discussion and debate over each one to make sure it's balanced into the environment. Even after we launch, we'll continue to learn and see what the community is and isn't excited about and continue to massage everything we do, refining and refreshing the game over time.

Andrew Witts:

The main problem we knew we had to solve was - how do we add new sandbox items to our gameplay experiences without creating friction among the player base? In previous Halo games, if you wanted to play the new content then you had to wait for a specific map to appear in the matchmaking queue or hope that it was not vetoed by other players in the lobby. We wanted to build systems that could receive new sandbox toys and populate across the game vs. just in certain maps. We invested so much into the Item Spawner system that players see with weapon racks, equipment pads, grenade pads, and vehicle pads so that we could push a new weapon, equipment, grenade or vehicle into the entire experience. That's not to say that we won't put all changes through their paces. We want to make sure we add new sandbox items in a way that generates positive gameplay experiences for our players.

David Ellis:

One of the things I learned from working on post-launch content for

Halo 4

and

5

was no matter how much you think you know how the community will react to a feature or mode, it's always critical to ensure you schedule out time to read and respond to that feedback. We're already talking about future opportunities to go after with

Halo Infinite

, but as with any live game the further you travel out on a content calendar the greater the flexibility you want to allow for the studio and the community to find the fun together as

Infinite

grows.

When approaching Halo Infinite's version of Big Team Battle, what were some of your most crucial design pillars? Andrew Witts:

The team created the pillars for Big Team Battle after a long meeting where we invited each MP team member to share their favorite moments from past BTB experiences. After doing that we bucketed all those experiences which ultimately became our design pillars:

•

Embrace the Spartan Battle Fantasy

– We want players to really feel like they are within a Spartan unit pushing through the battlefield and capturing objectives as a team. That's why we've invested in things like Pelican Drops, Commander mode VO, Weapon Pods falling from the sky to resupply the field and a few more dynamic elements – we wanted it to feel like an active battle inside the Halo universe. Additionally, we wanted maps to feel like they were a part of an iconic battle within the Halo universe.

• Empower Player Types to Thrive

– There are many different types of players in the Halo ecosystem. Some players are pilots, others are slayers or objective hunters, but we wanted all of them to work together in this BTB experience. Fernando has a fantastic phrase that sums up this pillar well:

Make sure everyone can feel like a hero in any match.

• Unleash the Halo Infinite Sandbox

– This pillar kind of speaks for itself. We felt like the "big" in BTB was not just the number of players in the match or the size of the maps but the number of options at players' disposal. All the toys are available in this space for maximum fun.


As you set out to evolve Big Team Battle, what aspects did you specifically see as areas to improve upon and make 'new

'?



Fernando Reyes Medina

: We are all really big fans of legacy BTB so we were careful not to mess with what isn't broken. We wanted a BTB experience that feels classic and modern at the same time. An opportunity I saw to improve Classic BTB was to make sure that the mode rules and balance consider the increased player count and the amazing new maps that level designers made for

Halo Infinite

. This allowed us to create an exciting pace throughout a BTB match, which, combined with the awesome new toys in our sandbox, makes the perfect stage so players can play out memorable moments with their friends.



Patrick Wren

: We took a similar philosophy in how we approached BTB as we did with Arena, but turned it up to 11. There is the core experience of spawning at your base, jumping into vehicles, and going out into the world, but we looked at how we could spice it up. Tanks for example, especially the Scorpion, are extremely powerful vehicles that would tend to dominate matches in previous Halo games. We looked at how we could make them an amazing moment in a match that really punctuates their power.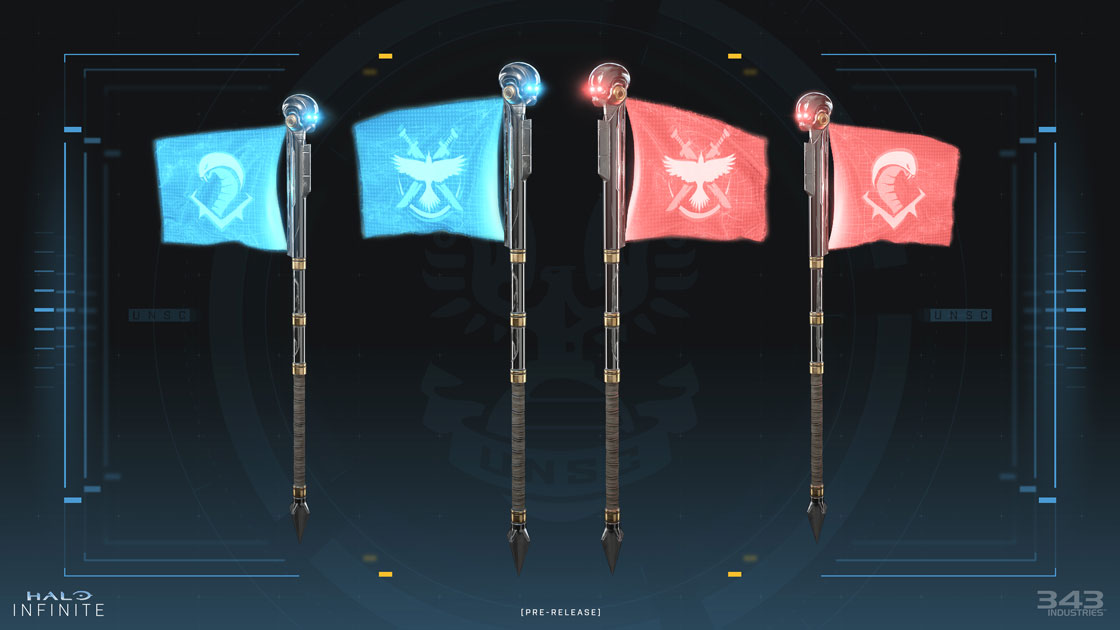 What types of new design challenges come with increasing the player count by 50%? And, how did the team attack these challenges?



Andrew Witts

: I think one of the biggest challenges has been around game mode pacing. What I mean by pacing is the feeling of escalation or urgency in a match. Ideally you want to start a match with excitement and over time that turns into increased tension so that at match end you feel fulfilled/jubilant as a player when the conclusion is reached, and one team is victorious. Pacing can be a big challenge when you increase the number of players. A lot of the stress of providing good pacing falls on the map and game modes and I think our teams have done a fantastic job working together to crack this puzzle.

TB isn't just more players – it also features some new modes and mechanics. Can you speak a bit about the gameplay experiences within BTB?



Fernando Reyes Medina

: We designed

Halo Infinite

BTB modes from the ground up to encourage teamwork and support different player archetypes. Whether you are an incredible sniper, a skillful warthog driver, or a stealthy flag runner, you can contribute meaningfully to the outcome of any match. Across both classic modes like CTF and Slayer and brand-new modes like Total Control, the BTB experiences should feel fresh and iconic at the same time.



Patrick Wren

: We wanted each mode to have a different life to it to help spotlight those different player types. BTB is a place we want as many different players as possible to come in and have a good time. We also wanted each match to feel fresh. That's why we invested so heavily in systems that changed up each match. In one map we even have some new ways for players to get a cache of power by interacting with the map a whole new way with their Personal AI.

What are the goals and design pillars for Academy?



Tom French

: With

Infinite

's multiplayer being free, the Academy was born out of the necessity support an evergreen place for new players join the fight and returning players to be able slide back into each season by having ways to warm up with the game and learn the new toys. This became the core driver for the Academy features.

•

Give players ways to learn about maps and systems without the fear of being shot in the face by players

– Players desires to play a multiplayer experience is often at odds with how good the community becomes at the game. Even dipping one's virtual toes into matchmaking brings a lot of anxieties to new players trying to get into the game once the game has been released. Academy gives multiple outlets for players to better prepare themselves and even fall back into if they need more practice.

•

Provide tools to learn core mechanics and provide pathways to mastery through crafted fun, replayable bite-sized experiences

– Learning often comes from repetition on a smaller problem set and this is a game, so learning needs to be fun to compel players to want to learn more. Short burst experience let players try things and try them again to see how they improve themselves in a specific area.

•

Give context for the MP Spartan within the greater Halo canon

– As we've mentioned before, this concept is part of our core pillars for

Infinite

MP, but the Academy, and more specifically the Tutorial, is where this journey begins. To the initiated, Spartans are cool, but what about new players? The question became, "how do we show everyone how cool Spartans are," and, in particular the player Spartan, are important in the larger Halo universe as well as Master Chief. On top of that, for fans of Halo it is intended to strengthen their love of their Spartan without interfering with the gameplay they already know and love.

"Training Mode" is an Academy offering that players will get to experience in the upcoming Multiplayer Tech Preview. What is it and how does it fit into the overall game experience?



David Ellis

: Training Mode started as 1v1 Bot experience for players to warm up with more items from the Halo sandbox on our maps. It grew from there to provide a larger literal sandbox where players can experiment with their loadouts and a variety of Bot/player options. Do you want to practice your sniper shots on Behemoth with unlimited ammo, zero risk of dying, and then swap to the Shock Rifle and add Bot teammates without reloading the map, playing in matchmaking or delving into Custom Games? You can do that with Training Mode.
PLAYER PROGRESSION

​

At launch,

Halo Infinite

will feature one primary progression path for players which is tied to a seasonal

Battle Pass

. The pass, which includes avenues for both premium and free unlocks, will offer a large array of cosmetic content (helmets, visors, armor coatings, etc.) along with a few "consumables" (XP boosts and challenge swaps) which are unlocked by earning XP via the completion of challenges (more on that below). Every tier of the pass will require the same, consistent amount of XP to unlock from beginning to end. So, regardless of whether you're working to unlock tier 2 or tier 52, each unlock across the 100-tier Pass will require the same amount of XP. As a reminder, your Battle Pass in

Halo Infinite

will not expire – players are always able to progress a pass from any season.

In addition to the primary Battle Pass for each season,

Halo Infinite

will also offer special limited-time event passes. These

free

special passes are only available during specified event periods and include a separate track with separate rewards that are often tied to the unique armor core for a given event. In general, an event will be available from one to multiple weeks, including weekends, offering players multiple opportunities to unlock available rewards. The marquee event, (though not the

only

event) for Season One is the "Fractures: Tenrai" event which is how players will obtain and adorn their "Yoroi" (Samurai) armor core. This event will be available for all players approximately one week per month during Season One, and the event will come and go throughout the season; available for players to make progress. Each time the Fracture returns, your progress will carry over, giving players multiple opportunities to unlock all 20 tiers of rewards on the event pass.

We have heard community feedback around wanting more progression options including things like "match XP" to feed into the Battle Pass and an entirely separate, incremental system along the lines of earning SR152 in

Halo 5: Guardians

. Expanding Multiplayer progression offerings is something the team is actively exploring, and we look forward to continuing to evolve the experience in future seasons post-launch.
WEEKLY CHALLENGES

​Weekly Challenges

are usually more directed and specific while offering more XP in return compared to Dailies. Each week, players will be randomly assigned approx. 20 weekly challenges (exact number not quite finalized for launch) out of a total pool of several hundred potential options. Within this group of 20, some challenges will be pulled from the 'easier' tier while others will be pulled from the 'harder' tier with the XP reward being commensurate to the difficulty and time investment required. We'll speak a bit more about these 'difficulty tiers' further below in the context of Challenge Swaps.

The specific Weekly Challenges a player gets are unique per player so while there may be some overlap, in general players won't all be chasing the same specific challenges at the same time. This means that it is extremely unlikely that everyone in the same match will need the same "Get X Kills with the S7 Sniper" challenge. However, the total amount of obtainable weekly challenge XP

is

the same for every player. By default, all players will have 3 active challenges at any given time but players who purchase a Battle Pass will be granted a 4th slot. Again, the total # of achievable challenges and total potential XP available is the same for ALL players but Pass owners will get one extra 'active' slot as a perk.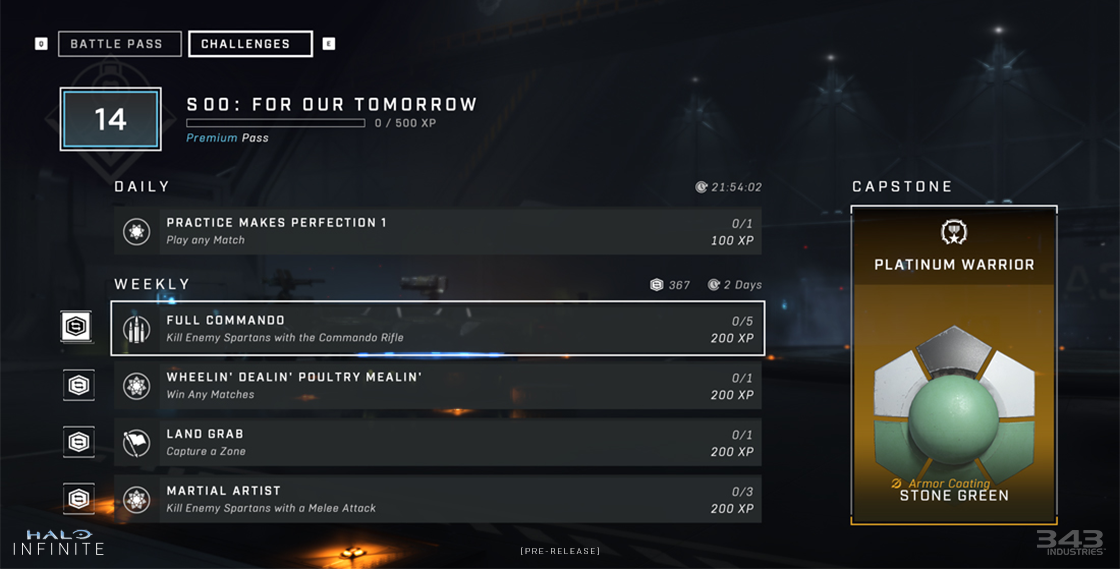 DAILY CHALLENGES

​

Daily Challenges are strictly engagement-focused and essentially serve as the persistent "XP drip" for the Pass. Daily Challenges come in three varieties starting with the "easy tier" and progressing into challenges that have slightly higher and more specific requirements. Initially, players will have a large pool of Daily Challenges along the lines of "play any multiplayer match" which awards XP for playing any MP mode that operates on a trusted server (i.e. Bot Arena, Arena, and BTB playlists). Once a player has completed all of their "Stage One" Daily Challenges, they'll move into "Stage Two" which includes a slew of dailies that now awards slightly more XP but requires playing

PvP matches

(i.e. Bot Arena no longer counts). And finally, once a player has exhausted all their "Stage Two" challenges for a given day, they move into "Stage Three" which awards slightly more XP for

winning

multiplayer matches.

Each day, a player's allotment of Daily Challenges will refresh and reset back to "Stage One" again and the cycle continues. At launch, we anticipate that on average, it should take a player 16 to 18 hours of playing, and eventually winning, before they run out of Daily Challenges. Of course, this is going to be an area the team monitors closely, and adjustments could be made if necessary. In the July Tech Preview it's worth noting we had some specific issues which led to some players getting stuck with no way to progress, but that has since been resolved.
XP BOOSTS

​

An XP Boost will award DOUBLE XP for any challenges (Weekly and/or Daily) completed while it is active. For now, an XP Boost is set to last 30 minutes, though we are still evaluating the final duration for launch. For launch, the XP Boost timer will count down in real time once activated – regardless of where you are or what you're doing in the game. Looking further ahead, this is an area we've received feedback on and are looking at ways to make this tied more closely to actual gameplay time. XP Boosts can be obtained via unlocks from a Pass, purchase from the store, or as part of a promotion or partnership.

Here are all the ways you'll be able to acquire customization content in

Halo Infinite

at launch:
Weekly Ultimate Rewards
Seasonal Battle Pass rewards (both free and premium tracks)
Fracture Events - i.e. the "Yoroi" / Samurai armor
Special or Seasonal Events - i.e. a special nameplate commemorating a real-world event, earning a Unicorn nameplate during a 343 Playdate, etc.
Partnership and promotional items - i.e. Mega Construx codes or Rockstar Energy Drinks
Skill Ranks – achieving a specific Skill ranking/tier for a season will award a unique cosmetic itemhttps://www.halowaypoint.com/en-us/news/inside-infinite-september-2021#_msocom_14
Xbox Game Pass Ultimate Perks
In- game store purchases
Halo Infinite Campaign - some unique Multiplayer cosmetics are rewarded for various accomplishments within the Campaign