SpongebobSquaredance
Unconfirmed Member
MC: 76/100
OC: 79/00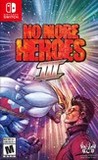 No More Heroes III for Switch game reviews & Metacritic score: Travis Touchdown returns to Santa Destroy after a ten-year absence. There he finds a huge artificial island metropolis floating in the sea, and a mysterious fly...
www.metacritic.com
No More Heroes 3 is rated 'Strong' after being reviewed by 119 critics, with an overall average score of 76. It's ranked in the top 33% of games and recommended by 65% of critics.
opencritic.com
To be honest, I've expected the game to be rated poorly (like Deadly Premonition 2), but as it turns out the ratings are in check with the predecessors and only slightly worse. I would've gotten it either way, but now I will get it very soon.
Attack of the Fanboy - 9/10
No More Heroes 3 is a fantastic sequel that fans deserve, delivering everything you've come to expect from the series and more.
The SixthAxis - 9/10
No More Heroes 3 shines with its fourth-wall-breaking self-awareness, zany characters and stunningly slick combat. It's not afraid to be what it is, Suda 51 and his team delivering a great instalment to the franchise that welcomes us to the Garden of Insanity.
TheEasyAllies - 9/10
Destructoid - 8.5/10
Even in this resplendent era of weird, as indie developers self-publish their outlandish concepts with pride, outside of Swery, no one does strange like Suda 51. Although this is likely the safest No More Heroes game to date, it's still incredibly memorable and fun to play, whether you're rushing to the end or taking in Santa Destroy and beyond. Go into No More Heroes 3 with an open mind and enjoy the ride.
NintendoLife - 8/10
No More Heroes III has the faults of both its mainline predecessors – it's a little more tedious than No More Heroes 2, and a little less meaningful than No More Heroes. It makes up for this, however, by being another inarguably impressive, balls-to-the-wall carnage-fest, a blood-spattered love letter to excess, and a Suda51 fan's wet dream splashed across the Switch. The story it tells is cool. The game it plays is cool. Neither of these crucial aspects reach the heights of the series' Nintendo Wii origins, but nobody who truly gets No More Heroes could reasonably be disappointed with this third incarnation. The joke's beginning to wear thin, but it's all in the telling. And Suda51 can still spin a very fine yarn.
NintendoWorldReport - 6.5/10
When No More Heroes III is good, it's really good, and I keep finding myself wishing other action games played like it from time to time. But when I really sit down and think about playing the game, it's tough to remember any particular moment outside of the boss fights because they all blended together; my strongest memories are those of frustration as I desperately struggled to push through the bullshit to get to the stuff that was actually fun. Even the game's style and technical performance are wildly inconsistent between the sublime combat and sterile overworld. It feels half-baked in the most literal sense, with one half being cooked to perfection, and the other half still cold from the freezer. I just can't shake the feeling that I'm the one doing something wrong, because I'm just not sure how a game can be so incredibly good, and yet so very bad.
Gamespot - 4/10
If you had a mandate for all of the things a No More Heroes game shouldn't be, "boring" would be near the top of the list, but this sequel frequently is just that. No More Heroes 3 lacks the irreverent charm and personality of its predecessors. Combat picks up the slack, and there's a degree of vivid style to be found there, but the game falters in so many other areas. After an 11-year wait, maybe No More Heroes 3 was always destined to fall short of our expectations. But to end without so much as a touchdown is a mighty disappointment.