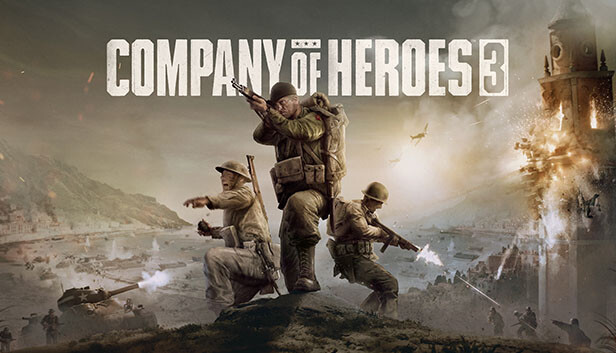 ​
---
Game Information

Game Title
: Company of Heroes 3
Platforms
:
Trailer
:
Developer
: Relic Entertainment
Publisher
: SEGA
---
Review Aggregator
:
OpenCritic - 81 average - 88% recommended - 18 reviews
Critic Reviews
---
CGMagazine
-
Ridge Harripersad
-
9 / 10
Coming back after over a ten-year hiatus, Company of Heroes 3 revitalized the World War II strategy genre with an enormous arsenal of playstyle focuses and choices.
---
Cultured Vultures
-
Jimmy Donnellan
-
8 / 10
Company of Heroes 3 doesn't nail absolutely everything and sometimes gets in its own way, but there's no denying just how good it is when firing on all cylinders.
---
Eurogamer
-
Chris Tapsell
-
Recommended
Navigating a tonal minefield with just enough confidence, Company of Heroes 3 is a big, refined, and beautifully textured addition to an already brilliant series.
---
GameWatcher
-
Bogdan Robert
-
8 / 10
Aware of its past yet looking towards the future, Company of Heroes 3 offers something for everyone. The dynamic map of Italy is a great experience, although it's slightly marred by passive AI, abilities that don't always work, small UI issues, and a gameplay loop that doesn't encourage the use of all available tools.
---
GamingTrend
-
Ron Burke
-
90 / 100
With fresh factions, two campaigns, significantly more options, and a refreshed skirmish mode, Company of Heroes 3 exceeds the impossibly-high bar set by its predecessor by a shockingly wide margin. It's a masterpiece.
---
God is a Geek
-
Mick Fraser
-
8.5 / 10
It's hardly an original setting or concept, but Company of Heroes 3 makes up for it with sheer charm and playability.
---
IGN
-
Jon Bolding
-
6 / 10
Company of Heroes 3's single-player campaigns remix the series' signature WW2 combat, but they wrap it up in a boring, buggy strategic map and a mismatched story.
---
IGN Italy
-
Stefano Castagnola
-
Italian
-
9 / 10
A very convincing return for one of Relic's more iconic series, that keeps the best features of the previous games while also bringing fresh new ideas that change the way players can play and enjoy Company of Heroes. Will it be the best strategy game of 2023? Only time will tell.
---
IGN Spain
-
David Oña
-
Spanish
-
8 / 10
Company of Heroes 3 lives up to the reputation of both its development studio and the franchise. An ambitious RTS that is not satisfied with following the line established by its predecessors and that arrives loaded with substantial novelties. A candy for fans of the genre and a must for fans of the saga.
---
PC Gamer
-
Fraser Brown
-
82 / 100
Company of Heroes 3 is a spectacular RTS that manages to shine even when the main campaign doesn't.
---
PCGamesN
-
Ian Boudreau
-
7 / 10
The classic RTS battles carry the third entry in this once-essential series, returning more or less untouched, but alongside a bloated and unfinished campaign mode that feels at odds with the core ideas of Company of Heroes.
---
Polygon
-
Mike Mahardy
-
Unscored
I'm a sucker for studios that don't play things safe. IO Interactive kept toying with the Hitman formula until the very end, Supergiant reinvents itself with every new release, and there's not a genre that Thunderful won't touch. With Company of Heroes 3, Relic could have easily taken the safe route — or, to put it in Sid Meier-speak, ignored the "completely new" and "improved" pillars of sequel design in favor of something familiar. Instead, it looked outward, recognized what made the best modern strategy games tick, and adopted those factors into its own formula. Company of Heroes 3 is a great sequel, yes. But it's also just an excellent game.
---
PowerUp!
-
Leo Stevenson
-
8 / 10
If you're a fan of the series or the genre, this one is a no-brainer.
---
Rock, Paper, Shotgun
-
Katharine Castle
-
Unscored
After ten years away, Company Of Heroes 3 returns with two stonkingly good single-player campaigns and a bevy of multiplayer options. Its enormous Italian operation could have more tension in the way you conquer the map, but its RTS battles remain as compelling as ever, and the sheer breadth and variety on offer here will please new and veteran players alike.
---
SECTOR.sk
-
Branislav Kohút
-
Slovak
-
8 / 10
Company of Heroes 3 can confidently stand alongside its predecessors in the series. It's a fun real-time strategy game, although not as revolutionary or distinctive as its older siblings. The gameplay is almost the same as it was in the previous games.
---
Saving Content
-
Scott Ellison II
-
4 / 5
If you like the idea of grand armies and large battle maps, but found Total War: Warhammer III not to your liking, then the less intimidating Company of Heroes 3 might be up your alley instead. Relic has really branched out with this one, and while Company of Heroes 3 takes some creative liberties in the World War II stories it tells, they have an energy and heart in place of historical accuracy. Relic adding tactical pausing to Company of Heroes 3 isn't blasphemous, it's brilliant; Relic adding a dynamic campaign is not foolish, it is fantastic. There's so much to love here, Company of Heroes 3 never stops giving for those who wanted more, and is a total victory for the real-time strategy genre.
---
Shacknews
-
Josh Broadwell
-
8 / 10
Company of Heroes 3 is a splendid and rewarding RTS game. Tense battles, brilliant map design, and streamlined unit management make it easily one of the best in the genre, with the Italian campaign acting as an exciting blueprint for the series' future. If Relic wants to use Company of Heroes to tell serious and significant stories, though, the team needs to commit to actually doing that beyond just giving them a surface treatment.
---
Tom's Hardware Italia
-
Giacomo Todeschini
-
Italian
-
9 / 10
Company of Heroes 3 is a triumph, the worthy sequel to one of the most appreciated sagas of real-time strategists, as well as a great gift to the community. Disruptive gameplay, enriched for the occasion by many appreciated new features and improvements of sorts, blends together with a spectacle on the visual level, giving us back warlike confrontations as never seen before. In short, Relic has definitely hit the mark and raised the qualitative bar once again.
Last edited: