Mar 21, 2013
9,497
23,651
1,540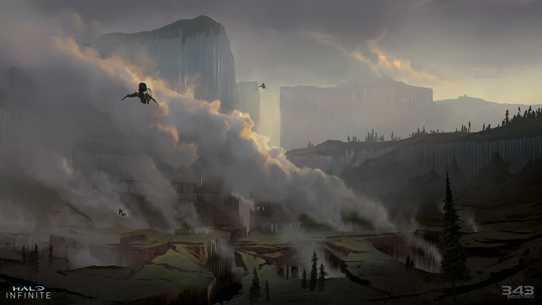 Welcome to our first Inside Infinite of 2021! In this month's update we're talking with the team about their vision, approach, and work on Halo Infinite's sandbox. We've also got a few "Tales from the Trenches" from across the development team and a story about a deadly dance from Creative...
www.halowaypoint.com
Too much to lift, so worth a read
"Inside Infinite" is a recurring series that will hit Halo Waypoint on approximately the last Thursday of every month. Our goal with these blogs is to provide insights into the game we are making from the people who are making it. These updates are intended to be fairly high-level and will lay a foundation that we'll continue to build on over the months leading up to launch.
This month we get things started by interviewing members of our Sandbox Team and next month we'll talk with some of the folks working to bring Zeta Halo to life followed by a chat with the Audio team in March."
It's great to have you all on board with us today! Now, it may sound like a fairly straight-forward question, but what is a game's "sandbox" and what are the Sandbox Team's responsibilities on a game like Halo Infinite?


QD:
The game's sandbox refers to all of the vehicles, equipment, weapons, and objects that the player will interact with. Essentially, all of the toys that the player gets to play with. The sandbox also includes all of the player systems and 'verbs' like jump, run, health values, shield recharge times, etc. The work involved with creating these are both equal parts fun and challenging due to the sheer size and expectations of a Halo game. The Sandbox Team's responsibility is to craft those toys and shepherd them through the complete development cycle from concept to polish and ultimately ship. We'll get into more of what we do and what our responsibilities are down below.
WE CREATE WEAPONS, VEHICLES, PLAYER MECHANICS, AND SYSTEMS THAT ARE INTUITIVE AND REWARD PLAYER MASTERY.
WE RESPECT HALO'S LEGACY BY PARTNERING WITH OUR PLAYERS WITH THE SAME HONESTY AND INTEGRITY WE USE TO CRAFT OUR GAMEPLAY.


As we look ahead to our launch this Fall, what is the Sandbox Team currently focused on? Can you speak briefly about the team's remaining work and priorities over the coming weeks and months?


QD:
Sandbox is super busy.
We have everyone fixing bugs on our launch content and some exciting efforts kicking off for future updates – like new vehicles, equipment, etc.
But we're pretty much playtesting a ton and looking for ways to polish and improve everything. All of our launch content is in-game and being played daily but
it takes a strong effort to get something from 90% to a full 100% ship quality
. So, we are pushing hard to squash bugs and tune our toys so they are in a good spot as we get closer and closer to launch (and public flighting before that). Additionally,
we are taking time to evaluate the visuals of certain sandbox items with the goal of ensuring everything is landing the way the art directors envisioned.
As a result, some sandbox items we've previously shown might be getting a facelift here and there by the time you see them again.
That's awesome! You mentioned the "Combat Doctrine," which I love. Would you be open to sharing that and explaining how it helps the team design and refine Halo Infinite's sandbox?


QD:
The Halo Combat Doctrine is a document that establishes core Halo gameplay philosophy. It outlines our principles of what must be true when playing in Halo's sandbox and specifically, the moment-to-moment combat.
The Dance
Tools of Engagement
Lone Wolf
Connected to Actions
Survivability
Vehicles are another core element of the Halo sandbox and in the campaign demo, we got to see the Master Chief jump in a Warthog and hit some sweet drifts and jumps. What role do vehicles play in Halo Infinite's sandbox for campaign and/or multiplayer?


QD:
Vehicles are very important to Halo. I'll always remember jumping in a Warthog for the first time playing co-op Halo: CE with my friend. It was the first time that I felt like a video game brought to life playing with action figures as a young boy. Vehicles, much like weapons, have an assortment of roles that we want to be represented. I'll let Brian speak to those as he's the vehicle lord.
Changing gears a little now, after the campaign demo last year we saw plenty of questions emerge about the weapons. The addition of the CQS48 Bulldog shotgun, which appeared at the end of the demo, garnered some attention because of its unique characteristics. Would you or someone on the team be able to speak to the Bulldog's role in Halo Infinite's sandbox?


QD:
The Bulldog is an exciting new shotgun weapon that is fast-firing and fast-loading. We have felt that the shotgun playstyle has been underrepresented in previous Halo titles, particularly in Multiplayer. We've found that there are a lot of players that want to be that "in-your-face CQC front-liner" but have never had a more readily available, less powerful, but still effective, shotgun that allowed them to play that role frequently across the multiplayer experience. That is essentially the player story genesis of how the Bulldog came to be.