Just after the last match of the Capcom Pro Tour Season Final Capcom announced Street Fighter 6 and Capcom Fighting Collection:
STREET FIGHTER 6
Street Fighter 6 has been shown in a short cinematic teaser with a redesigned Ryu and another guy who seems to be a redesigned Luke. It we look carefully at the shadow of Ryu's head projected in his chest there are some little glitches hinting that it may not be a CG but instead being an in-engine cinematic probably rendered on real time. Looking at the 3D model of lighting of Ryu's feet it seems to be an in-engine cinematic too instead of a CG.They''ll provide more info this summer (we can assume it would be just after the EVO finals), didn't reveal anything else like platforms, release date, game engine, etc:
https://www.streetfighter.com/6
Regarding platforms they didn't mentioned anything but at least as of now the trailer has only been uploaded to the Street Fighter youtube channel, not to the PlayStation, Xbox or Nintendo channels and there's no PlayStation blog post. So pretty likely will be multiplatform as mentioned in the mails leaked by thte ransomware hackers that sttole Capcom info.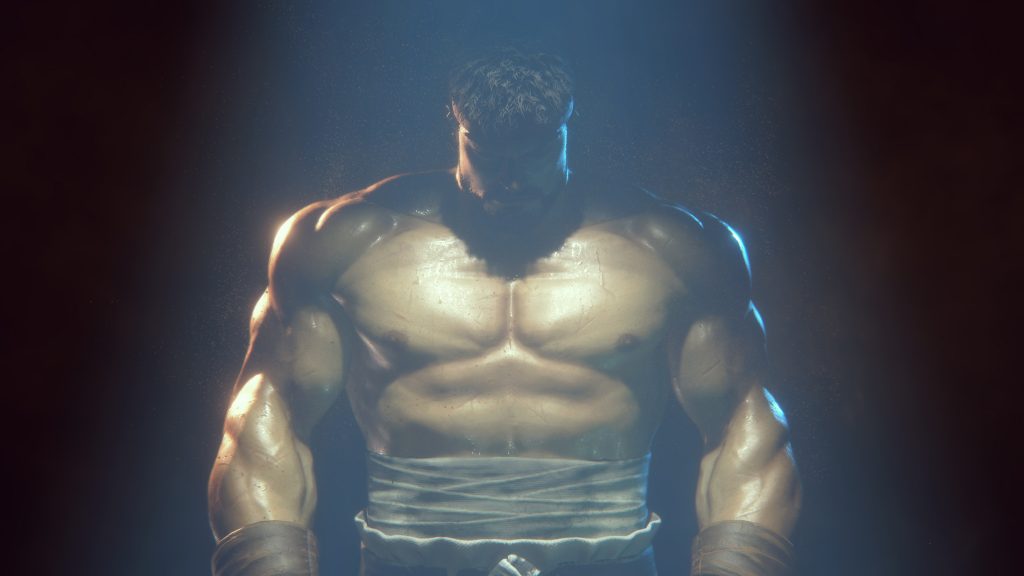 If we look carefully to the military dog tag it says 'Robert Sullivan' (Luke's father), so the character pretty likely is Luke:
Yusuke Hashimoto will be one of the game designers of the game:
Some of Yusuke Hashimoto's previous works:
Bayonetta 2 (director & character designer)
Bayonetta (producer)
Resident Evil 4 (lead designer)
Mega Man & Bass (character designer)
Street Fighter Alpha 3 (character artist)
Resident Evil 3, Devil May Cry, Resident Evil remake, Resident Evil 0, God Hand, Dino Crisis 3 (special fx artist)
Kazuhiro Tsushiya mentions in his Twitter bio that he's now in charge of Street Fighter and Mega Man franchises, so he replaces Ono as he one in charge of the SF series (remember that Ono wasn't director or producer of SFV, he was executive producer, guy in charge of the series and was also in charge of building the Capcom eSports division):
https://twitter.com/KazzDa
Some of Kazuhiro Tsushiya's previous works:
Teppen (Capcom brand supervisor)
Mega Man 11 (producer)
Mega Man Legacy Collection 2 (producer)
Capcom Arcade Cabinet (producer)
Super Smash Bros. 3DS+Ultimate (Capcom brand supervisor)
Project X Zone 2 (Capcom brand supervisor)
Asura's Wrath (producer)
Capcom Classics Collection: Reloaded (producer)
Super Puzzle Fighter II Turbo (programmer)
Mega Man 7 (programmer)
CAPCOM FIGHTING COLLECTION
Includes the arcade classics Darkstalkers, Night Warriors, Vampire Hunter 2, Vampire Savior, Vampire Savior 2, Hyper Street Fighter II, Super Gem Fighter, Super Puzzle Fighter II Turbo, Red Earth and Cyberbots
Coming 24 June 2022
PS4, Switch, XBO, PC
Ranked, casual and lobby online matches
Rollback netcode online play for all games
Over 500 gallery items (official art, concept art, design documents, over 400 BGM tracks)
EX settings
Training mode
Save mid-game
Fighting awards
Screen filters
https://www.capcom-games.com/cfc/en-uk/
Last edited: