Aug 27, 2019
4,966
11,687
970
Paper Mario: The Origami King once game minimizes role-playing elements, and once again, that doesn't serve the series very well.
venturebeat.com
Paper Mario: The Origami King
is not the return to the traditional roots of the series I was hoping for. Like other recent entries in the series, it de-emphasizes character-progression elements to provide a simplified role-playing-game experience. And yes, that means Mario doesn't earn experience points for battles and doesn't level up as a result of those fights
That comes down to the characters and the world. Everything everyone says is always so entertaining. One of the main concepts of the game is that the titular Origami King folded up toads and hid them around the environment. And it is a joy to discover them and then to see what they're going to say. Paper Mario has the best kind of eye-rolling wordplay, and I'm loving that.
Developer Intelligent Systems also nailed the exploration and discovery. The locales are detailed with a ton of style. And I love moving through these spaces and looking for secrets. As part of his evil plan, the Origami King wrapped up Peach's castle in giant paper streamers that unfurl out into the world. And it is awesome to see the blue streamer always hanging overhead and sort of drawing you along through the first area.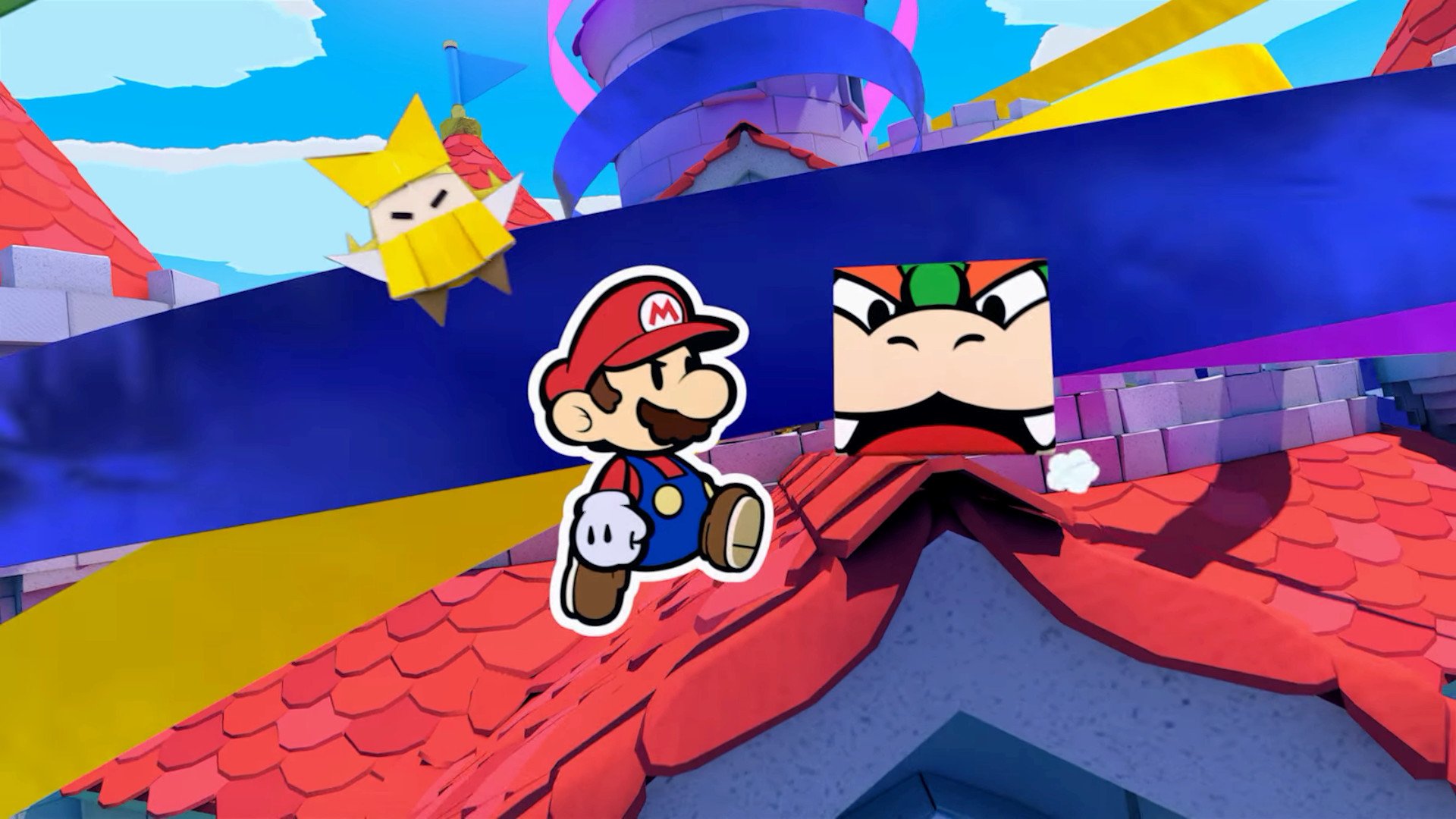 Hands-on reveals a game that's more adventure than role-play…

www.videogameschronicle.com
The comedic and visually delightful spin-off has its origins in Square's seminal Super Mario RPG, the Super
Nintendo
role-playing classic that took all the hallmarks of the Final Fantasy house – strategic turn-based battles and deep levelling stats – and applied them to one of gaming's most beloved cast of characters.
It's this combination of charm and depth that won over fans in Paper Mario's formative
N64
years, and reached its absolute peak in the knockout classic The Thousand Year Door on
Nintendo GameCube
.
But ever since – whether to appeal to a broader audience, or differentiate it from the competing Mario & Luigi RPGs – the Paper Mario series has increasingly distanced itself from its role-playing roots, ditching XP, levelling and other elements in favour of a more action-focused approach
Paper Mario: The Origami King is a fun, if not a bit too familiar, return to the Mushroom Kingdom.
www.ign.com
At this point, Nintendo and Intelligent Systems have the Paper Mario recipe down to a science: Start with a beloved cast of characters, mix in a new battle system, add a dash of RPG elements, blend together with a healthy dose of comedy for 30-odd hours, and you've got yourself a brand new Paper Mario. After seven hours with the latest installment of the 20-year-old franchise,
Paper Mario: The Origami King
seems to follow this recipe to a 'T'. The end result is a whimsical melange of what we've come to know and love about Paper Mario, although it does feel a bit predictable.
Predictability isn't necessarily a bad thing. Everyone wants a Paper Mario game to do a few things: tell a new story, let us play a Mario game from a different perspective, and elicit a few laughs along the way. The Origami King opens with Mario and Luigi en route to a festival at Princess Peach's Castle. Upon arrival, they learn that Peach and several other Mushroom Kingdom denizens have been folded into evil, origami likenesses by a tiny menace named King Olly. Mario befriends Olly's sister Olivia, a paper pixie with an almost Leslie Knope-esque energy, and the journey to restore the Mushroom Kingdom is underway.
Paper Mario: The Origami King is shaping up nicely and it's colourful cast, open world, and engaging battle system have me coming back every day for more. There is still much left to do before next week's launch but I am having a blast.
www.consolecreatures.com
As it stands,
Paper Mario: The Origami King
is shaping up to be a must-have for Nintendo fans. Everything you come to expect from a new
Super Mario
game is here: the humour, the colour, the characters, and the persistent charm we've all come to love over the last three decades. I've still got tons left to do before I finish but Nintendo is onto something with the
Origami King
and I'm having a hard time putting the game down. There is also a ton of things I'm not willing to talk about yet so stay tuned for more thoughts next week.
Last edited: