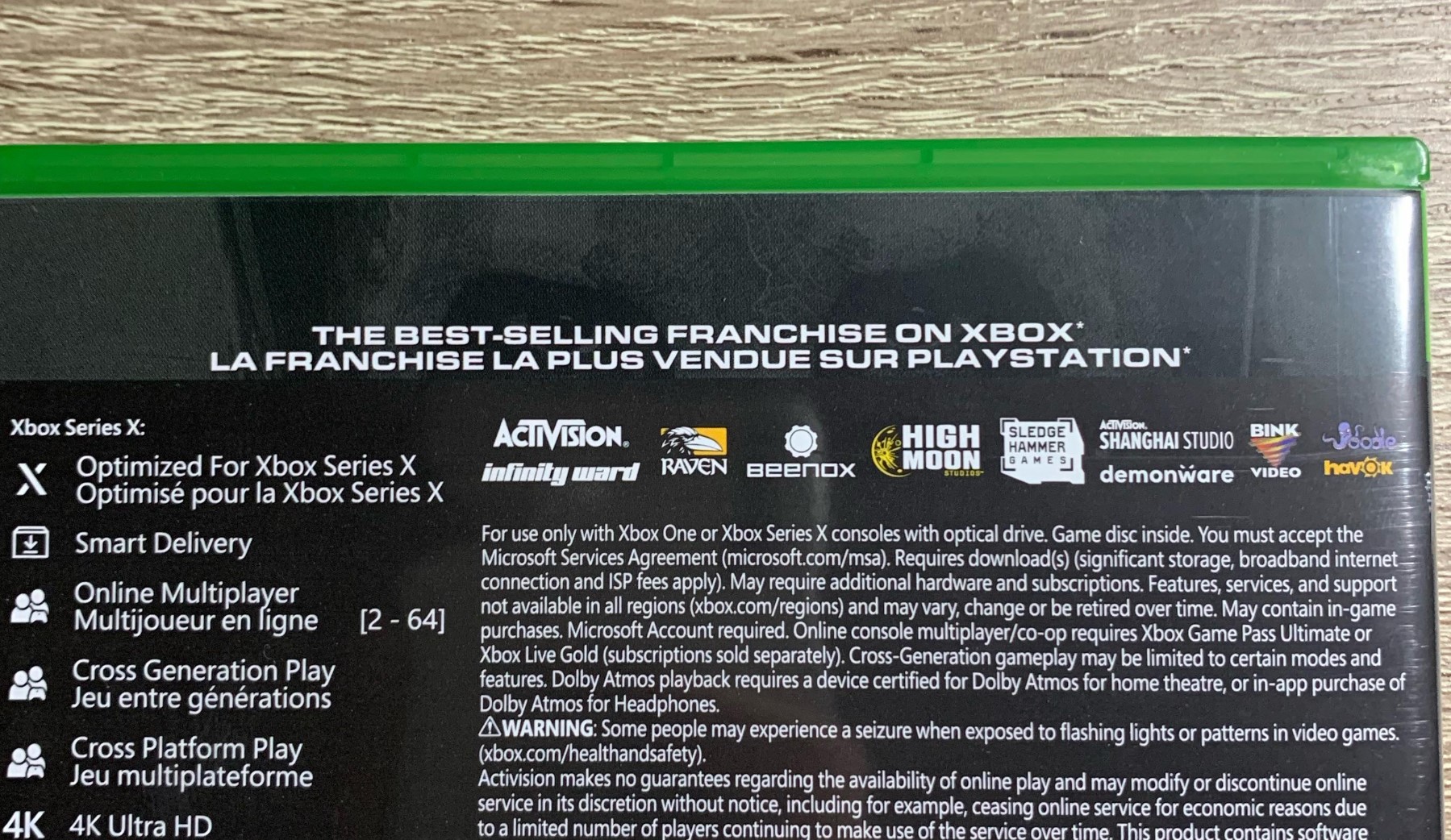 The back-of-the-box callout has seemingly been printed in error…

www.videogameschronicle.com
The back-of-the-box callout has seemingly been printed in error.
Canadians who purchased Call of Duty: Modern Warfare 2 for Xbox on Friday discovered that its physical box seemingly calls out PlayStation in error. Boxed copies of the Activision shooter boldly proclaim on the rear of their packaging that the Call of Duty series is "the best-selling franchise" on Xbox or PlayStation, depending on the format the copy is for.

However, in Canada – where packaging must display text in both English and French – Activision appears to have forgotten to translate this particular text, leading to the awkward call out for the console rival.

Assuming the error will be fixed in future print runs of Modern Warfare 2, these early copies could become something of a collector's item. Call of Duty is currently the subject of a war of words between Microsoft and Sony, as regulators around the world scrutinise the latter's proposed acquisition of Activision Blizzard. Despite repeated assurances from Xbox that the Call of Duty series, which is regularly the best-selling release of the year in the US, will remain on PlayStation, Sony has been engaged in an increasingly public war of words over the proposed deal, and told press that Microsoft's offer in regards to the future of CoD was "inadequate on many levels".

Regulators around the world are currently scrutinising the deal, with the UK's CMA voicing similar concerns that the deal could harm PlayStation and other game subscription services, should Microsoft make Activision Blizzard content exclusive to its platform. Microsoft said in response to the CMA's decision to expand its inquiry this week that it has "no intention to take Call of Duty away from gamers" and claimed that doing so would "tarnish both the Call of Duty and Xbox brands".

Sony and Activision have a long-standing Call of Duty marketing deal which in recent years has seen PlayStation owners receive a range of exclusive content including in-game bundles, exclusive game modes and early access to public tests.