thinks Halo Infinite is a new graphical benchmark
This was originally a 2005 game released on PC and Xbox than in 2021, this year, it was rereleased for Playstation 4, and Nintendo Switch (also playable on PS5, Xbox 360, Xbox One, and Xbox Series X)

Was happy to have played this game.
The formula in Republic Commando is very traditional, campaign spanning over 19 chapters, 4 main areas, and 9-10 hours.
Squad gameplay is the core of Republic Commando, you'll have fun moving squad mates around for cover, or grenade fire, planting explosives' and navigating through alien worlds.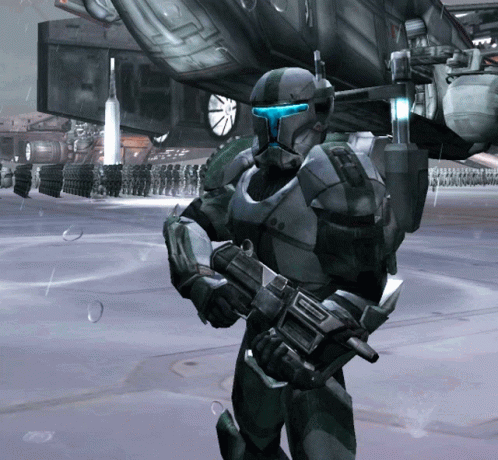 One of your squad mates. I think they could have developed the characters more but bottom line it's an FPS that leans heavily on gunplay not personality.
The enemies here are something gamers liked from Republic Commando.
Enemies like battle droids, trandoshans (alien reptiles) etc. facing a super battle droid in Republic Commando feels more of a threat than killing one in Battlefront and should be considered a success.
This is maybe my favorite Star Wars game, we hear all the time how great Knights of the Old Republic is but Republic Commando is unbelievable. I think it's a top 10 FPS up there with Halo and COD campaigns, the awe of discovering the Wookie homeworld was memorable, and there's a little bit of horror to killing all these enemies. I could see a brand new republic commando game down the road for EA and Star Wars.
58 but still one of the highest rated Star Wars game, the style of game won't get high review scores. It's one of the games where FPS experience comes in handy. You can add your touch of sniper fire cover, or rushing in. You can't beat this game without rushing and playing with speed. Being too patient will get you killed.
All these years later Republic Commando feels bigger and better than ever. It's simple corridor gameplay, trying to stay alive, always under pressure from battle droids, or aliens is something that makes it great.