thinks Halo Infinite is a new graphical benchmark
Assassin's Creed Odyssey is one of the best games of Ubisoft's lifetime and continues the historical theme from Assassin's Creed Origins and what this means is they went away from the original concept of Assassins Creed and instead introduced an historical open world franchise (I place Origins as my game of the year 2017) and it's now a game of the year contender and not your typically scheduled Assassins Creed game so it was decent than and sensational now.
The game is set up in Ancient Greece
Anywhere between 79-100 is considered successful.
I completed the game in 60 hours and still had a lot more side quests, main quests etc. to do
Although the game isn't traditional Assassins Creed it picks up early Alexios (Kassandra pictured above) are set out to avenge their family, defeat a cult and discover new lands.
The gameplay is so effortless, unbelievable. The game comes down to powering up your character, making it possible to beat bosses and sort of emerge as a champion, by 20-30 hours in you're loaded and the game starts to feel a whole lot easier and you can take advantage of sort of RPG-like elements that allow you to pound away at enemies.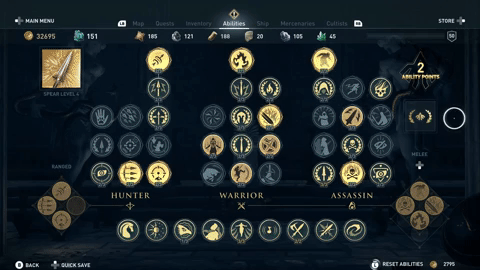 A little bit of RPG to it
You're going to get wiped out of playtime with this game, I don't know people's schedules enough but I'm not sure 1 hour to 2 hour game times fit this game, you're gonna want to put some heat on this game, and that takes 4 to 8 hours out of you. The game tries to take the focus out of you, overwhelm you and that can happen to you, it's a HUGE bombshell, distraction of a game, you're trying to recruit people to your ship, every location you're being distracted by mounting side quests that you love and feel for and this is ok because the more you invest in the game, the more the game becomes ok.
Game just feels right to me and I think it's better than an 83.