Jun 11, 2004
21,315
3,819
2,020
Here is a short writeup how to play Xenoblade 2 for the first time. I made this writeup because the tutorial in this game sucks and the learning curve is very steep and confusing.
First of all, there are two different battle combatants used.
Drivers
and
Blades
. Drivers are your main characters (etc Rex). And blades are your subweapons. Each driver can engage three blades in a battle. So for an active party you have three drivers and 9 blades at maximum capacity.
Each driver can equip two accessories and each blade can equip up to three aux cores (poppi can equip more). These are your "ring" slots. There are three different blade classes.
ATK
HLR
and
TNK
. I would go with a party of two ATK and one HLR. TNK isnt really needed.
Your driver also get pouch items which acts as temporary synergy for your battle skills.
In order to be successful in battle you should focus on the following things:
1.
Only engage rare (5 star) blades in battle. Never use common blades, they are only good for unlocking field skills.
Agate is a rare five star blade.
2.
Always use one dedicated driver for healing. In an active battle party of 3 you should always have one member (Nia) who uses three healing blades. Since the AI switches blades on random, that way you are always sure to get timely heals in battle.
3.
Always look to expand your affinity skill tree. The affinity skill tree is your main source of damage output.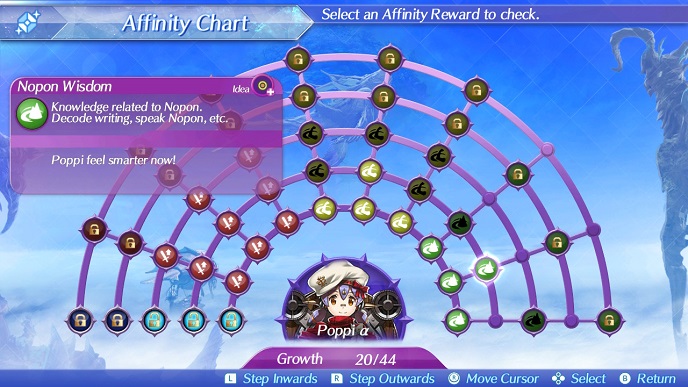 Affinity skill tree.
There is also affinity in battle. The more button prompts you do excellent on, the better the affinity between the driver and blade. At max affinity you see a yellow line (normal affinity is blue) starting to glow.

affinity is at max here, and you will get more speed and deal more damage
4.
When upgrading your blades weapon with weapon chips, always go for maximum auto-atk damage on your ATK blades since auto-atk scales with everything. On your healing blades, upgrade for 20% more healing arts.
5.
For your drivers acc slots, i would use one burst symbol on each driver. Burst symbols massively boosts chain attacks. On the other slots i would use crit symbol and crystal earrings. Crystal earrings boosts your party gauge and that is very important.
6.
For blade aux core slots, i would use the following on ATK blades:
-HP Attack Boost
-Max affinity attack boost
-Fast blade switch
-Outdoor attack boost
-Special lvl 2 and Special lvl 3 attack boost
-Telepathy (boost chance of blade combos)
-Fusion combo boost
On healing blades i would use following:
-Damage heal
-Art heal
-Knockdown resistance
-Movement heal
Aux cores, which are the blades (sub weapon) equipment slots.
7
. For making aux cores, you need to dig for materials. These digging spots are found everywhere in the world. Never sell these items. For finding aux cores and accessories, you get them by beating monsters. The higher lvl the monster is, the better the drops are.
8.
The party gauge has three block meters and have two important functions:
- you need one block to get revived. If you are out of blocks and your main character dies, it is game over (just like persona games)
-you need the full meter to do a chain attack. The chain attack can deal massive damage and are important vs bosses.
party gauge is full. Press start to initiate chain attack.
9.
Each driver can equip three active arts in battle. Which art you equip depends on what blade you are using. Check in the engage arts menu under character to see which ones you can use. Try and use arts that have attributes on them , etc break or topple. For healing you should also use the bitball class. It is the only weapon that can use healing arts.
the bitball weapon class
For ATK i recommend using aegis weapon class as primary since it Rex's only topple weapon.
10.
There are driver and blade combos. For drive combos there are four different ways to stun the enemy. It is:
- break --> topple --> launch --> smash
Always equip blades with these abilities or you are going to miss out on damage. These combos even work on bosses, and is basically the most important to use.
For blade combos, you need to continue using your driver arts in order to level up the blade arts. The blade art is your number to the right. It starts with a I and then goes up to II and then III and lastly IV.
II indicate blade combo is at level 2.
If you do a successful blade combo while also doing a driver combo, you deal more damage. For example you can get Topple supernova (supernova is a lvl III blade combo) instead of just topple.
11.
When initiating a chain attack (party gauge needs to be full) you can keep the chain going by using elemental bursts. The elemental bursts are created by using blade combos before you started the chain attack. For example, if you used supernova, the chain attack will have a light element orb showing up. Try get many blade combos before using the chain attack. If you do this right you will deal millions of damage.
12.
Use your pouch items. Pouch items can be food items that enhances various stats temporary. Always use the items that speeds up arts. Use the 0.4 arts recharge items.
13. Use different elemental blades in your party. Every blade carry an element. These are:
-light
-dark
-water
-ice
-fire
-wind
-elec
-earth
An elemental weakness will show up on the enemies health bar. Use this to your advantage.
14.
You also make the AI do blade combos. Through-out the battle you will see a ZR or ZL button prompt appear on the battle screen. These means that the AI want to start a blade combo. The level of the combo is shown with a spinning ring. If there is one ring spinning it is at level 1, and two rings means level 2. Press the button accordingly.
For example pyra, who is a fire element can start HEAT --> Burnout --> Mega explosion (this one is the important 3rd stage blade combo)
AI is at stage 2 blade combo spinning at level 3
15.
There is a mechanical blade called poppi, which lets you upgrade it differently. I am not going into specifics about that here.
Good luck!