Jan 21, 2018
2,346
9,136
880
30
​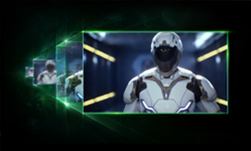 The latest update to DLSS introduces a new ultra performance mode that accelerates performance to support 8K gaming.This DLSS update provides the following key benefits…
news.developer.nvidia.com
Improved VR support. Maintaining the 2880×1600 resolution of top-end VR head mounted displays while delivering the recommended 90 FPS has been made easier with DLSS.​

New ultra performance mode for 8K gaming. Deliver 8K gaming on GeForce RTX 3090 with DLSS.
Dynamic resolution support. The input buffer can change dimensions from frame to frame while the output size remains fixed. If the rendering engine supports dynamic resolution, DLSS can be used to perform the required upscale to the display resolution.
These updates are now available to download through NVIDIA's RTX Branch on Unreal Engine 4 while the standalone NVIDIA DLSS update will be made available later this month.
I think the "
dynamic resolution support
" could potentially help the rumored Switch Pro in a great way, and this all make sense when you think about the DLSS 2.0 present on the next Switch:
According to WCCFTECH: The successor of the popular Nintendo Switch console could be coming with NVIDIA DLSS 2.0 support, judging from a recent job ad. According to this new ad, NVIDIA is looking for a Senior Embedded Software Engineer for the Tegra solutions Engineering team to work on...
www.neogaf.com