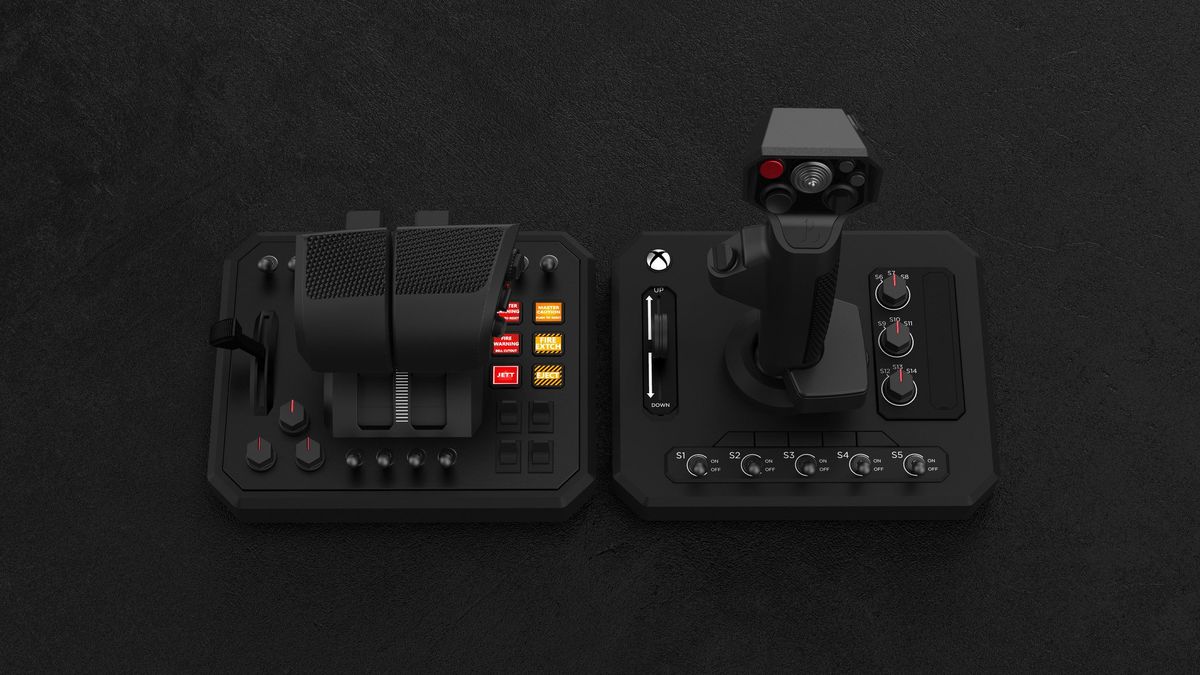 Honeycomb expands its hardware lineup with new Xbox and PC accessories.

www.windowscentral.com
Following Microsoft Flight Simulator's console debut, flight simulator accessories manufacturer Honeycomb Aeronautical has showcased an upcoming series of Xbox-compatible accessories. The expanded range debuted at Flight Sim Expo on Thursday, bringing some of the best Microsoft Flight Simulator yokes and flight sticks to Xbox.

Honeycomb Aeronautical previously announced a reworked Xbox version of its Alpha Flight Controls yoke and switch panel, with the new Tango Foxtrot flight stick and throttle and Sigma combat stick and throttle, now also headed to consoles. It now has more details on the three devices and what virtual pilots can expect when they hit shelves.

The new Alpha Flight Controls XPC looks to translate one of the best Microsoft Flight Simulator PC yokes to Xbox consoles, coupled with a refreshed design and expanded compatibility. The same 180-degree yoke returns, an exhaustive switch panel, and dozens of assignable buttons, with build quality among the best in flight simulator hardware. The XPC also ships with new hall effect sensors, which Honeycomb claims improves durability and precision, alongside a spring-loaded ignition switch.

But with Xbox-compatible products scarce, Honeycomb is also positioning the Alpha Flight Controls XPC as a bridge for existing accessories. It requires its "Xbox Hub," priced at $30, allowing existing PC accessories like its Bravo Throttle and Charlie Rudder Pedals to work with Xbox consoles. It also partnered up with Logitech, allowing its rudder pedals and throttle quadrant to work on Xbox via the Alpha Flight Controls XPC and accompanying hub.

The Sigma flight stick, and Sigma Tau flight stick and throttle, also bless Xbox consoles and PC in 2022. It's a new HOTAS offering from the manufacturer, occupying a similar space as the Thrustmaster HOTAS Warthog, providing an alternative to the full-fledged yoke. It's geared around the demands of fighter aircraft, with a dual-stage trigger, various configurable hat switches, and buttons between the stick, base, and accompanying throttle quadrant. The same device will work across platforms, with a dedicated Xbox button nestled at the bottom of the flight stick.

The Tango Foxtrot flight stick and throttle cater to general aviation, also headed to Xbox and PC. The modular device breaks into two separate units, with a telescopic mounting system, for sturdy control. Features announced include both left- and right-hand support, plus configurable buttons, switches, and a trigger compatible with leading flight simulators.

Honeycomb Aeronautical Foxtrot TangoFoxtrot Tango stick and throttle bring a lightweight alternative to the Alpha yoke.

Source: Honeycomb Aeronautical

Alpha Flight Controls XPC and the accompanying Xbox Hub are slated for 2022, with preorders set for later this year. The yoke and switch panel retail for $300, a compelling price given a solid existing portfolio from the accessory maker, while the Xbox Hub retails for $30. Those looking for a complete experience can already find the Bravo Throttle from $280 in the U.S.

The Sigma combat flight stick targets Q1 2022, while the complete Sigma Tau flight stick and throttle drop in Q2. Flight stick pricing starts at $120, while the two-piece stick and throttle bundle costs $300. The bundle arrives just in time for the Top Gun Maverick expansion, also poised to hit Microsoft Flight Simulator next year.

Honeycomb Aeronautical plans to announce more details on Tango Foxtrot pricing and availability at a later date.