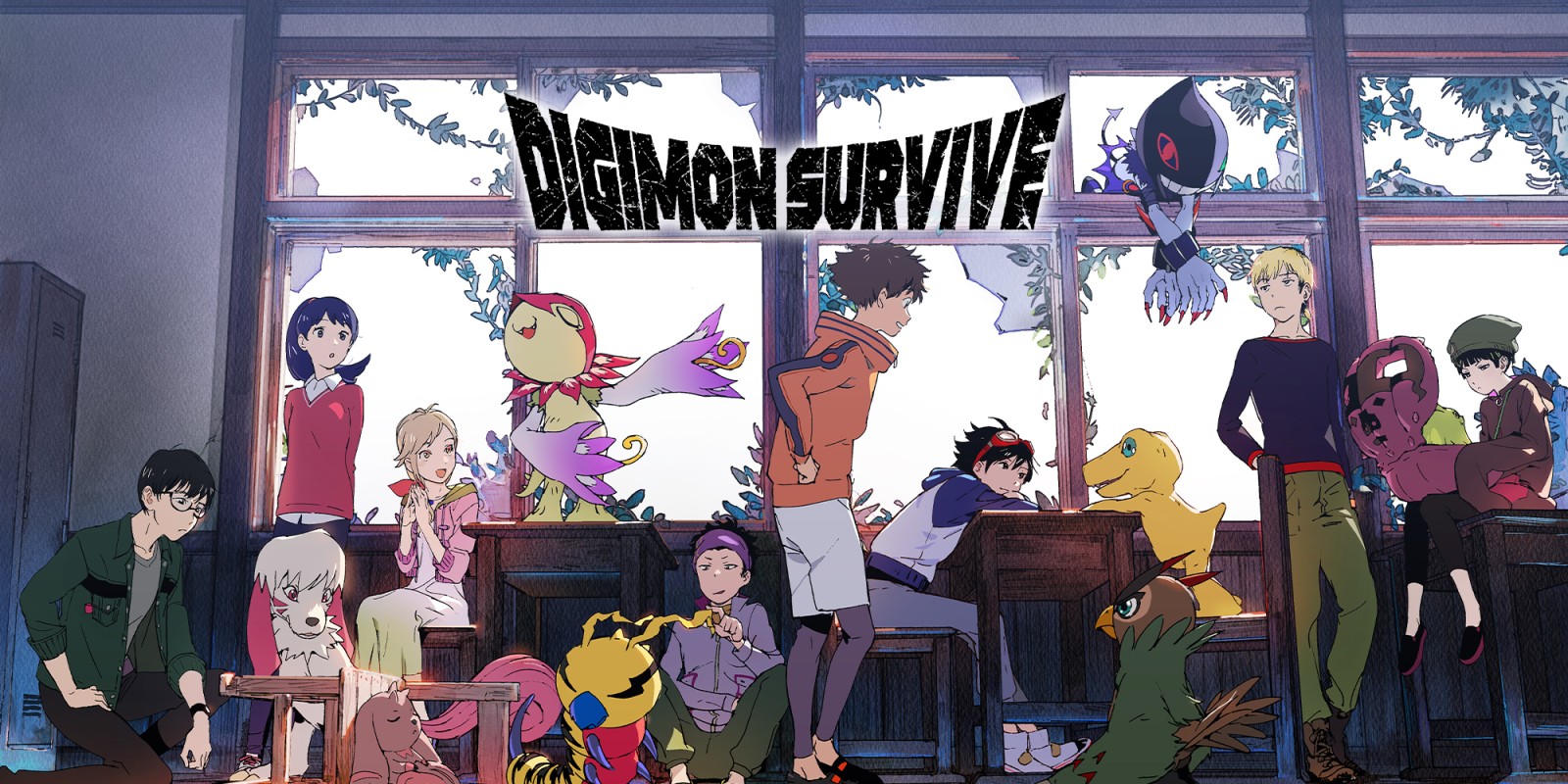 ---
Game Information​
Game Title
: Digimon Survive
Platforms
:
Xbox Series X/S (Jul 27, 2022)
PlayStation 5 (Jul 27, 2022)
PC (Jul 27, 2022)
Xbox One (Jul 27, 2022)
PlayStation 4 (Jul 27, 2022)
Nintendo Switch (Jul 27, 2022)
Trailers
:
Developer
: HYDE, Inc.
Publisher
: BANDAI NAMCO Entertainment
Review Aggregator
:
OpenCritic - 80 average - 76% recommended - 30 reviews
MetaCritic - 81 average - 13 Reviews - 8.0 /10 User Score
Critic Reviews​
ACG
-
Jeremy Penter
-
Unscored
Video Review - Quote not available​
Atomix
-
Aldo López
-
Spanish
-
78 / 100
In a few words, if you have the idea that Digimon Survive will have frantic encounters one after another, let me tell you that it is probably not going to meet your expectations. However, if visual novels and tactical combat are your thing, is probably that this game will like you, especially if you are a faithful follower of this great franchise.
---
CGMagazine
-
Jordan Biordi
-
9 / 10
Digimon Survive balances an intriguing, more mature Digimon story with excellent turn-based strategy combat that evokes the spirit of the anime.
---
Daily Mirror
-
Eugene Sowah
-
4 / 5
Digimon Survive is a breath of fresh air for the franchise as its hybrid elements really complement each other.
---
Dexerto
-
Tyler Constable
-
8 / 10
Digimon Survive is by no means a flawless experience but it is an exciting and unique Digimon game. With multiple endings to see, different evolutions to discover, and over 100 Digimon to recruit the replay and content value is excellent.

Due to its text-heavy nature, this game won't be for everybody, and those who were hoping for more action may leave disappointed. Visual novel fans however will find a lot to love, and if you're looking for a darker story set in the Digimon universe, Digimon Survive could be the perfect pickup.
---
Digital Trends
-
De'Angelo Epps
-
3 / 5
Digimon Survive mixes tactical roleplaying action with visual novels to varying results.
---
Digitally Downloaded
-
Matt Sainsbury
-
4.5 / 5
Nonetheless, this is a profoundly effective game. Digimon has always pushed a little harder than Pokémon to actually spin a meaningful story around the property, and Digimon Survive is not the first time the series has flirted with darker material. Thanks to excellently-flawed characters, clean tactical combat, and an eclectic but interesting blend of genres, Digimon Survive stands out as one of the most different and creative JRPGs you'll play this year. This, of course, is exactly what we like to see at DigitallyDownloaded.net.
---
GGRecon
-
Paulo Kawanishi
-
8 / 10
Digimon Survive, by bringing in a variety of new story elements mixed moments of classic Digimon battling, is as a great game that shows us all that even in a familiar world we can have new, different, and touching experiences.
---
GameByte
-
James Sumner
-
9 / 10
You don't need any previous knowledge of Digimon, and even with my own extensive history with the franchise there were still plenty of twists I didn't see coming because the story was just that compelling.
---
GameGrin
-
Dylan Pamintuan
-
9.5 / 10
Digimon Survive has both a well-made story and a deep combat system that will engage players through each route they may take, but the first few hours are ill-paced with long breaks away from combat.
---
Gamepur
- Mitchell Demorest -
7.5 / 10
Digimon Survive has a surprising amount to offer casual admirers of the series, and it could even win over some new fans. Existing fans, and plenty of lapsed ones, seem like the perfect audience for this off-kilter entry in the storied catalog of Digimon games.
---
Gamer's Palace
-
Beatrice Vogt
-
German
-
68 / 100
Digimon Survive tells a darker story of the original Digimon. The story cannot always thrill me and sometimes I can't even follow. I think some things are getting lost due to the German translation. What does fascinate me are the battles and the game's looks. Digimon Survive is an interesting take on the Digimon games.
---
GamingBolt
-
Pramath
-
8 / 10
While it is wildly different from Digimon Story: Cyber Sleuth, Digimon Survive makes a strong and compelling case for itself on its own merits. Fans of Digimon looking for a strong story, or fans of visual novels, will find the game to be a treat.
---
God is a Geek
-
Lyle Carr
-
7 / 10
Digimon Survive is an incredibly unique visual novel hybrid, that's ultimately let down by the combat.
---
Hardcore Gamer
-
Kevin Dunsmore
-
3.5 / 5
Digimon Survive isn't quite the game anyone was expecting based on the marketing.
---
IGN
-
Travis Northup
-
6 / 10
Digimon Survive is a standout visual novel wrapped around one of the worst tactics systems of all time.
---
INVEN
-
Soojin Kim
-
Korean
-
7.8 / 10
Digimon Survive delivers a much heavier vibe compared to existing series, expressing the agony and overcoming stories of ordinary children, not heroes. Although it is a quality title as a visual novel, the tactics battle part is very ordinary and the visual effect is also a bit bland.
---
Inverse
-
George Yang
-
6 / 10
Digimon Survive isn't awful, but longtime fans of the franchise will likely come away feeling a little disappointed. If the tactics gameplay was up to snuff — or eliminated entirely — the experience would've been better overall.
---
Nintendo Life
-
Trent Cannon
-
8 / 10
Digimon Survive is one of the best visual novels to come out so far this year, with plenty of heart and tension to carry you through to the final act. Fans looking for an engaging story with well-written and presented characters that deal with life-and-death situations will enjoy the ride, while players focused on the combat will probably find that the game comes up short. Despite its sluggish, padded start, Digimon Survive is well worth the long wait.
---
NintendoWorldReport
-
Ted Hazell
-
8 / 10
Digimon Survive took a risk in its gameplay, presentation and narrative, and for me, it paid off. It genuinely feels like a new era of Digimon is upon us. A more mature, dark, and ferocious Digimon that could see the start of a truly great visual novel RPG hybrid series. This won't be for everyone, and I completely understand if you pass on it, however, if Digimon is your jam or visual novels are, and you have plenty of time to sit and soak in this wonderfully written narrative - you're likely to strike gold with Digimon Survive.
---
PlayStation Universe
-
Mark Kriska
-
9 / 10
Digimon Survive is an emotional, gripping, action-filled adventure that kept me invested from the moment I entered the Digital World. While the gameplay isn't vast, the combat is deep, and both compliment the Visual Novel style of the game. Digimon Survive may not be for everyone looking for a more direct influence on the story outside of dialogue options, but it delivers on what it promised. An amazing Digimon adventure for a whole new generation.
---
Push Square
-
Robert Ramsey
-
7 / 10
Digimon Survive's uniquely dark take on the standard Digimon storyline is enough to carry a title that's sometimes poorly paced and basic in its approach to gameplay. A visual novel with RPG elements bolted on, it's difficult not to feel as though the creature taming and combat aspects of Survive could have been bigger and better. But ultimately, a mix of endearing characters and eye-opening plot points make this another worthwhile adventure in the digital world.
---
Sirus Gaming
-
Conrad Huang
-
8 / 10
Overall, Digimon Survive is a really good game and has the potential to be a unique storytelling game for Digimon fans. With the use of a light novel system and mixing it with RPG-style elements, I truly believe this game can appeal not only to Digimon fans but to gamers as well. I highly recommend this game to many and that they should try to read more info about the game before trying this out.
---
Spaziogames
-
Nicolò Bicego
-
Italian
-
8.8 / 10
Despite being pretty much a visual novel with some TRPG elements, Digimon Survive manages to be a captivating game for Digimon's fans and it just feels like a new season of the beloved anime.
---
TechRaptor
-
Andrew Stretch
-
8.5 / 10
Digimon Survive leans heavily into the Visual Novel genre and it pays off. For fans of VN or Digimon this story is one of the best out there. Combat is enjoyable but some mechanics don't stick the landing.
---
Twinfinite
-
Chuy Bosque
-
4 / 5
Digimon Survive was lovingly crafted for longtime fans of the series, and it truly feels like playing through a season of the show. The visual novel is consistently engaging, and the battles are an excellent supplement to give players a connection to the Digimon they recruit.
---
WayTooManyGames
-
Fernando da Costa
-
9 / 10
Digimon Survive is a spectacular visual novel that proved well worth the wait. The characters made a lasting impression on me, birthing an emptiness within the pit of my stomach. Even now, I sit here, reminiscing over my friends in the digital world.
---
We Got This Covered
-
Liv Harris
-
3.5 / 5
Digimon Survive is a bold new take on a dying franchise, bringing a much-needed breath of life into the series.
Last edited: