Metacritic: 87
|
Opencritic: 82
Developer:
CD Projekt Red
Release:
Microsoft Windows, PlayStation 4, Stadia, Xbox One - 10 December 2020 | PlayStation 5, Xbox Series X/S update - 2021
Backwards compatible on PS5 and XBSX
Cyberpunk 2077 is an upcoming action role-playing video game developed and published by CD Projekt. It is scheduled to be released for Microsoft Windows, PlayStation 4, Stadia, and Xbox One on 10 December 2020, and for PlayStation 5 and Xbox Series X/S in 2021. The story takes place in Night City, an open world set in the Cyberpunk universe. Players assume the first-person perspective of a customisable mercenary known as V, who can acquire skills in hacking and machinery with options for melee and ranged combat.​
A note about CD Projekt Red:
CD Projekt S.A. (Polish: [ˌt͡sɛˈdɛ ˈprɔjɛkt]) is a Polish video game developer, publisher and distributor based in Warsaw, founded in May 1994 by Marcin Iwiński and Michał Kiciński. Iwiński and Kiciński were video game retailers before they founded the company, which initially acted as a distributor of foreign video games for the domestic market. The department responsible for developing original games, CD Projekt Red, best known for The Witcher series, was formed in 2002. In 2008, CD Projekt launched the digital distribution service GOG.com (originally as Good Old Games).
​
Windows Central: 5/5
Despite an impressive array of bugs and glitches, Cyberpunk 2077 remains an experience without peer. No punches pulled, no platitudes are given, and no compromises are made. Cyberpunk 2077 is an industry highpoint that, simply put, may never be bested. Right now, and without hesitation, I am overjoyed to say Cyberpunk 2077 is everything I've ever wanted from a game. It is the best game I have ever played.
Games Rader: 5/5
Cyberpunk 2077 is a paragon of open-world gaming, offering the kind of freedom to explore and define your character that provides a new pinnacle for the genre. It takes everything we celebrate about open-world games, and learns from it, implementing best-in-class variations in a world that's so dense and detailed. Add in the human-like level of reactivity and emotional depth that it brings to its narrative, and it all combines for the most spectacular experience. Take a trip to Night City immediately.
VG247: 5/5
In the midst of such intense anticipation and scrutiny, it's easy to get carried away with what Cyberpunk 2077 could have been. The final experience might be more familiar than many predicted, with plenty of elements that aren't perfect, but it's dripping with detail and engaging stories. With so much to see and do, Cyberpunk 2077 is the kind of RPG where you blink and hours go by, which is just what we need to finish off 2020.
VGC: 5/5
When it works properly, Cyberpunk 2077 is an unmissable experience for fans of story-focused games both big and small. But again, it's tough for us to urge you to jump in at launch without that big caveat of its numerous release bugs. However, if you can swallow a few glitches in the system, Cyberpunk 2077 is undoubtedly one of the most memorable games you'll play this year. We can't wait to reroll our character and play through it all over again.
The Gamer: 5/5
I'm V and the game is Silverhand - I can't get Cyberpunk 2077 out of my head. I've had it a week and played 70 hours, which is probably about as healthy as scooping out my face and replacing it with electronics, but it didn't feel like work. Like a digital personality loaded onto a biochip, it felt like stepping into another life for a while. It's a life I can't wait to relive.
PowerUp: 10
In Cyberpunk 2077, CD Projekt Red has created a phenomenal tour de force and a game that's unlikely to be matched anytime soon. It is an important game and one that demands to be played.
Stevivor: 95
The most important thing that everyone needs to know about Cyberpunk 2077 is that while it's imperfect, it is without a doubt a superb game. You'll connect with V, worry about which way the story will go and stress over the aspects of it that you can control because you'll want only the best outcome for them. You'll raise your eyebrows at the graphical bugs showing up in a game eight years in the making (and thrice delayed) and then quickly forget them all as you bask in the beauty of Night City; the greatest video game world ever built. You'll feel firstly overwhelmed by the number of upgrades to consider, and then underwhelmed by their lack of necessity as you hurtle towards its end game. Enjoy the ride, a satisfying one without question.
PCGamesN: 9
Cyberpunk 2077 might not push quite as many boundaries in game design as a landmark release could, but if it can convince more people that games can and should take a position on issues of substance rather than peddle mindless thrills, that'll be a worthy legacy.
IGN: 9
Cyberpunk 2077 kicks you into its beautiful and dazzlingly dense cityscape with few restrictions. It offers a staggering amount of choice in how to build your character, approach quests, and confront enemies, and your decisions can have a tangible and natural-feeling impact on both the world around you and the stories of the people who inhabit it. Those stories can be emotional, funny, dark, exciting, and sometimes all of those things at once. The main quest may be shorter than expected when taken on its own and it's not always clear what you need to do to make meaningful changes to its finale, but the multitude of side quests available almost from the start can have a surprisingly powerful effect on the options you have when you get there. It's a shame that frustratingly frequent bugs can occasionally kill an otherwise well-set mood, but Cyberpunk 2077's impressively flexible design makes it a truly remarkable RPG.
RPG Site: 9
Right now, Cyberpunk is therefore a game that ultimately falls short of the heady heights CD Projekt RED set for itself with The Witcher 3 - though that is mostly down to clear struggles with the source material and the previously-mentioned raft of bugs and issues. Hopefully these are fixed in time. It remains a mind-boggling achievement, however - and a game whose influence is likely to be felt for years to come.
​
Game Informer: 9
Cyberpunk 2077 is dark and disturbing at times (frighteningly so), but the majority of its content is fascinating, and loaded with depth through the various RPG systems and lore. I thoroughly enjoyed my time in Night City, and Johnny Silverhand is a great partner to see the sights with. Cyberpunk 2077 doesn't overstay its welcome with its critical-path story, and invites players to jack in and stay for hundreds of hours of unique content should they want to. It didn't blow me away like The Witcher 3: Wild Hunt, but is still a hell of an opening to what will hopefully be a new series.
Game Watcher: 9
It's story and narrative kept me glued to the screen, and everything – from sex scenes and romance options to Keanu Reeves trying to kill you or help you throughout the game – are remarkably well done. Cyberpunk 2077 is a game crafted with love, and it shows.
Trusted Reviews: 4/5
Cyberpunk 2077 is awash with technical issues, ranging from animation problems where characters float through integral story sequences to combat encounters where enemies simply fail to register your presence, surrendering to a barrage of bullets as repetitive voice lines spew from their unmoving lips. Moments like this let 2077 down, and hopefully they will be fixed in future updates.
Screen Rant: 80
Cyberpunk 2077

is ultimately a game that is tailor-made for multiple playthroughs. The more skills V unlocks and the deeper they sink into the conspiracies of Night City, the more it becomes clear that this is a game which fans will happily sink their time into, well past the

relatively short main campaign

. CD Projekt Red assembled a collection of the finest open-world mechanics we've already seen, and most of them work well. Ultimately, it feels like

Cyberpunk 2077

is a fitting bookend for the previous generation of games and a strong starting point for current-gen. Now it's time to start innovating again.
​
PC Gamer: 78
I found it moving and life-affirming in the final moments, even in the face of near certain death and a relentless onslaught of bugs. I suppose it's an appropriate thematic throughline though: Cyberpunk 2077 is a game about V coming apart at the seams, in a city coming apart at the seams, in a game coming apart at the seams. Play it in a few months.
​
Gamespot: 7
But then it's hard to get into Cyberpunk 2077's world in general. So much of it is superficial set dressing, and there's so much happening all around you--ads going off at all times, gunfights breaking out in the streets, texts coming in about cars you'll never buy--that a lot of the game feels superfluous. The side quests and the characters they showcase are the shining beacon through the neon-soaked bleakness of Night City, and they give you room to explore the best the core RPG mechanics have to offer. These are what carried me through an otherwise disappointing experience.
VentureBeat: 60
A lot of the game is just there to look good. And that's fine — but it means I don't want to spend a lot of time wandering around the world. If the environment primarily exists to look dope in the background while I'm doing the quests, then I'll probably mostly stick to the main story, see what happens, and then bounce. It's fine to make a game like that — for many, that's the promise of Cyberpunk 2077. It just wasn't the promise to me.
Tom's Hardware PC Performance Preview & Impressions: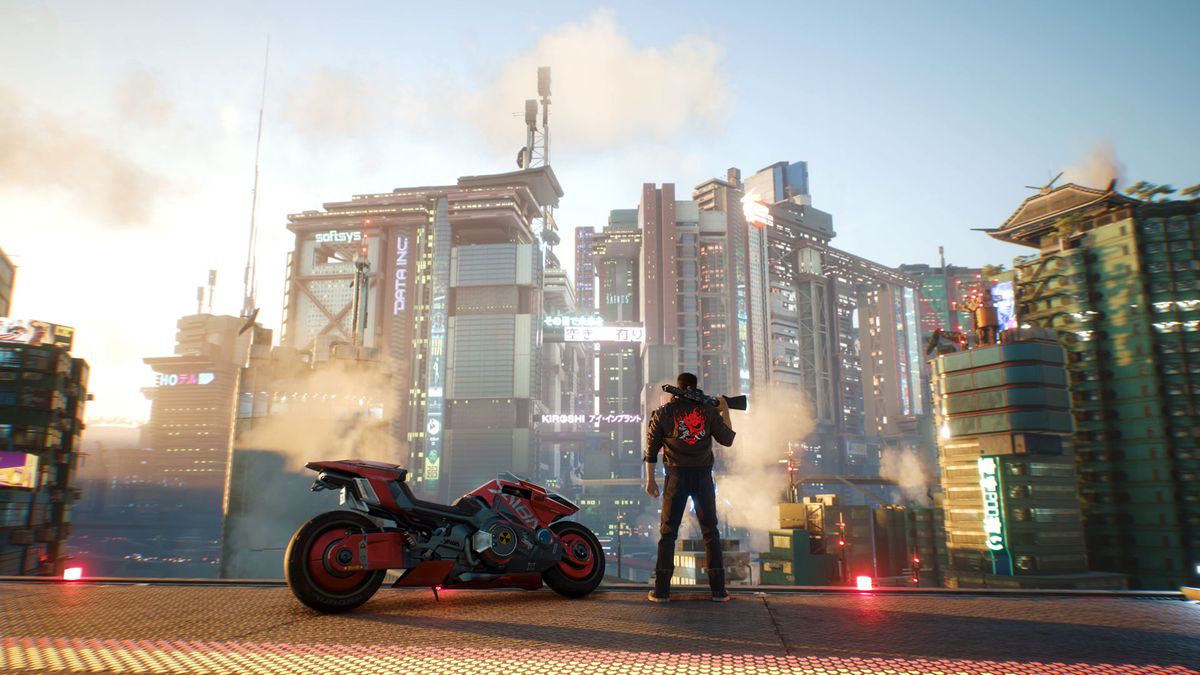 We've tested Cyberpunk 2077 on a bunch of GPUs to see how it runs. Spoiler: It's very demanding.
www.tomshardware.com
Laymen Gaming:
YongYea:
Easy Allies:
WhatCulture:
MrMattyPlays:
NeoGAF OT:
Developer: CD Projekt Red Publisher: CD Projekt Director: Adam Badowski Engine: REDengine 4 Platform(s): Microsoft Windows PlayStation 4 PlayStation 5 Stadia Xbox One Xbox Series X/S Release: December 10th, 2020 Genre: Action role-playing, first-person shooter...
www.neogaf.com
Last edited: