Mar 21, 2013
9,562
23,845
1,540
Source:
https://www.videogameschronicle.com/news/sony-takes-1-9-stake-in-from-softwares-parent-company/
Kadokawa Corporation, the parent company of Bloodborne and Dark Souls studio From Software, has formed a "capital alliance" with Sony, it announced on Wednesday.
The Japanese media conglomerate – which also owns manga, publishing and film companies – said in its latest financial reports that it had given Sony a 1.93 percent ownership as part of the financial deal.
In its latest financial results, Kadokawa said the capital alliance would allow it to utilise Sony's "global expansion power of animation and consumer games."
The deal would facilitate the "creation, development, and acquisition" of new IP
, in addition to allowing it to "maximize the value of the abundant IP that we already own," it added.
"We believe that it is necessary to procure such funds in order not to miss potential investment opportunities and to solidify our ability to create IP based on our track record of creating rich and unique IP consisting of a diverse portfolio of books, movies, animations, games, and UGC platforms, both financially and financially," it said.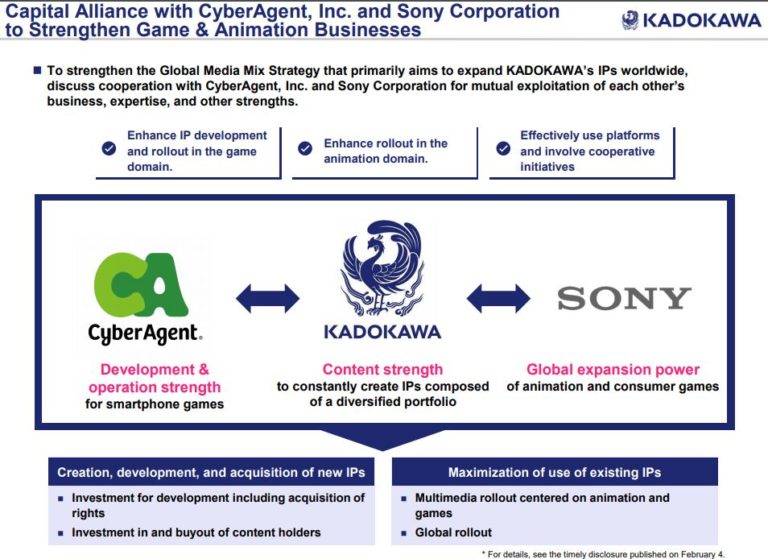 While
Sony's investment in Kadowkawa doesn't suggest any obligation to create exclusive games for PlayStation
, From Software itself has a long history of partnering with Sony.
Of the 65+ plus games the studio has released since 1994, more than half have released exclusively for PlayStation platforms. In recent years it partnered with the platform holder for PS4 exclusive Bloodborne. Last year its PS3 title Demon's Souls was remade for Sony's current-gen system.