https://www.gizmochina.com/2023/01/03/sony-launches-inzone-m3-gaming-monitor-released-for-529/
Months after the $899

InZone M9

gaming monitor debuted,

Sony

's InZone 1080p variant is now available. It is the same, however, it doesn't have full-array local dimming and runs at a lower resolution. With a similar 27-inch size and a white-on-black look akin to the PS5, the InZone M3 launches for $529 and is currently in stock. This display completes Sony's remarkable year of producing technology that appeals to consumers other than die-hard PlayStation enthusiasts.

Even though this 1080p monitor is priced in line with QHD monitors, the M3 still has advantages over other comparable-sized models. It has a 240Hz refresh rate, auto low latency mode, and variable refresh rate for Xbox Series X/S, PS5, and PCs (with G-Sync compatibility). It supports multiple device connections over HDMI 2.1, DisplayPort, and USB-C. You may control two PCs using the same mouse and keyboard thanks to its automatic KVM switch. It also supports a wall mount and monitors arms.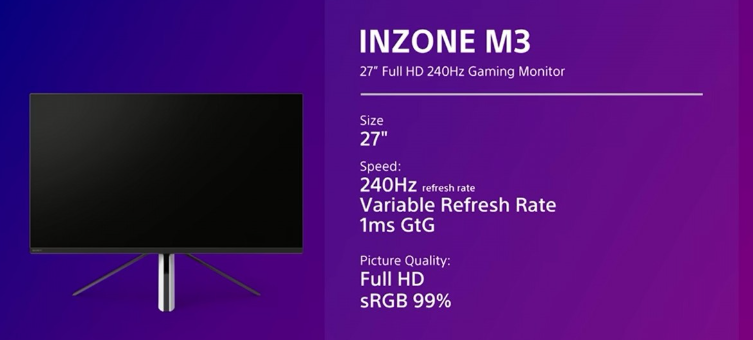 Looks like it came down in price overtime, the pre-order thread for the UK awhile back was 699 euro, so the official release at $529 makes it quite a bit cheaper.
However, I still think even with it's lower price than expected and features, it's still a tad overpriced for a 1080p display. But at least people won't have to pay as high of a price as they expected, and you do get a durable brand.