Click the OT for the official website.
Click the GIF for the PS Blog.
Thanks to *bigboss370* for the GIF.
I suck at this image photoshopping thing but I put in some crappy graphics for you GAFers. The goal of the topics I made is as a guide to point you toward information you may have missed, but it's by no means exhaustive. I hope that's OK, I'm definitely not BruceLeeRoy
Thanks to *Dinjooh* for the GIF
Price
: $399/€399/£349/¥38,980/R$3999LOLBrazil/$549Aus
Launch Date
:
● North America - November 15, 2013
● Europe/Brazil/Australia - November 29, 2013
● United Arab Emirates/Saudi Arabia - December 13, 2013
● Japan - February 22, 2014
Specifications
:
Bonus Offer
:
Tech Teardown
:
● Check out
Wired's PS4 Hardware Teardown
for more!
Check out this awesome Hardware Teardown Animated Gif
Thanks to *-SD-* for the GIF
PlayStation Ultimate FAQ
:
As many of you may know, Sony released a big FAQ answering most questions anybody would have about the system for launch. It has some bad news, some good. Such as no mp3 and DLNA support at launch, as well as no share youtube support at launch. That said, it's a valuable source of information.
Click this link for the FAQ
Packaging Shots
: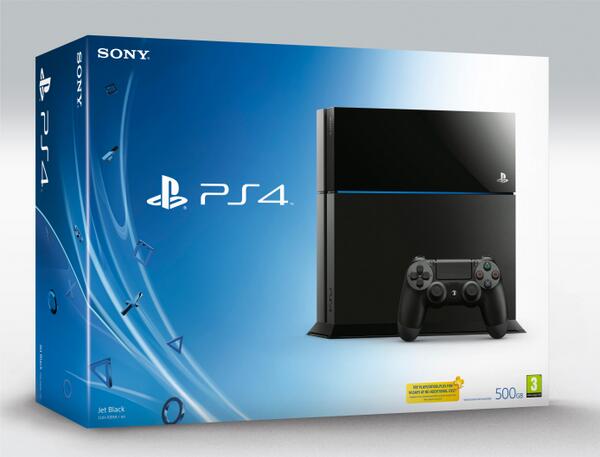 Tons more here of most of the launch peripherals and more!
Check out Yoshida's EPIC unboxing video
. Thanks *PeregrinSe7en* for the link!
●
More images here.
Controller Specifications
:
Key Features
:
● Completely redesigned ergonomics (larger, better triggers, etc)
● Speakers for audio output
● Touchpad at center
● Share button to instantly upload your greatest gaming moments
● Media:
PS4 Controller Hands-On
●
More images here.
Camera Specifications
:
Key Features
:
● Enhanced tracking of Move controller and field depth/environment
● Facial Recognition Technology
● Two wide-angle Lens, each up to 1280 x 800.
● Four Microphones for sound origin location
● The PlayRoom, a tech demo-ish game of sorts for the camera, comes for free with every PS4.
● Media:
The Playroom Demo
Source
● You can control the user interface via the included PS headset, but it is unclear what specific voice commands will be available for navigation and what countries it will work in.
● Check out the
PlayStation Ultimate FAQ
, which should answer most additional questions regarding things for launch.
● With remote play, you can use your Vita as a
de facto
second screen ala Wii U, or simply utilize it to play your PS4 games from the comfort of your couch.
● Additionally, you can use the Vita as a sort of second controller of sorts... allowing one player to play Knack for example on the TV, while a second player joins in from the Vita.
● Media:
IGN Remote Play Demo
Retail
:
For every image you click on, there is a video to show you what the game is all about.
Download Only
:
Games marked with an asterisk are free on launch day on PS+. Games in italics are F2P.
●
Blacklight: Retribution
●
Contrast*
●
DC Universe Online
●
DiveKick
●
Flower (Cross Play)
●
Resogun*
●
Sound Shapes (Cross Play)
●
Super Motherload
●
Trine 2: The Complete Story
●
Warframe
The Future
:
●
Check out some of the games coming in the future in this list
● Not satisfied yet?
Check out this AMAZING sizzle reel of upcoming PS4 games
from our very own *Appollowexx*
● If you're still too excited, *Katana_Strikes* made a PS4 wallpaper. Check it out in the following formats:
iPhone
,
Desktop
,
PS3
,
Vita
The following apps will be available on launch day:
Amazon Instant Video- Amazon Instant Video offers two great ways to watch movies and TV shows instantly, anywhere. Buy or rent from a selection of more than 150,000 titles or subscribe to Prime Instant Video and get unlimited streaming of tens of thousands of movies and TV episodes.

Crackle- A part of Sony Pictures Television, Crackle is a freely accessible multi-platform television network delivering original series such as Emmy®Award nominated Comedians in Cars Getting Coffee, and hit movies and television programs in a variety of genres.

Crunchyroll- Watch the latest and best selection of Anime right from Japan such as Naruto Shippuden, Attack on Titan, Bleach and more up to one-hour after Japanese broadcast!

EPIX®- Authenticated subscribers on the PS4 system can instantly access and stream more than 3,000 titles on-demand, including top blockbusters such as The Avengers and The Hunger Games in HD, classic Hollywood franchises, award-winning original documentaries plus music and comedy specials.

Hulu Plus- Hulu Plus offers unlimited instant streaming of current hit shows like Family Guy, The Simpsons, and South Park as well as original series including The Awesomes and The Wrong Mans.

NBA Game Time- Stay connected to live out-of-market NBA game action on the PS4™ system with NBA LEAGUE PASS Broadband on an authenticated basis for subscribers. Get access to real time stats, complete scores, stats and schedules for every game, and video highlights and recaps.

Netflix- Netflix members can instantly watch a wide variety of TV shows and movies, including exclusive series such as House of Cards and Orange is the New Black, on the PS4™ system.

NHL GameCenter LIVE™- Instantly stream live out-of-market games* in HD quality with your NHL GameCenter LIVE™ subscription.

Redbox Instant™ by Verizon-Subscribers can stream from a library of hit movies on the PS4™ system and receive 4 DVD or Blu-Ray rental nights every month for new releases at the Redbox® kiosk. Everyone can purchase and rent the latest movies on-demand.

VUDU- Watch the world's largest selection of HD movies and TV shows, including thousands of blockbusters, Hollywood classics and indies. Stream new releases before they¹re available on DVD, or build a collection of favorites without ever paying for a subscription.

YuppTV- YuppTV offers over 150 Indian TV channels Live and on demand, including a selection of over 600 Movies to watch anytime, anywhere.
Link for more details
First, I want to say I apologize if this thread isn't neat enough or visual enough or whatever... I just do what I can do. Second, I wanted to end this topic with some fun.
Please join in voting for the TOP THREE animated gifs or memes of the console war since the February 2013 unveiling. Those that win will be included in the OP.
Best Memes/GIFs of 2013
1.
2.
3.
BONUS
:
●
Check out shinobi602's wonderful trip down the PlayStation memory lane over the years
.
●
Check out Anticitizen One's sweet PlayStation nostalgia trip music playlist
●
PS4 Perfect Day Commercial
●
PS4 #4ThePlayers Ad
●
PS4 Play the Future First Taco Bell Commercial