https://news.nweon.com/105497
https://news-nweon-com.translate.goog/105497?_x_tr_sl=auto&_x_tr_tl=en&_x_tr_hl=en-US&_x_tr_pto=wapp
Cut the

apple

! Qiyu VR officially announced that it will release the next-generation flagship MR new product in April

On February 24, the 2023FBEC Future Business Ecological Link Conference hosted by

XR professional media Gyro Technology was held in Shenzhen. Wang Kai, vice president of Dream Blossom Technology, was invited to attend the conference and delivered a keynote speech.

As a leading company in the field of XR hardware, Dream Bloom has been very aggressive in the past few months. It not only successfully launched the first consumer-grade MR product, Adventure MIX, but also won a new round of financing of up to 400 million yuan in one fell swoop, laying a solid foundation for its long-term development. .

At this meeting, Wang Kai systematically shared his views on XR new technologies, new businesses, and new models based on Qiyu's own eight-year development. The new Apple MR products that will be released at WWDC in June will form a trend of rushing ahead.
Ahead of Apple, Qiyu's flagship MR new product will be released in April

In his speech, Wang Kai, vice president of Dream Blossom, revealed that Qiyu's subversive MR flagship product will be released in April this year, becoming a highlight of the conference. As soon as this news came out, it aroused widespread concern and discussion among insiders and the media.

Judging from the pictures on the scene, Qiyu's new generation MR flagship adopts an absolutely thin and light design. Compared with the existing models on the market, the front face of the console has obvious differences, and the design language is more avant-garde and highly recognizable. It is not difficult to see that "light and thin" may become one of the main selling points of this product, which also means that it solves the pain points of the industry, and there may be qualitative improvements in hardware configuration, host material, battery installation, and heat dissipation.

At this stage, only from the product picture exposed by Qiyu, the information we can get is very limited. But one thing is certain, dare to rush to release new products that disrupt the industry before Apple MR, based on the latter's deep accumulation in the XR industry, we have reason to believe and look forward to Qiyu can still bring different surprises to the industry this time! Wang Kai said: "We hope to join hands with Apple in 2023 to create a new MR world."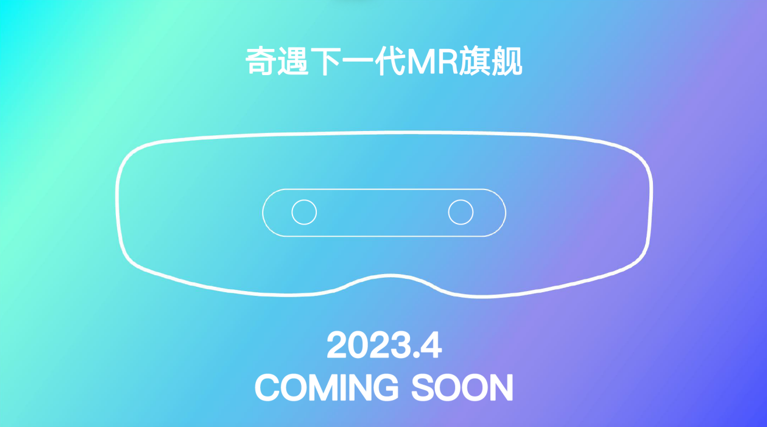 IQIYI brand QIYU is rumored to be at MWC which starts tomorrow through early march, don't know if they will give more details or a demo of the headset before launch but there's going to be quite a few headsets there.
IQIYI felt the need to announce and rush their next-generation headset two months before Apples reported June 2023 WWDC reveal of their VR headset. They will be launching their next generation QIYU Mix handset in April which isn't long from now.
I wouldn't be surprised if they weren't the only one. Most likely being in China which is where Apple manufacturers and much of the leaks come from abou their products, IQIYI likely has knowledge that caused them to realize they needed to beat Apple to the punch.
They saw something that made them believe that releasing near or after wasn't an option if they wanted to stand a chance. The article mentions how the announcement at their event caused concern and it's understandable. Maybe they are further along and they have some good software to start with and stable hardware giving them time to built with that two month headstart.
But there's also a chance them rushing into an industry that already causes heavy losses with a incomplete headset with software not ready and/or buggy and not enough time in the oven.
Though based on the design of the teaser image, they seem to have gotten their upcoming headset shrunk down to be near facemask size, like a Racoon. If that's the case it will be the second smallest headset when it launches after the Bigscreen Beyond 5K Headset, also rumored to be showcased soon.
This year is going to be very big for VR, so many headsets coming out and now we have a hint that there may be some truth to all the hype being generated around Apples Headset, if one of the strongest brands in Asia wants to leap frog them by two months ASAP.
The fact for now, that picture is all we have for QIYUS headset is pretty telling they are running right into this.