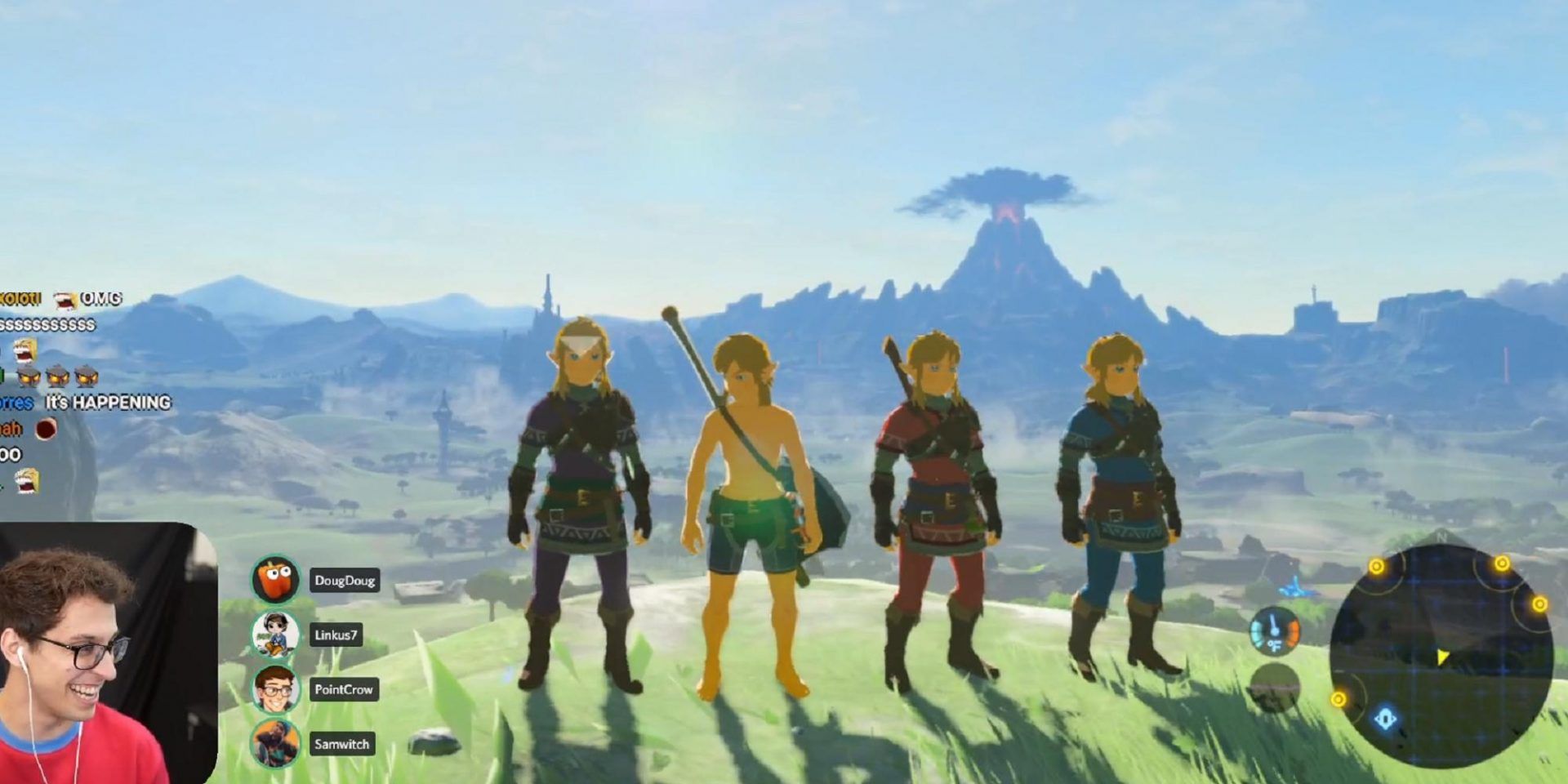 This had been teased a while ago, and finally, we got to see a beta test of what may be the most coveted Breath of The Wild mod yet.
www.dualshockers.com
A popular
Twitch
streamer by the name of
PointCrow
recently streamed himself playing Breath of The Wild with three other players. And no, they weren't taking turns, nor doing separate challenges, they were all playing as their own Links, together, in the same overworld. The power of modding is truly a wonderful thing. The crew could walk alongside each other through Hyrule's open plains, they could fight enemies together and even damage one another. Though there were noticeable and persistent issues throughout the 6-hour
stream
, this was the first beta test for what is likely to be a very entertaining mod, which PointCrow plans to release to the public for free.
Breath of The Wild has a strong modding community, and they've made a lot of
cool projects
based on this game's foundation. PointCrow, who first rose to fame with Breath of The Wild speedrunning challenges, gained further recognition with his streams of absurd and over-the-top mods added to popular Nintendo games. He had teased BOTW multiplayer at the end of a
YouTube video
a few months ago, with the message that it would be coming to his channel in Summer 2022. Well, with no preamble, he surprised his chat a few days ago and started playing the mod with streamers, Linkus7, Samwitch, and DougDougW.
Now, simply the sight of 4 players playing this game online, all on the same server, was impressive enough by itself. The mod has enemy damage synced up as well, so you can team up with your squad and face off against one of the game's many world bosses, like a Hinox or a Stone Talos. You can also decide to be a jerk, and knock your friends off a mountain, like in the clip seen below.
There are nice little additions, like being able to lock on to the other Links. Each Link has his own color, and there are markers on the map to show your friend's locations, much like many an online co-op game. But there is still a lot of relevant functionality that has yet to be added, and
many
issues that need to be cleaned up before this is considered fully playable.
Though enemy damage is synced, enemy location isn't. So if a Bokoblin gets knocked down in one of the games, but runs away in a different one, the illusion of you all fighting the same enemy together gets surely broken. The same is true for horses. What a player does with a horse in their world, has no effect on the horses in yours, which resulted in another pretty funny moment.
Item locations aren't synced either, so you can't drop a weapon you have to give it to another player. Going through the main storyline together didn't seem like a possibility, at least with what was shown onstream. Often NPCs disappeared for certain players, and more complex sequences resulted in everyone dying. Much worse than all that though, was how hard it was to simply get it to work. Crashes were frequent, having to restart was commonplace, and PointCrow himself stated that simply setting it up required various programs and specific processes, which is why he'd yet to release it to the public and likely wouldn't for several months.
But fear not, PointCrow did make several assurances throughout the stream. He specifically confirmed that item and enemy syncing was coming and went as far as to say that "all the things you think, 'can you do this?' and it doesn't happen,
that
will happen eventually." He repeated throughout that this is a beta, that bugs and issues were to be expected, and that he'd continue working hard to polish this up; he's currently also got two modders on his payroll that are toiling away at this project. If you're interested in seeing this mod in action, you can check out
his Twitch channel
for the VODs, but he's also planning to stream more of it this week.