This thread will definitely skew to oldies, but here's a few of mine.
I was thinking about excluding pure text based games since those have zero graphics, but who cares. Post what you want.
Wayne Gretzky Hockey 1 and 2 - PC circa 1989-1991
- Real teams and players
- Editable stats. Edit the stats making skaters shooting rating lower, make the goalies 7s, 8s and 9s and 10 min periods and you could have realistic scoring games
- GM disk tracked stats, salary cap etc....
- It's a Bethesda game, so buggy as fuck (gameplay and stats)
- Looked like you were controlling ants
- Sounds on an adlib sound card was some basic buzzers and I think a shitty goal horn
Cartels and Cutthroats - Apple II circa early to mid 80s
- A business game you set prices, buy inventory and the most profit wins
- GDP and economic factors make the games swing high and low
- Even tracked market share
- Factories could flood or burn to the ground
- You can tell it was made in the early 80s, look how high the interest rates are. lol
- CPU were easy to beat, but not playing with your siblings where you'd all be unpredictable
- I didn't appreciate the game as a kid cuz I had no idea what I was doing, but playing it as download in the early 2000s I totally loved it. Probably got to be a bean counter to like it
- The below pics I think are the only graphics in the game as the rest is text and numbers. The 10 second forklift scene was done when the game calculated round results
- Sound was a bunch of beeps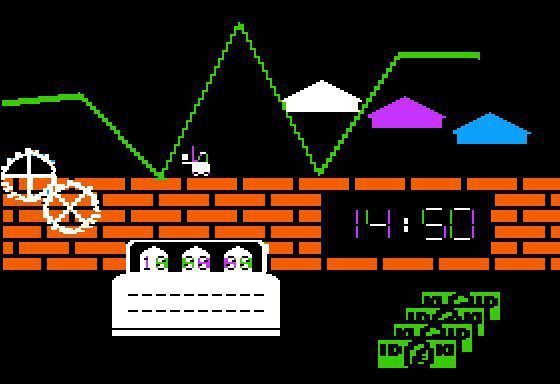 Last edited: