I'm of the opinion that there can never be too many RE4 love threads on GAF, so here's mine:
Resident Evil 4, the last truly great Resident Evil game, and, as I recently re-discovered, is still undoubtably the best action game of all time. Whether you take it within the context of the Resident Evil franchise, or as a singular, genre defining, and trend bucking entity, Resident Evil 4 is also possibly the most interesting.
I had an interesting first experience with Resident Evil 4. I vividly remember reading this game informer:
And seeing this image:
I'm pretty sure my reaction was something like this:
It was especially potent because I was 11 at the time. But the thing is, seeing that image and all it's horrifying ramifications
still
wasn't as traumatizing as seeing it being done to your character in game.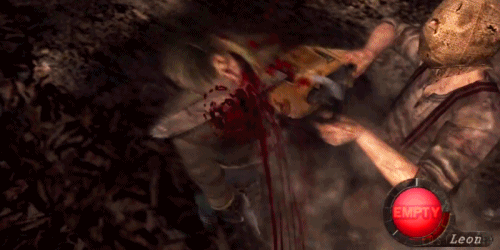 .
And, the first time through, Resident Evil 4 was a pretty traumatizing experience. Fuck you, everyone who has played this game and says its not scary. I challenge you to tell me that your first time in the village, or this part:
or this,
or this,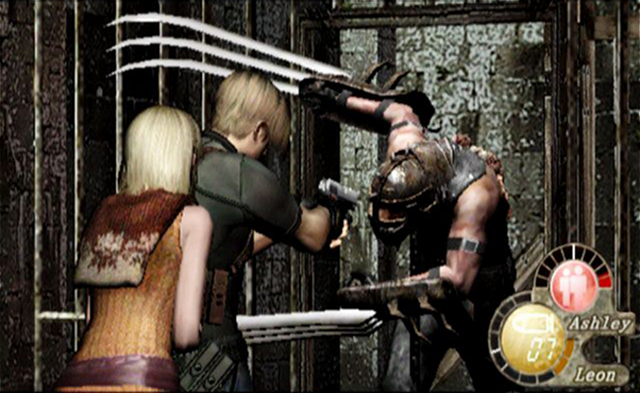 or (of course), this:
didin't at least raise your heart-rate a
little
.
Almost every one its design choices increases tension. From the ganado's brilliantly creepy crowd attacks, to the control scheme where the lack of mobility while shooting is used to carefully drive the importance of level design and precision aiming. Even the amazing dynamic difficulty makes you feel like you're only coming out of every fight by the skin of your teeth. The atmosphere is--especially in the pitch perfect opening act--incredibly unnerving, especially when coupled with the
excellent soundtrack
.
The point is, the game scared the shit out of me the first time I played it. Like, I got to the village onslaught, I ran in the house, heard a chainsaw rev, and then promptly got my head cut off by a chainsaw and I had to put the control down for like 3 days. I legitimately didn't know if I was going to be able to play the game, it was too stressful. Luckily, I came to my senses and gave the game another shot. I beat the village and was promptly addicted.
Resident Evil 4 was the first Resident Evil game I owned. My only exposure to the series up until the point I bought 4 was watching a friend play RE2 N64 for 5 minutes, while I was too chicken to play. So my first time through the game was rather contextless, and it managed to blow me away.
Since then, however, I have played through most of the classic titles, and my most recent trek through 4 is situated firmly in it's context in the series--as a game changer. And maaan does it shake thing things up.
The best part of RE4, in my opinion was how it toyed with your expectations of what a Resident Evil game can be,b y either blatantly throwing series traditions out the window, or recontextualizing them in new and interesting ways. The essence of fear is in the unknown and unexpected, so what better way to mix things up then make a game designed entirely around be unpredictable. You could see Mikami playing with expectations masterfully in REmake already, but this game was a full on exploration of exactly how much he could surprise players.
Right off the bat the game tells you to forget what you think you know about Resident Evil by jettisoning the convoluted RE backstory from the forefront in the very first cutscene. And, for the next 15-20 hours or so, you are treated to a never-ending steam of new challenges, and new ways to face them. First you find yourself doing crowd management in large and complex arena, then your facing traps, then fighting parasites at night, and between all this being peppered by creative boss fights like the Del Lago and El Gigante. By the end of the first act you've already experienced more varied challenges, and better pacing than most full size games.
I absolutely love the first act and how it's structured as the tone setter, this haunting, lonely, atmosphere with bursts of crowd gameplay, and then 6 hours later just when you think the game has shown all its cards it introduces the castle environment. It's austere style and brightly lit rooms are so wildly different from the village its disconcerting. And then the game throws even more new things at you like completely new variations on the ganados with the equally, if not more, creepy los illuminados.
That chanting and laugh. *Shudder*
And the atmosphere of the castle is just as good as village's in its own way, too:
The village had its own slew of unique challenges and combat rooms. The pacing here is even more relentless and varied than the village, and the challenge kicks up several notches as well. While the village holds a special place in my heart due to its pitch perfect opening and its atmosphere, the castle trumps it from a gameplay perspective. I'm still in the castle in my current replay,
(this part in particular)
and I remember not like the island as much, but we'll see as I appreciated the castle a lot more this time around and maybe I'll like it better this time as well. i really dig how it handles the changes in tone. It reminds me a lot of John Carpenter movies.
There's the wiseass, but also asskicking, protagonist:
Escape from New York and Resident Evil 4 both start with lonely, atmospheric horror, and then once they've put their respective audiences through their paces with that they switch gears to something more action oriented, brightly lit, and medieval themed, before going all out with the climax. They both have knack for effortlessly blending tones and providing non-stop set pieces and varied pacing.
The game also has the same body horror prevalent in Carpenter's masterpiece The Thing.
Everything about the game is perfect:
-The flawless art design.
-The varied, and endlessly interesting level design.
-The weapons and the addicting upgrade/treasure hunting.
-The weapon's reload animations:
-The dialogue:
"
"No thanks, bro"
-90% of the dialogue in general ("Hey, it's that dog". "You're small time, Saddler".) So many great lines. The story is cheesy perfection, poking knowing fun at itself with great humor (Salazar and Leon even have a 4th wall breaking discussion about being players in a script).
-The boss fights are some of the best you'll see outside of the Metal Gear Solid series.
-Everything about the gameplay, with its focus on tense crowd management, precision aim, and a risk reward system with the melee and specific limb damaging.
-How every new level and challenge takes perfect advantage of the mechanics, from having to aim at trip wires, to actually crafting interesting, tense, and enjoyable escort missions.
-How the levels progress in a series of very specifically designed challenge rooms, but are ingrained so seamlessly into the environment, and that the game takes the time to build a cohesive world design by having you return through previous environments (while changing them significantly, like in the case of the return trip to the village at night.
-The Japanese and European box arts. Works of art:
-The merchant and his voice
-The enemy variety
-The fact that after you beat this long ass game there's still the mercenaries, new game plus, and unlockables.
-The way the death animations serve to make death far more impactful and real when the prettyboy, hollywood protagonist can have this done to him:
-Even the PS2 version on a 50 inch HD tv, crappy IQ and all, still looks beautiful thanks to the art direction.
-
-QTE's that add to the interactivity rather than strip it away, by making your input necessary to survival even in cutscenes.
The only bum note I've noticed in my replay so far is the brief section where you revisit the novistadore's as they endlessly fly at you while you hit two switches. The novistadores aren't as fun this time around because they aren't invisible, and they're not too fun to fight otherwise and it adds nothing but padding to the game, and is unusually lazy game design for RE4 by not adding any knew twists, relies on infinite enemies, and simply locks you in a linear area while you hit two things.
That's one small section out of the 10 or so hours I had played the game, which is nuts. And the game
still
hasn't run out of ideas. It's a shame that RE5 misunderstood why 4 was so good (it's expectation defying nature) and simply did the same but worse. After playing the first 2-3 hours of both games I even directly compared the differences in their design philosophies and found some interesting differences:
Because of this thread I replayed the first 3 hours of RE5 and then (after a fortuitous moment I found my presumed to be long lost PS2) the first 3 hours of RE4 to compare them.

Wow. Playing them back to back is quite a stark difference.

The first thing I you notice is the pacing. 5 just keeps pushing you forward, and forward and forward, and you never have any room to breath. 4 on the other hand gives you a lot more sections of quiet, and the connected village hub is a much more believable--and sinister--world than the 'tour of Africa as a series of corridors'. I did like the very start of 5 though as you are walking around the town before shit has hit the fan and you see a bunch of creepy ass things like a group of guys beating the shit out of someone, or something, tied up in a sack.

However, while 5 moves at a much faster clip, and introduces enemies much faster (in the first 3 hours of RE5 I've fought: various majini, fat majini, the executioner, dogs, two brands of parasites that pop out of majini, a tentacle monster, and the chainsaw guy. In 4 you fight various ganados, one parasite, chainsaw guy, and Del Lago.) However, despite that, RE4 makes much better use of it's scenarios (not to mention it's a much longer game and can take its time introducing things). Overall though, 5 is still pretty impressive for how many different scenarios it has in such a short span of time (even if it doesn't best 4).

For example, there are decent stretches in 5 that don't really provide any twist on the combat or level design whatsoever, or there are repetitious scenarios. In one area in the first chapter (the shipping crates by the water) the game introduces trip bombs, a maze like level design, verticality with crossbow snipers up top, and the dog enemies all in one go. It's a well designed area, and quite fun. But then, shortly after at the beginning of chapter 2, the game essentially repeats this with the train yard. It has the exact same elements except for the small tweak that the dogs can surprise you from under the trains. Again, it's a well designed area but having two of the same (very specific) thing is not necessary, especially when the game is so short. 4 rarely, if ever, repeats its set-ups in the same way twice.

Also, directly comparing scenarios that 5 lifts from 4 does it no favors either, because it doesn't improve on them, let alone even match the ones from 4. Take the opening village/executioner onslaughts: 4 is much, much harder and more tense. 5 provides a much safer feeling from the get go: you are in a defensible position, with ample barricades and supplies. Sure, it doesn't last, but compare that to RE4: in 4, when you go to the defensible house and barricade the door, the game actually escalates the tension by introducing the chainsaw guy, who is a one hit kill enemy (and much faster than the executioner).

The level desing in 4's village is much better as well, as every defensible seeming position has some vital flaw (house brings Salvador, if you go in the tower they will smoke you out, the house across the way has a locked door that simply leads to a dead end, etc), so you are constantly scrambling and engaging in the wide open center in between mad dashes to buildings. In 5, the level design goes much easier on you by providing two things: tons of explosive barrels, and no dead ends. It goes even further than simply taking away dead ends, by actually having 3 structures in the center of the map that you can simply hop between in an almost endless loop, quickly outpacing your pursuers.

And of course, 5 has Sheva, who will provide fire, heal you, and revive you, stripping away even more vestiges of tension. I still really like the execution onslaught level of 5, but it just pales in comparison to the village.

Another good comparison of the two stages, are how they handle the introduction of the sniper rifles. In 4, you are in a giant canyon area where you can pick off some enemies in high places, or blast them off the rope bridge sending them plummeting to their deaths, all while juggling a stream of ganados that come ever nearer. It's really rewarding, and well designed. In 5, it introduces the sniper by having you take cover behind a wall as you try and take out a guy on a turret. It's incredibly obnoxious, generic, and works actively against everything that is so brilliant about RE4/5's combat system.

Other observations/comparisons:

-4 is much better at little storytelling touches. For example it builds up the El Gigante fight by having you walk through the pen during the day time and you can hear something pounding on the giant doors. Then later you get a note about the El Gigante, and It's not until night time that you actually fight it. 5 has little build up or attention to detail in things like this.

-I think the ganado's might be harder/smarter than the majini. When the ganados are in a crowd they will really quickly circle you, and they dodge and duck out of your laser sight a lot. Majini either don't dodge, or really rarely do it, and they run straight at you a lot more.

-In 5 I've gotten a lot less ammo than 4, actually. But 5 you have a partner full of ammo, too so that mitigates it. Also, 4 is just plain harder. I only died twice in the first 3 hours but every encounter leaves me with little health.

-The sound design of 4 is much better, and really adds to the atmosphere. The wind howling, the crows cawing, the really memorable Ganado runts ("Lord Saddlerrrrr...."), add so much texture to the world. Not to mention the music is better. There are some scary ass tracks that play when you are engaging the ganados.

-There are some really weird typewriter placements in 4. Some come right after a chapter save, or right before.

-Wiseass Leon is so much more entertaining than mopey Chris. I love all the humor in 4.

-5 is still fun in singleplayer, but the fact that it was designed around co-op really hurts it because Sheva adds NOTHING to the game in singleplayer, and she's just an annoying entity you have to worry about/manage. The game is amazing in co-op though.

-What I really missed in 4 that was added in 5: quick weapon change. It keeps the pace of combat up a lot better.

-What I surprisingly didn't miss: Added melee moves of 5. I dunno, I like the more simple loop of 4, and there's added satisfaction and tension of knifing a ganado on the ground as more enemies come closer that is simply removed when you can just stomp them with invincibility frames. Also, while the mini map in 5 can be handy, I hate how it shows the position of bosses and enemies like the chainsaw guys; way to kill the tension of not knowing exactly where they are.
Well, I've probably already said too much about why it's so good, and could conceivably keep writing way more, but I'm gonna restrain myself. It, alongside REmake, are when Mikami was at the absolute peak of his game and coincidently represent the two best games in the franchise, and the two polar opposites of the RE franchise.
It's so good I still want it to come to other systems (Vita & PS4 please) so I can buy it and play it all over again.
If you own this game, take some time and play the game again. If you haven't played it before:
A) what are you doing in this thread?
and, more importantly:
B) Why aren't you playing RE4
right now
?