https://www.pcgamesn.com/uncharted-legacy-of-thieves-collection/uncharted-pc-release-date-post
Naughty Dog quietly – finally – announced an Uncharted PC release date in a new post on the Epic Games Store, marking the first time the

action games

are playable on PC. And then shortly after deals hunter

Wario64

posted about the announcement, Epic removed the

post

, along with the entire game page. Evidently the post went up early, so while it may not be there now, you can pretty much guarantee the details are accurate and will surface once again in the near future.

Epic and Naughty dog say in the post that

Uncharted: Legacy of Thieves for PC will launch October 19 for the Epic Games Store and Steam

, and if you pre-order the collection on Epic's platform, you receive an exclusive new Fortnite glider modeled after Sully's plane. Legacy of Thieves includes Uncharted 4: A Thief's End and Uncharted: Lost Legacy, a spinoff of sorts that follows Chloe Fraser and Nadine Ross as they seek to prevent an ancient artifact from falling into the wrong hands.
https://store.epicgames.com/en-US/not-found?epic_creator_id=351ad2792afc4f9ab332e964e97acbea
Original Info before above page was taken down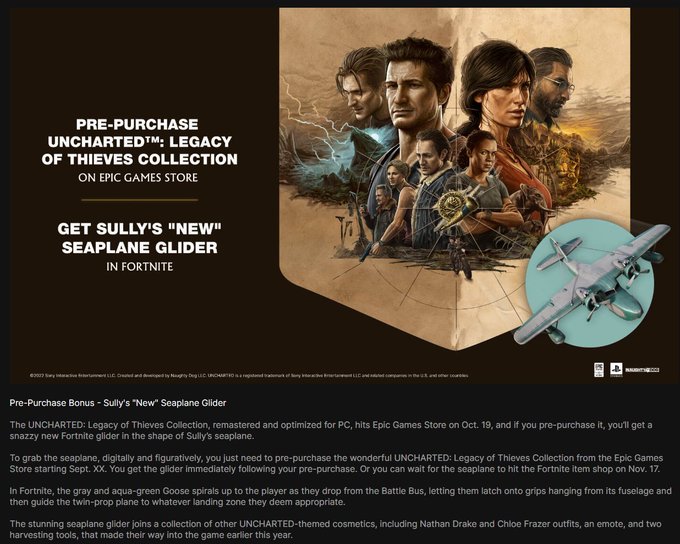 Looks like PlayStation's new
PC Department
is working fast to get games on the platform, I believe this is the 3rd or 4th game available on PC from PlayStation with more to come. PC gamers will get to experience Uncharted 4, and lost Legacy remastered for the first time.
I know some people may have some feelings about this, especially toward a certain Jim Ryan, but think about how many more sales and money will go to Naughty Dog by releasing this on PC, so you can get more games and remakes like the recently acclaimed TLOU part 1 which just came out what, this week? It's a Naughty Dog Q4 this year, two major releases in one year.
There's even an incentive to attract more PC buyers, PC players can get Sully's plane to use in the hit game Fortnite. So Sony's PC Department has also been partnering with companies like Epic Games not just releasing PS5 games on PC, and I think they will soon bring PSN or at least some variation of PS Plus over as well.
No price has been revealed or leaked out yet.