The phenomenon of Twin Peaks created Television as we see it now. Serial TV owes a large thanks to Twin Peaks to popularising the idea of long running storylines to the mainstream. People had a reason to tune in to every episode. Lynch and Frost and the rest of the creative talent also brought Hollywood quality film to TV, in a seemingly perfect merging of various elements: detective show, soap opera melodrama, horror, comedy and romantic all in a melting pot contrasted against Frost's authorship and Lynch's creative musings and directorial influence. The result is one of the best and still to this day, one of the most unique television shows out there, which has since been copied or gone on to influence other fiction both on television or in other media such as film, video games and novels.
David Lynch's work as Writer, Director and sometimes even Sound and Music Composer on feature films starts with Eraserhead. The film propelled his career into then creating various other projects which have all since gained cult status in their own way. His work has over the years won acclaim by many and he has never strayed from creating the films he wanted to. Each film tying Lynch to being one unlike any other. If you have watched a David Lynch movie, you know about it. His movies strive to be different and often dare the viewer to stare into the abyss. His movies are a journey. Twin Peaks is an epoch.
Now with 18 New Episodes Directed by David Lynch himself and Co-Writer & Co-Creator Mark Frost returning to write every episode with Lynch, as well as Angelo Badalamenti's atmosphere driven score we are really re-entering the mysterious, dark and beautiful world of Twin Peaks once more.
Air Date (Double Bill):
May 21, 2017
Where it's airing:
There have been some nation-specific threads here so far, but I'm hoping we can compile a list of all services that will have season three airing live. Here's what I know so far.

Australia: Stan
Austria: Sky
Belgium: Be TV or Play More
Bosnia and Herzegovina: HBO Europe
Brazil: Netflix
Bulgaria: HBO Europe
Canada: The Movie Network or CraveTV
Croatia: HBO Europe
Czech Republic: HBO Europe
Denmark: HBO Nordic
Finland: HBO Nordic
France: Canal+
Germany: Sky Atlantic
Greece: Cosmote TV
Hungary: HBO Europe
Italy: Sky Atlantic
Ireland: Sky Atlantic or NowTV
Japan: WOWOW
Kosovo: HBO Europe
Macedonia: HBO Europe
Moldova: HBO Europe
Montenegro: HBO Europe
Netherlands: Videoland
New Zealand: SoHo
Norway: HBO Nordic
Poland: HBO Europe
Portugal: TVCine (But not until May 28)
Romania: HBO Europe
Russia: Amedia TV or TV-3
Serbia: HBO Europe
Slovakia: HBO Europe
Slovenia: HBO Europe
South Africa: DStv
Spain: Moviestar+
Sweden: HBO Nordic
Turkey: FX Türkiye
United Kingdom: Sky Atlantic
United States: Showtime

NOTE: For countries that say HBO Europe, this is the organization CBS signed the deal with. The local HBO operator will be the one actually broadcasting the show (e.g. HBO Polska in Poland, etc.).
The brief history of the main events in Twin Peaks goes like this...one night a young woman is found wandering the streets of Twin Peaks and taken back for medical attention, it turns out this lady is Ronette Pulaski, who witnessed the murder of one Laura Palmer, who was found "wrapped in plastic" by the town locals. Agent Dale Cooper of the FBI turns up to Twin Peaks quickly mystified at not just the circumstances leading to Laura's death but also of the atmosphere, the people and the secrets of Twin Peaks. Along the way he teams up with Sheriff Truman and his team at the Sheriff's Office along with the occasional help from fellow FBI Agent, Albert Rosenfield, FBI Regional Chief Gordon Cole & DEA Agent Denise Bryson. They soon discover a darkness found deep within Twin Peaks which reveals itself as the Red Room. Its inhabitants including the likes of a Dwarf, a Giant, a Child and a serial killer known simply as 'Bob'. Along the way they also discover the man with the missing arm, Mike, another mysterious resident of the Red Room. Cooper continues his unorthodox way of conducting his investigation and the wheels start to turn as those who have lived in Twin Peaks experience great change in all of their lives and the terrible secrets of the small town are laid bare for all to see.
Finally the plot unravels, the killer is revealed and everything becomes compounded by the fact that another killer, former FBI agent and partner of Cooper, Windham Earle becomes trapped within the Red Room, Cooper pursues him only to find himself caught in a trap from which there is seemingly no escape. Cooper always wanted to save Laura and the people of Twin Peaks but instead becomes the small town's next victim. Losing himself to Bob, we last see Cooper laughing at himself in the mirror with Bob's reflection staring back. Audiences everywhere were shocked. Seemingly trapped in purgatory, 25 years later, we now see Cooper again, seemingly... free? What fate will the people of Twin Peaks meet next? And what has become of Cooper?
It is happening again.
Angelo Badalamenti's beautiful score played such a large part of enveloping its audience in the atmosphere. Thankfully for us all, he has returned working with Lynch for the first time since Mulholland Drive. As has Julee Cruise to provide more beautiful vocals to the world of Twin Peaks. Along with them Moby has been hinting at contributing to the music this time around as well.
Listen to samples from the soundtrack below:
Twin Peaks - Soundtrack (1990)
https://www.youtube.com/watch?v=jYIvbZ5MffU&t=6s
Twin Peaks Season 2 Music and More (2007):
https://www.youtube.com/watch?v=6ws1j1ddkMs&list=PLF14CC218CCF1B58B
Video of Angelo Badalamenti Explaining How He Came Up With the Twin Peaks Theme Music and Collab with Lynch:
https://www.youtube.com/watch?v=rgXLEM8MhJo
Mark Frost, the Co-Creator of Twin Peaks.
Frost met Lynch when they were set to work on some cancelled projects that never got off the ground in the 80s. Eventually they found the right project for them, Twin Peaks. Frost created the characters and plotlines along with Lynch on its inception, owing much to his work as an Author, his writing laid the groundwork for Twin Peaks and is now bridging the gap between Seasons 2 and 3 with his Novels, which can be found below:
https://www.amazon.com/dp/1250075580/?tag=neogaf0e-20
https://www.amazon.com/dp/1250163307/?tag=neogaf0e-20
Frost stayed on as a writer throughout the original run in the 90s and is very much the architect in the shadows as opposed to Lynch's style of being in the limelight but much is owed to Frost as it is to Lynch, since the characters and storylines that they created together are the stuff of legend.
Is Fire Walk With Me necessary to understand the events of this series?

More than likely since there is already a character from that returning played by Harry Dean Stanton and mysteries surrounding that movie not yet laid to rest.

Can I start with Season 3?

Anybody who is new to Twin Peaks should start from the beginning, Season 3 will undoubtedly confuse new viewers with such a rich history.

Okay then, since I'm new to Twin Peaks, where do I start?

The TV series (Seasons 1 & 2) followed by Fire Walk With Me, which after finishing, if you are after more can follow up with The Missing Pieces and The Secret History of Twin Peaks by Mark Frost.

What is Laura Dern's/Naomi Watts'/Tim Roth's/Robert Knepper's etc role?

Unknown. We don't really know anything about the new cast members.

Trent Reznor? What in the...

Yup, this series has some very interesting and exciting cast picks.

What is the plot of Season 3?

Again, very little is known and they're keeping a very tight lid on the events of S3. Cooper has returned to Twin Peaks.

Did the actors who died in real life get to finish their scenes?

Unknown. They may have had to rewrite some of the scenes or they did in fact finish them but little information is out there regarding this. Best to remain optimistic.

What happened to Donna and Sheriff Truman etc?

Their fate is pretty much undetermined. All we know is that their actors are not returning to Twin Peaks.

Who is missing from this Season?

I would like a summary of the events so far as a recap?

Here you go:

https://filmschoolrejects.com/want-...al&utm_source=twitter.com&utm_campaign=buffer
Video recap:
https://www.youtube.com/watch?v=n_64-4c_E3o
There is also a series of twin Peaks novels written by Mark Frost which will bridge the gap between Season 2 and Season 3:
https://www.amazon.com/dp/1250075580/?tag=neogaf0e-20
https://www.amazon.com/dp/1250163307/?tag=neogaf0e-20
Twin Peaks is home to the most... interesting cast of characters ever seen in a show. Below is just a small sample of the returning characters and the new additions to the main cast can also be found in the full cast list found here:
Dale Cooper:
"They've got a cherry pie there that will kill you"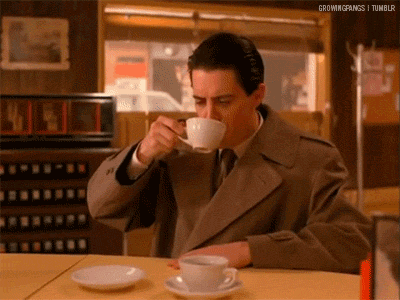 Laura Palmer:
The Log Lady:
"My log does not judge"
Bobby Briggs:
"She said that people tried to be good. But they were really sick and rotten on the inside, her most of all. And every time she tried to make the world a better place, something terrible came up inside her and pulled her back down into hell, and took her deeper and deeper into the blackest nightmare. Each time it got harder to go back up to the light. "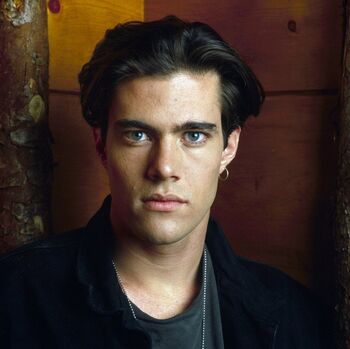 Leland Palmer:
"Somebody dance with me!" *sobs uncontrollably*
Benjamin Horne:
"Mmmmff! This bread is delicious!"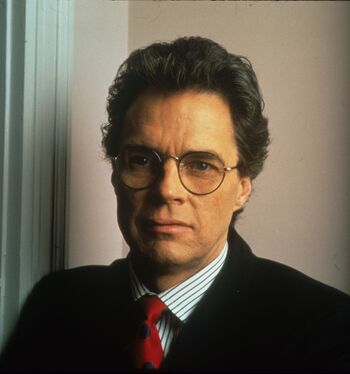 Audrey Horne:
Shelly:
Hawk:
"My people believe that the White Lodge is a place where the spirits that rule man and nature reside. There is also a legend of a place called the Black Lodge. The shadow self of the White Lodge. Legend says that every spirit must pass through there on the way to perfection. There, you will meet your own shadow self. My people call it The Dweller on the Threshold."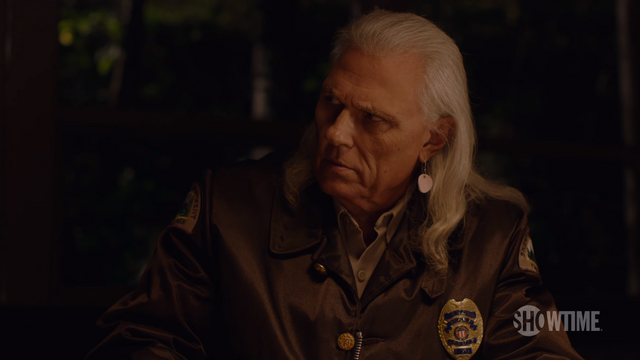 James Hurley:
Just you
And I
Just You
And I
Together forever
In love
Just you (just you)
And I (and I)
Just You (Just you)
And I (And I)
Together forever
In love
In love
We go strolling together
IN love
We go strolling forever
Oh oh oh
Just you (just you)
And I (and I)
Just you (just you) And I (and I)
Together forever
In Love
Just you
And I
Just you
And I
Dr. Jacoby:
Gordon Cole:
"COOPER, YOU REMIND ME TODAY OF A MEXICAN CHIHUAHUA"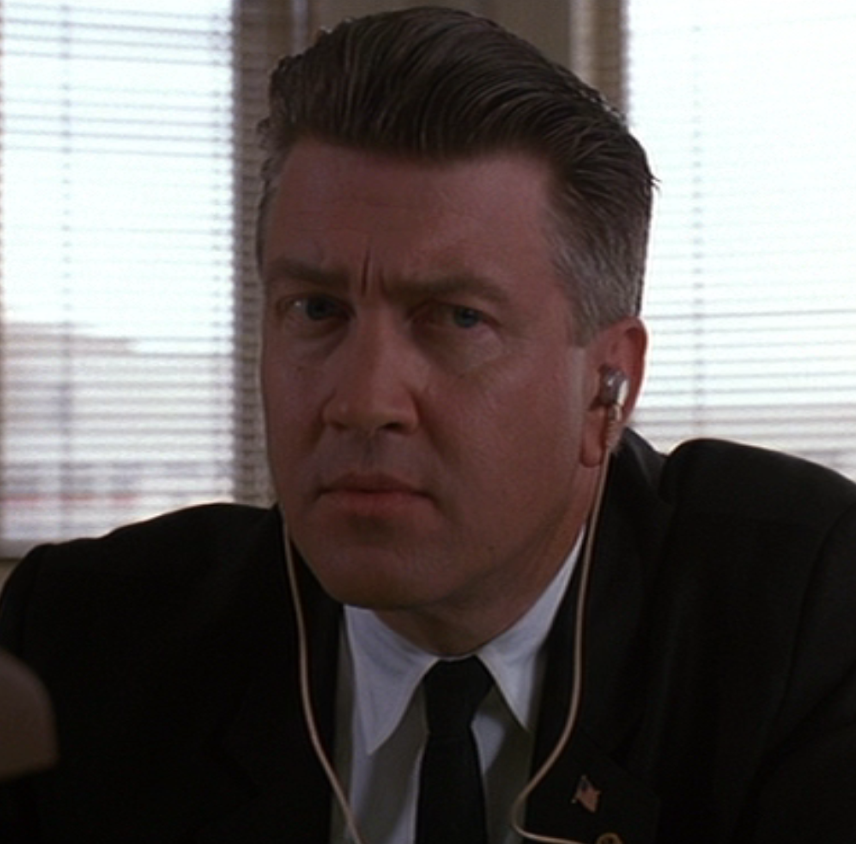 Bob: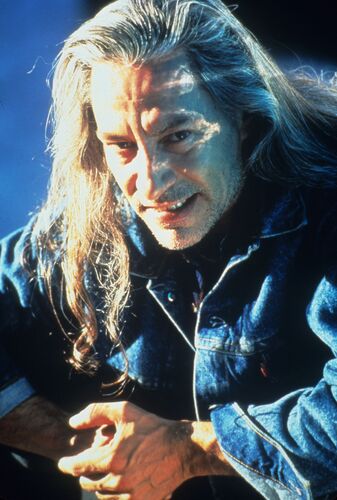 Mike:
"Through the darkness of future's past, the magician longs to see. One chants out between two worlds... "Fire... walk with me." We lived among the people. I think you say, convenience store. We lived above it. I mean it like it is... like it sounds. I too have been touched by the devilish one. Tattoo on the left shoulder... Oh, but when I saw the face of God, I was changed. I took the entire arm off. My name is Mike. His name is Bob."
Returning cast
* Mädchen Amick as Shelly Johnson
* Dana Ashbrook as Bobby Briggs
* Phoebe Augustine as Ronette Pulaski
* Richard Beymer as Benjamin Horne
* Catherine E. Coulson as The Log Lady
* Julee Cruise as the Roadhouse Singer
* Jan D'Arcy as Sylvia Horne
* David Duchovny as Denise Bryson
* Sherilyn Fenn as Audrey Horne
* Miguel Ferrer as Albert Rosenfield
* Warren Frost as Dr. Will Hayward
* Harry Goaz as Andy Brennan
* Andrea Hays as Heidi
* Gary Hershberger as Mike Nelson
* Michael Horse as Tommy "Hawk" Hill
* David Patrick Kelly as Jerry Horne
* Sheryl Lee as Laura Palmer and Maddy Ferguson
* Peggy Lipton as Norma Jennings
* Bellina Martin Logan as Louie "Birdsong" Budway
* David Lynch as Gordon Cole
* Kyle MacLachlan as Dale Cooper
* James Marshall as James Hurley
* Everett McGill as Ed Hurley
* Walter Olkewicz as Jacques Renault
* Kimmy Robertson as Lucy Moran
* Wendy Robie as Nadine Hurley
* Marvin "Marv" Rosand as Cook at the Double R Diner
* Carlton Lee Russell as the Jumping Man
* Harry Dean Stanton as Carl Rodd
* Charlotte Stewart as Betty Briggs
* Al Strobel as Phillip Michael Gerard/MIKE
* Carel Struycken as The Giant
* Russ Tamblyn as Dr. Lawrence Jacoby
* Ray Wise as Leland Palmer
* Alicia Witt as Gersten Hayward
* Grace Zabriskie as Sarah Palmer
New Cast:
* Alon Aboutboul
* Jane Adams
* Chrysta Bell
* Monica Bellucci
* Jim Belushi
* Ronnie Gene Blevins
* John Billingsley
* Michael Bisping
* Brent Briscoe
* Wes Brown
* Gia Carides
* Vincent Castellanos
* Michael Cera
* Richard Chamberlain
* Bailey Chase
* Candy Clark
* Scott Coffey
* Frank Collison
* Grace Victoria Cox
* David Dastmalchian
* Jeremy Davies
* Ana de la Reguera
* Laura Dern
* Neil Dickson
* Hugh Dillon
* Cullen Douglas
* Francesca Eastwood
* Eric Edelstein
* Josh Fadem
* Jay R. Ferguson
* Sky Ferreira
* Robin Finck
* Patrick Fischler
* Robert Forster
* Meg Foster
* Pierce Gagnon
* Brett Gelman
* Balthazar Getty
* Grant Goodeve
* Hank Harris
* Ernie Hudson
* Caleb Landry Jones
* Ashley Judd
* Jesse Johnson
* Robert Knepper
* David Koechner
* Jay Larson
* Nicole LaLiberte
* Jennifer Jason Leigh
* Jane Levy
* Matthew Lillard
* Bérénice Marlohe
* Josh McDermitt
* Derek Mears
* James Morrison
* Christopher Murray
* Don Murray
* Sara Paxton
* Max Perlich
* Ruth Radelet
* Mariqueen Reznor
* Trent Reznor
* Ben Rosenfield
* Tim Roth
* Rodney Rowland
* Elena Satine
* John Savage
* Amanda Seyfried
* Amy Shiels
* Tom Sizemore
* Bob Stephenson
* Jessica Szohr
* Ethan Suplee
* Lauren Tewes
* Jodi Thelen
* Sharon Van Etten
* Eddie Vedder
* Naomi Watts
* Karolina Wydra
* Charlyne Yi
* Madeline Zima
What part the returning cast will play is a mystery.
GIF Collective:
https://giphy.com/gifs/twin-peaks-coffee-dale-cooper-CkYl6m9Oc6sgw
Posters:
Trailer:
https://www.youtube.com/watch?v=vsdRG0mJj-w
Teaser:
https://www.youtube.com/watch?v=WpRdSh-qpW0
David Lynch Shares Season 3 Secrets (trololol):
https://www.youtube.com/watch?v=XSua-b-H4yg
Twin Peaks | The Phenomenon |
Part 1:
https://www.youtube.com/watch?v=fOX_THbcyrk
Part 2:
https://www.youtube.com/watch?v=MLphwS1_lcM
Part 3:
https://www.youtube.com/watch?v=UCHtSvgoHxE
Twin Peaks Cast Talk About Their Favourite Scenes:
https://www.youtube.com/watch?v=j4WDayIXllQ
Twin Peaks Documentary Feature(EW)
https://www.youtube.com/watch?v=Sm_gIh_Lz1Q
TOMATOMETER
94%
https://www.rottentomatoes.com/tv/twin_peaks/s03
http://www.metacritic.com/tv/twin-peaks/season-3/critic-reviews
Warning: There will be open spoilers about all three Seasons, especially after each episode of Season 3 airs, so if you are new to Twin Peaks, then it would be a good idea to stay out of this topic until you have at least caught up.
CO-AUTHORED by
Joqu