Warning:
Old ass grubby gamer incoming!
Hi Gaf i am currently being forced to play through the most boring game of my life God of War Ragnarok (good game though) due to a friend telling me its the best thing ever... I have never in my life been so upset of anger towards the NPC's that tells you what to do instead of letting me figure it out on my own. sorry im getting carried away.
It made me realise to horror that the idea of having labyrint challenging games in 3d spaces are gone.
You can still find challenging games in statistics, strategy and combat or if you crave for competition there is plenty. But the idea of having games that forces you to find your way and where you lose track of your destination have to figure out where you are. Have just disappeared there are zero games being released these days that can envoke the feeling of being lost. In the past we had two pioneers that did just that. Those games were Descent and Tomb Raider (Specifically the 360-degree swimming controls). Descent was so confusing that even using the 3d map was tricky.
Yet it is that which i crave for so badly as the result of this confusion leads to rewards and feeling of succes when you do find your way. Stumble from one point to the next its not the journeys destination that is the reward but the reward of getting there. meaning stumble, get lost, find your way and then get lost again. and at the end of your journey you can look back and say i was there and i did it. Thats a journey worth remembering
So lets try and analyse Descent first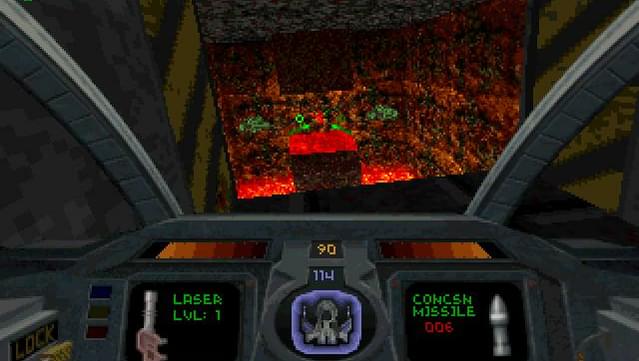 The thing about descent was that you were in a flying vehicle and you could turn, spin and move in 360-degree. the game was a shooter at heart yet implored you to explore due to its complex nature of controlling as well as level design. rewarding you with goodies if you shoot or flew into walls who were hidden doors or saw something fitting the odd 3d map.
The complexity of this games level design is also that what you see is what you get... there are no inexplainable invisible walls, there are no characters saying you can first go past this point of the map later, Nope you have to figure it out on your own. Lets not forget the vertical aspect which can look confusing at first but gets so rewarding when you figure it out you could say that the level designs are big intricate puzzles themselves that you try to maneuvre through
While this type of game has seen a few attempts for revival - Overload being the latest attempt. and Retrovirus a few years past.
it is a sad state of affair for people who generally love being challenged on their exploration and labyrinth sense.
So lets look at Tomb Raider 1996 Swimming mechanics.
Much like Descent Lara moves in 360-degree underwater instead of being stuck to 2d plane movements (which they did for Legend and every entry afterwards) completely losing track of where you are pointing due to no map or indicators. this can lead to confusion feeling lost and overwhelmed by the many possibilities for hidden switches or items. or like in my case if am going up for air i have to reorientate me when i dive down into the water as i have no idea of knowing which way lara is facing when she dive down again. just like in Descent the controls are smooth and responsive when underwater with no delay unlike when lara is controlling on land you can't spin in the water but you can go up and down left and right and make a quick turn i would love to show some demonstrations. but i expect that most people would know what i am getting at here. and if not i hope i have somehow made a argument. We last saw this kind of swimming in Tomb Raider - Angel of Darkness back in 2003
Open world exploration games doesn't appeal to me first of all because rewards are minimal, but often the travel part of the game is just not fun or challenging however a open world game i might find interesting but have not tried yet would be Death Stranding
I realise i am in a minority on this subject which is why the few attempts to revive this unexplored realm of possibilites has been left to the turn of time.