Jan 14, 2018
2,185
9,210
825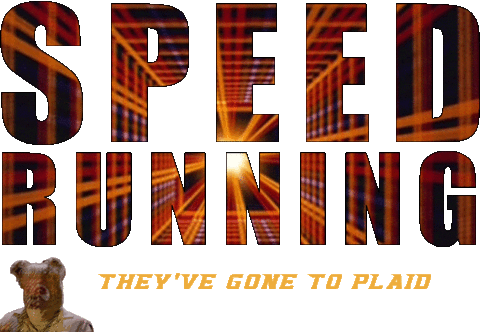 With
GDQ around the corner
(January 6-13th, 2019) I thought I'd make a general topic on speedrunning
NeoGAF GDQ 2019 Thread
​
Speedrunning is the art of finishing games quickly. Might sound simple enough, but I've discovered it to be an aspect of gaming that takes a lot of skill and perseverance, with some players even running the same game for months, even weeks to shave a few frames off their time. While I don't speedrun myself, I find it highly entertaining to watch, admiring not only the dedication of certain speedrunners but also their ability to become highly skilled at playing a certain game. In order to achieve their times, speedrunners often need to think outside the box, planning their routes carefully while oftentimes breaking the rules set by the game by exploiting glitches and programming mistakes in order to skip entire parts of it.
Contrary to popular belief, speedrunning has a long history, probably dating back as far as gaming itself. One of the first games to recognize completion time rather than high score was Metroid released for the NES in 1986. The first instances of organized speedrunning happened in 1993 with the release of DOOM, when people started sharing they playthroughs on curated sites dedicated to competitive play. Leader-boards and entire databases dedicated to speedrunning started to form, each attracting close knit communities devoted to finishing a certain game as quickly as possible, such as Quake, Zelda and Goldeneye.
In the early days of speedrunning, it was
incredibly difficult to record your runs
, with many speedrunners sharing their runs on VHS tapes or through crappy webcams. Capture cards were notoriously rare back then and even if you were one of the lucky ones to be in possession of such a card, you'd have a hard time uploading your video in the early days of the internet. Due to this problem, some of the great speedrunning feats went lost in time, but thanks to the speedrunning communities many have been conserved through the decades.
Nowadays, with the wonders of modern technology and the advent of streaming platforms, speedrunning has become a lot more accessible and organized. Modern speedrunning has become a global phenomenon but contrary to competitive e-sports, the speedrunning community is still rather niche. Through the loyal communities and public events such as Games Done Quick (GDQ) it has garnered a core audience.
If you want to know more about the history of speedrunning,
this article
is a great place to start.
Speedruns are categorized into various levels of completion, or how thoroughly a game is completed. The most notable ones are the following categories:
Any%
- This category refers to completing the game as quickly as possible, and often involves sequence breaking or the exploitation of glitches
100%
- A category dedicated to the full completion of a game, for example collecting all key items, finding all secrets or exploring all the places
Glitchless
- These runs are dedicated to completing a game as fast as possible without exploiting the game rules by playing the game "as intended"
Different games each have their different categories with their own leader-boards, often adding several special categories where people can compete.
Ocarina of time
for example has 8 different categories and
Super Mario 64
has different categories dependent on the number of stars your need to collect, with 120 stars considered to be a 100% run. The
Speedrun.com
website has many different games listed, so feel free to check them out.
Speedrunning has become a highly sophisticated aspect of gaming as it takes a lot of skill, practice, endurance and technical knowledge to even be able to compete among top players. The sheer knowledge required to complete a game as fast as possible is for me on of the most fascinating aspects of speedrunning as the speedrunner needs to be intimately familiar with the game mechanics. In that regard any% runs are not any less skillful and astounding as glitchless runs. I find it a common misconception that any% runs are mere "cheating" when in fact it takes a lot of knowledge to exploit a game in such a way. As such many speedrunners rely on their tight knit community in order to develop new routes and strategies in order to improve their times.
Technical knowledge
Probably one of the
most technical runs
is Super Mario on the NES where mere frames are separating the top players. It's a game that gamers have been speedrunning for a long time now and as such it's been highly optimized. Here's an example of the technical expertise required to beat the game as fast as possible, the infamous level 4-2 of Super Mario:
Endurance
Even certain any% runs take a lot of time to complete. One of the most fascinating and well explained runs is this 8 hours long speedrun of Final Fantasy VII. Since encounters in this game happen randomly dependent on your stepcount, the speedrunners need to count each and every step during these 8 hours or highly focused play:
Exploring new strategies
Some games have been around for a long time, but to this day speedrunning communities are still finding new ways to exploit the game in order to complete them even faster. Even
after 18+ years some new strategies
are found in certain games such as Perfect Dark. The Super Mario 64 any% category is a great example of this, with speedrunners finding new ways to get to the end of the game with less and less stars:
Practice
Be it using
two controllers simultaneously
or mere repetition, mastering a speedrun takes a lot of practice, and by that I mean a lot. It took the speedrunner abney317 exactly
26,461 attempts
in order to land a certain trick known as "Weathertenko" only to get the fastest time on the track Choco Mountain in Mario Kart 64. It's an extremely difficult trick, and the odds of that happening 3 times in a row, even for a skilled player, were 1/64,000.
Skill and patience
Speedrunning is highly competitive and in certain cases it takes a lot of patience to improve your time even by a single second. Another amazing feat in speedrunning is Karl Jobst breaking this world record in Goldeneye 64 which stood for 15 years! A lot of perseverance and dedication went into this run. Karl's reaction is priceless:
Glitches, Exploits and Bugs
Sometimes it's also just really funny to watch speedrunners break the game in order to progress faster (
Morrowind
and
Skyrim
being famous examples, basically any
Bethesda
game is hilarious really). Usually they do so by going out of bounds or by exploiting certain programming mistakes in order to skip whole sequences. The results are equally fascinating and funny to observe, like in this video:
If you feel like this aspect of gaming piqued your interest, here are a few good references to dive deeper into the fascinating and arcane art that is speedrunning. If you have any other references to add to the list, feel free to let me know.
To be honest, speedrunning is a little bit crazy and a little bit awkward. It's also very nerdy and niche. And while I'm neither speedrunning myself nor consider myself an expert in any way, I find it nevertheless entertaining to watch from time to time. It's a highly competitive aspect of gaming that has not yet been heavily dominated by corporate interests and sponsoring. Speedrunning is still a little bit amateurish, although certain runners put a lot of work into their skills. It's a diamond in the rough and a competitive form of gaming that's still mostly driven by the love for playing games, rather than big money.
So here are my questions to you dear Gaffers:
Do you watch speedruns, and if so which ones did you find most enjoyable?
Do you find speedrunning boring and uninteresting and if so, why?
Have you watched or do you intend to watch the GDQ event?
Are you knowledgeable about speedrunning and would like to add to the OP?
Would you like to add anything else?
Thanks for reading.
Last edited: