I'll make a quick review thread because nobody else seems to have yet.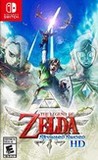 The Legend of Zelda: Skyward Sword HD for Switch game reviews & Metacritic score: Take to the skies, draw your sword, and experience the earliest story in the Legend of Zelda series. Join Link in his high-flying quest to save Zelda, a childho...
www.metacritic.com
Currently stands at
82
on Metacritic
Some review quotes:
Gamesradar 80%
Skyward Sword HD gives one of the most misunderstood Legend of Zelda games a second chance. It's an under-appreciated gem, one that finds the space to really breathe with a more reliable and relaxing method of control embedded within it. Skyward Sword has its fair share of problems, but it makes up for many of them in moments of true brilliance and defiance against established series conventions. Say what you will about Skyward Sword, but it's good to be out on an authored adventure with Link again – saving Hyrule one inventive dungeon and challenging boss battle at a time.
NintendoLife 90%
The Legend of Zelda: Skyward Sword HD introduces a raft of technical improvements and quality of life updates that reinvigorate and revitalise this ten-year-old game. With motion controls more precise than ever before, an alternate button control scheme that totally works, crisp HD graphics, smooth 60fps gameplay and a bothersome sidekick who's been streamlined into something altogether more useful, this really does feel like Skyward Sword as it was meant to be experienced. Yes, the locking off of instant travel behind the official amiibo is a misstep, but beyond this one issue what's here is a sublime experience, a technical triumph and an absolute must-play for Switch owners and Zelda fans.