Dec 1, 2014
29,593
34,991
1,345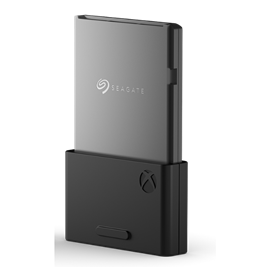 Instantly expand the peak speed capacity of Xbox Series X or Xbox Series S—connect a 1TB Storage Expansion Card with the Xbox Velocity Architecture custom memory.
"Seagate is thrilled to be a key player in next-generation gaming. With a new standard in performance, games will be more dynamic, visually stunning, and immersive than ever. Seagate's Xbox Series X Storage Expansion Card technology delivers additional game storage at peak speeds, replicating the console's internal SSD experience. We are proud to join forces with Xbox and can't wait to help gamers immerse themselves in the high-fidelity experience."
Xbox Series X is Xbox's most powerful console ever—and we created the Seagate Storage Expansion Card right alongside them. This partnership means that when you plug this storage card into any Xbox Series X console, you're getting all the speed and power Xbox has dreamed up, with no compromise.
| | |
| --- | --- |
| Capacity | 1TB |
| Flash Memory | Custom PCIe Gen4x2 NVMe |
| Form Factor | Xbox Series X Storage Expansion Card |
| Limited Warranty | 3 years |