https://www.jeuxvideo.com/news/1256...ne-veritable-liberte-creative.htm?jwsource=cl
Jeuxvideo.com: Xbox Live and Xbox Game Pass are considered success stories by Microsoft. One has a hundred million users, the other ten million subscribers. With the xCloud coming into Xbox Game Pass Ultimate and coming in September, do you think we'll be talking more about services than hardware for the next generation?
Phil Spencer: I think we should be talking about services and hardware uniformly. Our players' experience on our platform is driven by great games, and that's incredibly important. It's also driven by services that games and customers alike use, and obviously hardware that gives users the experience they want. There is also the community that our services bring together, a community that is an essential part of the gaming experience. Games will always be at the center of the debate, that's the goal, but over the years we see the growth and importance of services in everyone's experience.
JV.com: Your policy multiplies the points of entry into the Xbox ecosystem. Your first party games are coming out more and more regularly on Steam. Do you think exclusives are still decisive in buying an Xbox?
Phil Spencer: You touch on a key point. Our strategy revolves around the player rather than the ring road. We create machines to let users decide where they want to have fun. As players, they are the basis of our strategy. We just want to make games where people want to play them. You can have the full experience of course on an Xbox console, you will find Game Pass like Xbox Live, or even our first party games. Over the past few years that you mention, we've worked a lot to bring that full computer experience. So when people play on PC, they connect to Xbox Live, they find the Game Pass there as well as a big game library, our first party games are also there, and they can play with their friends no matter what device they are on. which they are. And we've built a strong relationship with Valve and Steam by enabling a similar experience. For us it is a complete experience no matter where the person is playing. But our console is in a way the soul of what Xbox represents. And we are very excited about the launch of our new machine this year.
JV.com: Last year was your biggest year ever for revenue in your PC segment. With the design of the Xbox Series X that looks a lot like a computer tower, we get the impression that Microsoft is gradually blurring the line between the world of the PC and that of game consoles. Are console gamers still your primary target?
Phil Spencer: Actually, the players are our main target. There are hundreds of millions of players who enjoy playing on consoles. When we started the development process for the Series X, we absolutely wanted to make the most powerful console. That was really the primary design intent passed on to the team. And we didn't want to sacrifice that power when we got down to thinking about its form factor. The design is actually designed to allow us to inject all of this power in a format that we think will suit everyone's entertainment platform. I feel good about the Xbox One generation. With the Xbox One X, the hardware team did a fabulous job of making a silent, unobtrusive machine. We have improved performance so much in this next generation that the console is a little bigger, without being noisier. The design allows us to put all the power we have into the best performing next-gen console, while keeping the noise low enough as our gamers have hoped for, and with a cooling system that works well on all occasions.
JV.com: Based on what's going on in the music and film industries, what are your predictions for Game Pass?
Phil Spencer: We see the Game Pass as a great choice for players who want to try new games, and build a library for themselves or their families in a new way. It's been incredibly inspiring to see the success of Game Pass, not just with gamers but also with game designers. Many creators found new audiences when they brought their games to Game Pass. They have been able to raise awareness and interest fans in the games they have built. I think the Game Pass is allowing developers to try new things and have a little more creative ambition in certain areas, while also motivating players to try titles that they don't have. normally not launched if they were only offered in store. But having softs on sale also plays an important role in our strategy. We give users the choice in how they want to build their game library, we let them decide.
JV.com: The Xbox ecosystem puts choice first. As you were saying recently, it's about choosing which games we want to play, choosing which friends to play them with, and choosing which device. Does this imply that it would be possible to see an Xbox app land on Switch or PlayStation 5 in order to go where other players are? Phil Spencer: About the choice… really it's the players who make the choices. We are not offering choice for the sake of choice, but rather to give gamers the flexibility to choose how they want to experience our platform and our games. About other game consoles, we cannot bring a full Xbox experience on these machines. With xCloud coming to Xbox Game Pass Ultimate at no additional cost, we think it's great added value to let players have fun on mobile. What we've done with the PC is just bring the full Xbox experience. Because we know that when someone plays an Xbox game, there are inevitably expectations: "I have my Xbox Live community", "I have my successes", "The Game Pass is optional", "My first party games are here ". Competing platforms aren't really interested in bringing a satisfying Xbox experience to their hardware. On our side, we want to be where the players want us to be. This is the path we take.
JV.com: The players who make choices, then. Sony has decided to ship a cheaper version of its private PlayStation 5 record player, so gamers can choose what they prefer. Do you think selling two models of a console from launch day is a good idea? Could Microsoft do the same?
Phil Spencer: I think giving players the choice of price is a good thing. Especially this year with the launch of a console whose price is at the highest of its entire life cycle. We know the current economic situation is complicated with Covid, unemployment… there are a lot of things clients have to deal with in their lives right now. Giving buyers the opportunity to choose how they want to enter our ecosystem is important. This is one of the reasons we are focusing on Xbox All Access which gives the user the ability to enter the Xbox ecosystem at no charge. Just by entering into a monthly relationship where he can have Xbox Game Pass Ultimate, console, and first party games included with Game Pass. I don't think it's just hardware, it's how I build my game library and how I pay for a console. This is clearly part of our strategy. I think Xbox All Access will be a big part of our launch this year-end, and we'll be bringing it to many more markets than before. We really can't wait to let gamers enter the Xbox ecosystem the way they want.
JV.com: If we put aside the Xbox One X which was actually a new version of the Xbox One, the Xbox Series X is the first console you have launched since you became the head of gaming at Microsoft. This console must have your signature. What is it ? What did you tell the teams when designing it? What was the goal?
Phil Spencer: I'm still learning. When I got this job, I officially joined the head of the first party studios. It was about making games ... that's how I grew up. And one of the important things for me, in this generation, was to design a great platform for developers ... because it's part of my background. I wanted the development environment to be solid, the hardware to be the most powerful available, the platform technology to allow me as a creator to reach the level I want to reach for the game I make. It's simply because I've seen this before, during the Xbox 360 generation, compared to the competition. One of the goals of the machine when we spoke with the hardware team was to make the best console possible for the creators. That it can give them the highest level of performance, the most predictability in terms of performance, and the right tools to bring the best of their games to the market. It has been shown, and it does not matter whether on PC or consoles, that the most powerful hardware which is the easiest to use, and which has a high performance software environment, generates the best versions of the games. This is exactly what I expect for the Xbox Series X.
JV.com: We all remember, during this generation, the promise of the Cloud with the awesome demo of Crackdown 3 is the destruction of buildings. The final version of the game was… less impressive. What makes us believe in the benefits of the Cloud again today?
Phil Spencer: The good thing when you look at the xCloud project is that we already see hundreds of thousands of people playing around with it. This helps us both to learn, to test and to design our infrastructures. So it's not for us to talk about technological power with xCloud, but rather to take great Xbox games and put them in your hands on mobile devices. You can then testify about your experience. We are really working to create a fair expectation, we are not here to say that Cloud Gaming is going to be more powerful than a PC or a game console. We talked about the Cloud as a way to give the user a choice in how they want to play. Our vision for xCloud is really focused on player choice. When you are at home near your console, I tell myself that you probably want to play on it. But when you're out and about, we want to bring you the best possible experience on devices you already have. Once again, we are building our strategy around your world, your ways of playing, not by forcing technology for our own benefit.
JV.com: An Xbox console that arrives with a Halo the day of its release, it inevitably recalls the very first Xbox. It's a console that has hosted quite a few Japanese exclusives, like From Software's Otogi, Tecmo's Ninja Gaiden (which later arrived on other consoles), Capcom's Dino Crisis 3, Namco's Breakdown. Great SEGA games too, like Panzer Dragoon Orta, House of the Dead 3, Crazy Taxi 3, Jet Set Radio Future. What can Xbox do to find exclusive Japanese projects? Is it still possible, even desired?
Phil Spencer: Our Xbox team in Japan is working very hard to bond. We know players around the world are clamoring for amazing games from some of the best creators on the planet. We know many of these Japanese developers, by the way. We want to be a platform of choice for these games. I am proud of our progress over the past 4 or 5 years. During E3, we have a strong presence of Japanese games on stage. We know that we are not a Japanese manufacturer, we know that we must work to rebuild a climate of trust with Japanese designers. We believe this will happen over time, and we continue to listen to what they need to reach a large audience around the world. I'm proud of what we're going to show on July 23, I appreciate our roadmap for working directly with Japanese creators to make Xbox games you'll hear about soon. We know it's vitally important in our strategy to make sure we have compelling Japanese developers, and that they know that Xbox is a platform they can be successful on.
JV.com: Matt Booty said in an interview that the Xbox Series X wouldn't necessarily have exclusives for 1 to 2 years, with the first Xbox Series X games running on Xbox One, like Halo Infinite. However, during Xbox May 20/20, we saw real Xbox Series X exclusives with Scorn or The Medium, which are not 1st party games. Are these statements from Matt Booty still relevant today?
Phil Spencer: The thing you will see on July 23 is that we are giving our studios real creative freedom so that they can produce the games they plan to make. The creators want to design great titles that will reach a large audience of people who can discover them. I think what you've heard about Matt's statements is that we have a vision for every game we make. And this vision begins with the player, not with the device. If a designer comes to us, like the ones you quoted from our May Showcase, and tells us, "I really want to dedicate myself to the next generation" with their games, we are totally in favor of that. If a developer approaches us and has a certain vision to reach customers through multiple platforms and different generations, we are also favorable to this. It is a question of leaving the choice to our creators so that they make the play which they wish to produce intended for the public which they aim rather than to decide for them. It's not our role as a builder.
JV.com: When we talk about the new generation, we often hear about the prettier graphics and the SSD. But what impressed you the most with this new generation?
Phil Spencer: What I'm experiencing the most now, and it's influencing my playing life, is how quickly I can choose the game I want to play. As someone who has worked in the video game industry for many years, I have always been a little jealous of music or video. If I want to listen to a group, I just have to click and then I can quickly find out if I like this group or not. When there is a new show on Netflix or Amazon Prime, I just have to select it and I can quickly find out if I like it or not. For video games, it's different. You have to go back to the time of the cartridge or CD, where it was enough to insert it and start playing right away. In our world of very large game downloads and bandwidth downloads, it can sometimes take hours before I can try a game. With services like xCloud, I can browse a catalog of games. I can start a title immediately on xCloud and please go to my console and download it. The bandwidth is higher and higher, the machine is more reactive, there is the Quick Resume function ... all this allows you to move very quickly from one game to another. "What am I going to play tonight? Where are my friends? " I think that gaming will be less a waiting medium but more a medium of experiences, with the new technologies that are coming. This has a big impact on the games I play, and how quickly I play. It still takes a little time but I feel less envious of the spontaneity of music or video. Because it happens in video games. This mix of xCloud, PC, console, Quick Resume ... it all makes for a magical experience and I love it.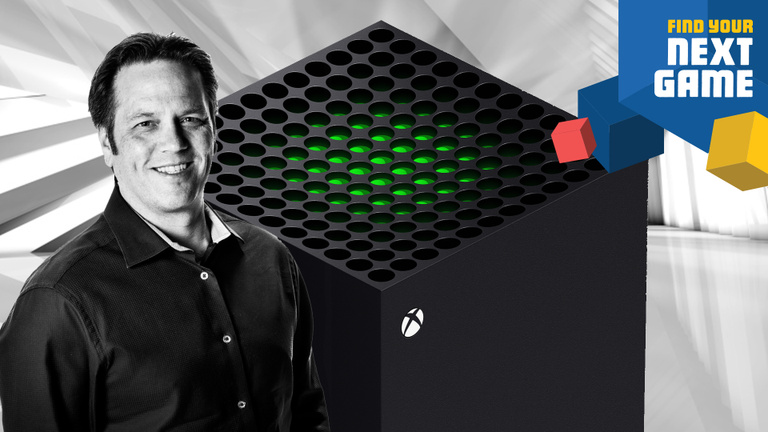 Comme vous l'aurez remarqué si vous consultez régulièrement Jeuxvideo.com, Microsoft accélère sa communication autour de sa Xbox Series X et des services qui y sont liés. Hier, la firme de Redmond publiait des informations sur le xCloud, sur l'événement du 23 juillet, et sur la politique...
www.jeuxvideo.com