************
Special note:
Joel has asked backers not to share concept art and certain other details shared from update emails. Please do not share any images or information Joel has specifically asked not to make public from those emails.
************
MST3K Returns on Netflix April 14th!
WE DID IT! 14 episodes!!! Highest TV/Movie Kickstarter Campaign in History!!!
Add-on total on the left, campaign + add-ons in yellow, number of backers on the right:


WE'VE GOT MOVIE SIGN!!!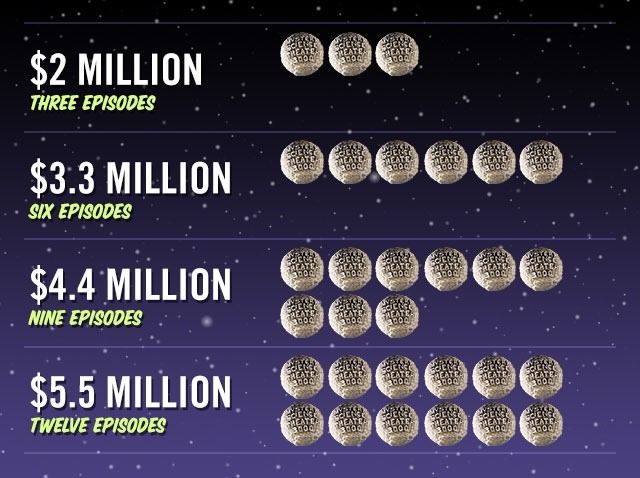 Joel said:

I've been thinking about ways to re-animate MST3K for over a decade... and over the last 15 years, I've met thousands of you who've told me that they wanted MST3K back too. But two things have finally changed that make this the right time. And I'm not talking about the legalization of marijuana or the proliferation of water jet pack use.

1. Crowdfunding gives fans the power to get what they want.In less than two years, I've watched fans use crowdfunding to bring back Veronica Mars, Reading Rainbow and Super Troopers – all cult favorites, like us – and it made me wonder how MSTies would respond if we had the chance to return. Now we're going to find out… and then maybe LeVar Burton can finally stop acting like he's so much better than us.

2. We had to work through some complicated legal issues.Even though I've always wanted to bring MST3K back, it wasn't that easy. Thanks to the Last Will and Testament of one eccentric old heiress, the rights were tied up for years. It took time to work those issues out, but with the help of my friends at Shout Factory, a special chokehold I perfected in WuDang that I like to call "The Persuader," and a night I had to spend in a haunted house as a term of the the old lady's will, we succeeded.

But this summer, we finally got all of the rights cleared up… and like Orpheus, we can now descend into hell to hang out with a couple of wisecracking robots.
Nice shot at Jim Mallon.
UPDATE #1: More on casting:
UPDATE #2: Host would will be Jonah Ray as "Jonah Heston."
Jonah Ray(Rodrigues) ‏@jonahray 22 minutes ago
I want everybody to know that this show means the world to me and I will do my best for MSTies, because I am one.
UPDATE #3: FIRST GOAL OF $2 MILLION IS HIT! IT'S HAPPENING!
UPDATE #4: Turkey Day Info
Turkey Day Promo Video
UPDATE #5: Hampton Yount and Baron Vaughn to become the next voices of Crow T. Robot and Tom Servo, Felicia Day Confirmed As The New Mad Named Kinga Forrester, 72-Hour Challenge
NEW CHALLENGES: Just 72 HOURS to reach $2.75M before Turkey Day '15.
NEW BONUS REWARD: More classic episodes free if we get there, plus…
MAJOR BONUS REWARD, if we reach $3.3M before the end of Turkey Day '15!
PLUS, BIG NEWS: Joel's pick for MST3K's next Mad, Crow and Servo!
Update #6: 72-Hour Turkey Day Challenge
You beat the 72-HOUR CHALLENGE: six classic episodes unlocked!
The Turkey Day Challenge: can we get to $3.3M by midnight tomorrow?
If we do, all backers (at $85+) get THANKED IN MST3K's CREDITS!
More chances at SOLD OUT REWARDS!
NEW 100% DIGITAL PACKAGE: all the episodes, no extra stuff!
NEW REWARDS and BLACK FRIDAY SPECIALS!
Update #7: Past 3 Million!!!
Update #8: Turkey Day Challenege Extended Through Monday at Midnight.
Update #9: The next new mad is Patton Oswalt! He'll be playing TV's Son of TV's Frank (not a typo)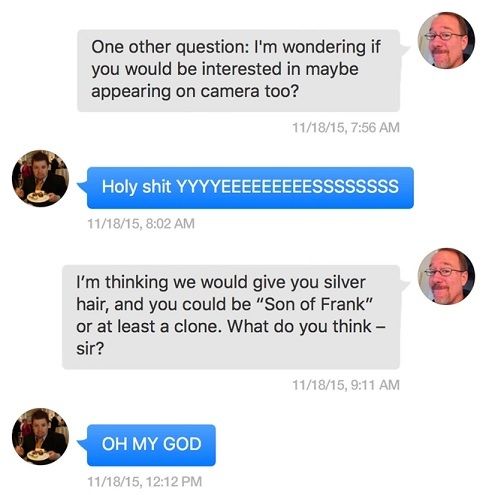 Update #10: Six Episodes Confirmed!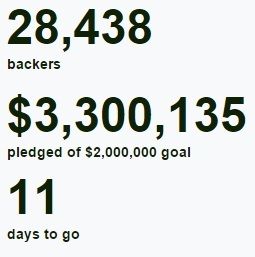 Update #11: Current add-on totals revealed, final push for 12 episodes.
- Extra rewards for hitting milestones by 8 AM Tuesday, including 4 more free classic episodes if they hit $4.4M by that time.
- They will be doing double feature live streamings every day next week.
- Special stream Friday, December 11 (last day of Kickstarter campaign)
- New updates every day next week
Update #12: Grand finale this Friday!
Update #13: NINE Episodes confirmed! List of main and guest writers and returning crew (so far)
MAIN WRITERS
Joel said:

Now, unlike most shows, most of our regular MST3K writers aren't going to be professional television writers. But remember: none of our original writers had a lot of "pro" experience, except maybe in Minneapolis... and look how that worked out!

So, our next staff writers are mostly people I've met in my travels, who I thought were funny and who have a knack for movie riffing. They come from all walks of life:

One is a teacher at a Montessori school,
One works in a bookstore,
One does graphics for a college,
One is in advertising,
One writes for a women's online magazine,
One has a local public radio show,
One does IT for a design firm…
GUEST WRITERS
Joel said:

DAN HARMON, the incredible mind who created Community, hosts the Harmontown podcast, and co-creator of the very funny Rick & Morty.

JUSTIN ROILAND, the other creator of Rick & Morty, as well as a very talented voice actor/comedian/artist, and a huge MSTie.

ROB SCHRAB, an original remote writer for MST3K, co-founder of the seminal Channel 101… and now, director of the next Lego Movie.

NELL SCOVELL, a long-time collaborator and friend, will be "in the house" too. She's currently writing on the The Muppet Show but has worked on The Simpsons, Newhart and It's Garry Shandling's Show, among others.

ERNIE CLINE, the New York Times best-selling author of Ready Player One, which will soon be a movie from Steven Spielberg! If you've read RP1, you know how good Ernie is with cultural references.

PAT ROTHFUSS, the New York Times best-selling author of The Name of Wind, has offered to have a "story breakfast" with me and go over "story beats" for the next series… and a few of you can join us!

PAUL & STORM, the hilarious musical act, W00tstock founders and stars, musical contributors to Despicable Me 2, my good friends and the hosts for Friday's live "Final Countdown Telethon" will be contributing riffs and some special music!

DANA GOULD, the brilliant comedian and former Simpsons writer, who will also probably appear on camera as well for a cameo or two. But actually, that gets into the area of our Guest Cameos, which is a topic I want to save for tomorrow.

ROBERT LOPEZ, the EGOT-winning songwriter from Avenue Q, The Book of Mormon and Frozen, has offered to write some original songs for us!
RETURNING CREW (SO FAR)
Joel said:

Pretty cool, huh? I'm excited to have so many new faces and voices helping out. But I also want to make sure it's not "too" new – you know, even as the show changes, I want to make sure we're honoring MST3K's past.

So, like I said, we've now made offers to all of MST's original writers. While it seems like most of them won't be available to join us, at least for now, I still hope they'll decide to join us later. We'll always be glad to have them back, even if it's just for an episode or two when they can spare some time.

And actually, I'm happy to tell you that a few MST veterans have agreed to come back and "Pitch" in – not just as writers, but in other creative departments too – to make sure MST3K still has the spirit of the little cowtown puppet show you know and love:

CHARLIE ERICKSON,or, as he's now known in the international DJ scene, Chuck Love, was the musical genius behind the original MST3K theme song, as well as the arranger of the haunting "MST3K Love Theme." Charlie will be back to work on some new arrangements for us… and hopefully some new music, too!

BEEZ McKEEVER, MST3K's original "Prop Diva," will return to design special costumes for the bots. (Watch for her special line in the credits: "Robot Fashions created by Miss Beez of Duluth!&#8221

CRIST BALLAS, our original MST3K hair and makeup designer – and a long time friend – will also be joining us in that department, as well as plying his real trade: creating Academy Award-winning special effects makeup!

And finally...

PAUL CHAPLIN – old "Pitch" himself! – the veteran writer (over 144 MST3K episodes!) will be back demonstrate his mastery of "the craft we call riff"… and more important, to show the newer MST3K writers how we did it back in the day!
Update #14: More guest artists and crew, new coffee table book reward, concept art of the SOL, Jonah's spacesuit, Kinga Forrester
Joel said:

WAYNE WHITE, one of the genius designers behind Pee-wee's Playhouse (and star of the documentary Beauty Is Embarrassing) is going to some design some cool-ass stuff for us... maybe even a spaceship or two!

REBECCA SUGAR, the creator of Steven Universe AND a creative juggernaut from Adventure Time is doing a specially designed piece for us, while her brother…

ADAM SAVAGE, from Mythbusters, has agreed to consult on some of the more ambitious "in camera" effects we're planning for these new episodes. With the help of people like Adam, I feel like we'll be able to pull off just about anything we can think of.

STEVEN SUGAR, the ingenious background designer of Steven Universe, has already started work imagining cool ideas for the interior of the SOL and the Mads' new lair.

FRENDEN, the brilliant digital brush designer and graphic artist supreme, has already started designing some characters and costumes ideas.

JOSHUA PRUETT, an exceptional storyboard artist and creator, who has worked as a story artist on The Croods, and writer on Book of Dragons, and as both on Disney's wildly popular Phineas & Ferb, has already started work on storyboards for the next opening and closing of the show.

GARY GLOVER, a long time friend of MST3K, and top concept designer who's done concepts and art for all manner of films and toys, has already begun to work his magic doing some beautiful illustrations for us. Here's his latest take on a spacesuit for Jonah, and some new features for Tom Servo and Crow:

MARTY BAUMANN has been busy on concept art too. You already know Marty's work from these updates: he's the man who designed both our Mission Patches and the "Satellite of Love" Art Print available as Add-On Rewards, and he's famous for his work on animated films like Toy Story 3 and Big Hero 6. Here's Marty's pass at a new look for the "Bridge" on the SOL:

BRETT 2D BEAN, a wonderful visual development artist and conceptual designer for all sorts of projects and companies, has done designs for big companies, like Disney, Nickelodeon and Jim Henson's Creature Shop... and also little ones, like MST3K. He's been working on some character designs, including this idea for Kinga:

STEVE VANCE, our favorite MST3K poster artist, is gonna help me "seam it all together" visually.
Update #15: Potential cameos announced including Jerry Seinfeld, Mark Hamill, Jack Black, Joel McHale, Bill Hader, Neil Patrick Harris
Joel said:

JACK BLACK, the brilliant comic actor and musician, star of everything from the Kung Fu Panda films to the wonderful School of Rock… though to some people, of course, he's better known as one-half of Tenacious D. So, I don't wanna tell you anything about what I'm planning for his character… but I think it would be a lot of fun to have him perform a song.

JOEL MCHALE, who I first knew as the hilariously dry host of The Soup, and who has been expanding his acting career into television (as the star of Community) and film (the Ted movies). I met Joel at a friend's wedding last year, and we became fast friends. He's a really nice guy, so even though he's in demand for big-time revivals like The X-Files, he says he's up for joining us too!

BILL HADER, the incredible changeling/actor/impressionist who has appeared in everything from SNL to Cloudy with a Chance of Meatballs to Trainwreck. I've always been amazed by Bill's talents, and was finally introduced to him backstage at SNL by a mutual friend.

NEIL PATRICK HARRIS is a true renaissance man whose career spans film, TV, the broadway stage and the internet, where he appeared opposite our own Felicia Day in Dr. Horrible's Sing-Along Blog. Funny enough, though, I actually met Neil through mutual friends at the Los Angeles Magic History Conference, where we geeked out on magic together. Also, I'm honored to point out that Neil has always been a MSTie. In fact, he was included in first MST documentary – This is MST3K – all the way back in his Doogie Howser days!

JERRY SEINFELD, my long time friend, and of course, one of our most brilliant stand-up comedians. Jerry was also the co-creator of Seinfeld, and the creator and host of my favorite concept for a talk show, Comedians in Cars Getting Coffee. You know, I've known this guy for over thirty years. I actually remember him from when he only had one car.

Anyway, speaking of Star Wars, you might remember a few weeks ago – not long after we launched our Kickstarter campaign – that this happened:

And you know, once it did, I had to follow up on it.

I was able to connect with Mark through someone we both know, and when we talked last week, I asked if he would be up for doing a cameo on Mystery Science Theater 3000.

Guess what, everyone?

MARK HAMILL is up for doing a cameo on Mystery Science Theater 3000!

And you know, when we finally spoke, and Mark told he me was a MSTie from way back, I was simply knocked out. Like a lot of other people in my generation, seeing Star Wars in theaters back in 1977 was a profound experience. For me, it was the equivalent of seeing the Stones play. But since then, I've also admired Mark's incredible work as a voice actor, especially as the Joker in the Batman animated series and video games. Mark just gives these unbelievable performances in all of his roles, so I'm excited to find a really fun, unexpected role for him on MST.

Now, those are just some of the amazing and talented performers who have offered to stop into the show. But you know, as much as I love all of these guys, let's face it: it's a little bit male-centric.

I've gotta tell you: that wasn't intentional. I guess I just have a harder time meeting women these days? But listen, if any female celebrities are reading this, and happen to be fans of MST3K, please let me know! And if your names happen to be Tina Fey, Lily Tomlin or Amy (Poehler and Schumer) – a few of my current comedy heroes – call me! We're bringing back MST3K and would love for you to do a cameo!
Update #16: $425K in Add-Ons, Currently at 5.2 Million, New Stretch Goal: 13th Episode!
Update #17: A FULL 12 EPISODE SEASON HAS BEEN CONFIRMED!!!
Update #18: 13 EPISODES CONFIRMED!!!
Update #19: MST3K Becomes the Biggest Crowd-Funded Video Project in Internet History
Mystery Science Theater 3000 smashed through all known barriers Friday night to prove itself the king of geeky TV when its total on Kickstarter soared past $6 million. The show, which went off the air in 1999, became the most successful crowdfunded video project of all time, surpassing the Veronica Mars movie, which previously held the title with $5.7 million.

The MST3k project's ultimate goal had been $5.5 million to produce a new, 12-episode season of the cult series, in an attempt to prove to various networks or online streamers that there was a demand for the bad movie riffing series to return. This could not possibly have been proven more conclusively, as the minimum $2 million goal was immediately overcome. In the last 72 hours in particular, donations to the Kickstarter have been flying fast and furious, taking it well beyond any of the earlier projections. At the time of this writing, more than 47,000 people (including myself) have donated to the cause.
Update #20: 14 EPISODES CONFIRMED!!!

Update #21
New interview with Joel at Rolling Stone.

Production begins January 4th at 10 a.m., targeting fall release date.
Rolling Stone said:

Will it be streaming or is it coming back to television?

We're trying to figure that out right now. We don't know exactly. The idea was to try to create a hybrid. We just want to do what's best for the show and its fans.
Update #22 They've received offers from networks, month or so delay in production due to obtaining international movie rights, new concept art, next update all about Kickstarter rewards
Joel said:

• What's happening with production?
- We've got new offices and a Fablab workshop.
- We've got some offers from possible network partners!

• When will the new episodes be ready?
- We've run into our first delay: international rights for films.
- It'll take us an extra month or two before production can start.
- Probably be shooting in August and September, rather than June and July

• A First Look Behind-the-Scenes
- Joel's ground rules for sharing previews and sneak peeks.
- A first look at the new opening sequence!
- A first look at some new concept art!
- A first look at a new robot prototype!

- What's happening with the Kickstarter rewards?
- An update all about rewards is coming soon!
- Reward Order Forms: coming in the next 4-6 weeks.
- Reward Schedule: coming in the next 6-8 weeks.
Update #23 Writing riffs starts today, March 14th!
Update #27:
-All of the legal issues have been worked out regarding the movies they chose to riff, every movie has been cleared and approved
-"Very close" to choosing a home for MST3K. They've narrowed it down to a few final options (can't list them for obvious reasons but pleeeeeeeeeeeeeease be Netflix or Hulu.
-For digital reward/classic episode backers:All of the free "classic bonus episodes" will be from outside of the 87 that they've already been able to sell online. Great news for people like me who have owned the "classic" episodes for years and years. Joel might even have "an extra surprise that a lot of you will be excited about…"
-Joel has made a special request that people not post backer-exclusive updates on social media as far as concept art, works in progress, etc...so I will obviously honor his wishes. He asked in the nicest, most Joel-like way possible
-Next week's update may include a little bit of what they've been planning for the updated Satellite of Love
Update #28:
MST3K reboot will be on Netflix!!!
Update #29:
Joel said:

-You'll be able to watch Mystery Science Theater on Netflix in the United States, Canada, Australia, New Zealand, the UK and Ireland.
-Still looking at more international options.
-If your Kickstarter rewards include the new episodes, you will get them at the same time as everyone else, no matter where you live.

-Mary Jo Pehl will guest star as Pearl Forrester.
-Kevin Murphy will guest star as Professor Bobo.
-Bill Corbett will guest star as Brain Guy.[/B]

-Mary Jo and Bill have also joined the writing team for some of the new episodes

-In the process of working with other original cast members to see if we can get more of them to come back
-If it doesn't happen this season, then hopefully it will happen in Season 12...
Update #30:
-Most "silhouette scenes" have been shot
-Shooting host segments, sketches and opening sequences this week
-Mark Hamill cameo is confirmed and is being shot this week
-New cameos not yet mentioned are happening
-Mary Jo, Kevin and Bill will be on hand all week
Update #31:
-All episodes will be finished by end of January
-Should debut in the first half of 2017
-They had originally planned on showing the first new episode during this year's Turkey Day, but they weren't ready
-Joel is sending a special surprise to backers who pledged at any "bonus episode" tier level this Friday. Something some "have been waiting for a long time."
Update #32
Episodes due to be finished on Feb 14. "Probably won't be released before late March"
Joel said:

Right now, we're still finishing up post-production on all the new episodes -- that's basically when we make sure everything looks and sounds "just right" – and I think we're still on track to make our current deadline and "lock" all of the episodes on Valentine's Day, February 14th!

After that, there will still be other details that need to get worked out, so I'm guessing the show probably won't be released before late March. (And you know, it could be later.)
There's also another part to the update that's backer-only that Joel asked not to share online, so check your emails if you're a backer.
Update #33
MST3K Returns on Netflix April 14th!
Update #34
Joel said:

I want to tell you that these events (live screenings in New York,Chicago, L.A.) weren't part of the "Livestream Screening" that we promised as a reward for backers who pledged for EXPERIMENT 025 and higher. You didn't miss the online screening reward! That's still going to happen before Netflix releases the new season on April 14. We're working out the details now, so I hope we'll have those for you in the next week or two.
Gypsy is voiced by Rebecca Hanson (
twitter here
).
Joel also explained that he grew uncomfortable with Gypsy being "dim" and voiced by a man. She'll be much more with it in the new season and occasionally show up to riff in the theater.
Rebecca also plays the part of one of Kinga's minions.
Joel also showed a new bot that was at the screenings (won't post it here and it was in a backer-only update that Joel has asked not to share).