Dec 3, 2019
4,263
5,679
720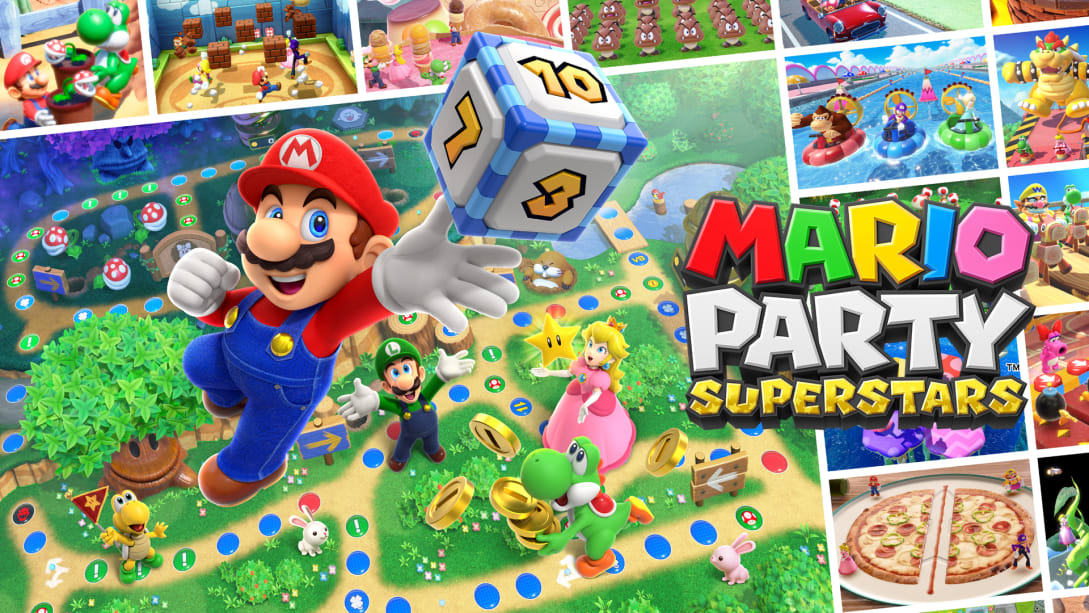 The classic N64 Mario Party games (MP1-MP3) are being honored in the new Mario Party game, Mario Party Superstars for the Nintendo Switch. With Mario Party Superstars releasing on October 29th, 2021 that gives fans everywhere and newcomers alike another 84 days as of this post, to speculate before the game's arrival to the Nintendo Switch
What does it take to be a Super Star?


According to Toad, a Super Star will need strength, energy, courage, kindness, and to head out into adventure. The one who comes out on top during that adventure is the biggest star, aka the Super Star
Mario Party Superstars
Release Date: October 29th, 2021
Nintendo Treehouse
Confirmed Roster:
Mario, Luigi, Peach, Yoshi, Wario, DK, Rosalina, Birdo, Waluigi
Confirmed Boards:
Peach's Birthday Cake (MP1)
Space Land (MP2)
Woody Woods (MP3)
Yoshi's Tropical Island (MP1)
Horror Land (MP2)
Confirmed Items:
Mushroom - "+5 to dice roll, then move the total amount"
Skeleton Key - "Open a gate. Can only be used when you're next to a gate" (Shop price: 3 coins)
Warp Block - "Swap spaces with a random opponent" (Shop price: 7 coins)
Plunder Chest
Chomp Call - "Call Chain Chomps to move a Star" (Shop price: 7 coins)
Golden Pipe - "Warp next to a Star" (Shop price: 25 coins)
Custom Dice Block - "Roll whatever number you want from 1 to 10"
Cursed Dice Block - "Your die can roll only a number between 1 and 3"
Double Dice - "Roll 2 dice, then move the total amount" (Shop price: 5 coins)
Triple Dice - "Roll 3 dice, then move the total amount" (Shop price: 10 coins)
Item Bag
Boo Bell
Dueling Glove
Double Star Card
Confirmed Bonus Stars:
Shopping Bonus - "This bonus is for the eager player who purchased the most items!"
Slowpoke Bonus - "This bonus is for the placid player that moved less than anyone else!"
Additional Notes:
-Switch Pro Controller, Gamecube Controller, and JoyCons are all supported in Mario Party Superstars
-Chance Time is back
-VS Minigame Spaces = Battle Spaces and the player who lands on it will receive +3 coins. The VS Minigame Space disappears after one lands on it once and it then becomes a regular Blue Space
-Players start off with 10 coins, Stars cost 20 coins, Boo will steal a star for 50 coins
-Same space Duels are back. Two players will embark to play a duel minigame. The player who lands on the opposing player's space sets the wagered amount of coins that each player will bet. We can assume that this will be a final 5 turns type of event based off previous MP games
-At the end of 4 player minigames, 1st, 2nd, and 3rd place are awarded coins
-At the end of 1v3 mingames, only the winner(s) will receive coins
-Hidden Blocks, a staple of the Mario Party series, are in the game
-On the board Peach's Birthday Cake, you can now purchase small strawberries to plant, they cost 5 coins and will steal 6 coins

Overall, there's already so much to be excited about because there are now three very balanced boards out of the five announced. We've already seen two of them in Peach's Birthday Cake and Space Land, which have both received their own new and unique remake additions. Classic items are returning and the inclusion of the Chain Chomp Whistle really opens up the game imo, NDcube has added their own spaces and little adjustments here and there to the boards to bolster gameplay to new heights. And there will be 100 minigames across the series (MP1-MP10) to return in brand new form in Mario Party Superstars

The game features online matchmaking, which will be a first in the Mario Party series. Saves between turns are also back, which ensures that we can stop and return to a saved game any time we'd like

I might be the most hyped out of anybody for Mario Party Superstars, so definitely expect some updates and insights ITT!
Last edited: