Jump to Modern Masters 2017
Official page
Aether Revolt set information
Aether Revolt trailer
Previous topic:
Kaladesh
(OT9)
Next block:
Amonkhet
TABLE OF CONTENTS
Intro
--Getting Started
--Prerelease
--Changes
Set Details
--Story
--Characters
--Card Themes
Resources
Previous Threads
Schedule
Highlights
INTRO
Welcome to the Multiverse! Multiple worlds exist side by side in different dimensions, known as planes, and they are as different as night and day. All of them, however, have a form of magical energy known as mana, which can be channeled into powerful spells. Residents of these planes are usually unaware of other worlds, but there are some special beings with the ability to safely travel between them, known as Planeswalkers.
Magic: the Gathering is a Trading Card Game, the first of its kind, developed by Richard Garfield and his playtesters for the gaming company Wizards of the Coast in 1993. The game quickly became a hit, and it is currently bigger than it has ever been. In the standard game, you and your opponent play the role of dueling Planeswalkers, using customized 60-card decks made up of your spells, the creatures you can summon, your mana bonds with lands, and even other Planeswalkers you can call in to help out. Whoever can get his or her opponent down from 20 to 0 life, wins.
In Aether Revolt, the bright world of Kaladesh has fallen into chaos, as the governing Consulate has established marshal law and the rebelling Renegades are fighting back harder than ever. The elegant artifacts of peacetime have been converted to weapons of war.
Due to holiday conflicts, we're only getting four days of previews before the full set reveal. Yes, really.
One thing to note about discussion in this thread is that a lot of us are specifically looking for cards that will change up Standard, a playing format made up of the past several sets. In the past, people complained that set themes didn't get a chance to shine in Standard, since it was too easy to shut them down, so Wizards has been trying out a philosophy where set themes don't have strong "answer" cards. However, for many players, this has backfired and made certain decks too strong. Wizards has acknowledged this, but they work too far ahead to make quick changes. Thus, people here are hoping for Aether Revolt to have cards that exile cards from graveyards and destroy artifacts, among other possible effects, and a lot of discussion will likely revolve around that.
There turned out not to be any good ones.
Banned and Restricted List Update
- For the first time in years, cards have been banned in Standard:
* Emrakul, the Promised End
* Smuggler's Copter
* Reflector Mage
GETTING STARTED
If you're a beginner, feel free to come in--that's why this is in OT, after all. Spoiler season is one of the most exciting times for a Magic player, and it would be great for more to join in. Us regulars can get a bit technical with card evaluations and use a lot of jargon, and many of us will loudly proclaim that a cool-looking card is junk, or say that a lame-looking card is really powerful, but feel free to ask us if you want an explanation.
To see what a game is like, check out
Geek and Sundry's Spellslinger series
(now discontinued), where Day[9] battled various geek celebrities, often losing, using simple and easy to follow decks.
To get started, check out
the official page
. Basically:
* It's recommended that new players play
Magic Duels
(
thread
). It's a great way to learn the game on your own, and it's free!
* After that point, the act of deck building can be intimidating, so it's recommended that you try out a preconstructed deck and customize it with other cards you get, before you start making your own from scratch.
* Before you start entering any tournaments, or building decks for tournament formats like Standard, it's strongly recommended you stick to playing casually against friends for a while. Not only will you have an easier time with deck building, since you don't have additional constraints, but it will usually be much cheaper.
* For your first deck, starting with Kaladesh, you can buy a Planeswalker Deck, These preconstructed decks come with four new cards unique to the decks, including a new Planeswalker card. If you have a friend to play with, there are also Duel Decks that provide two decks for a game right out of the box, but are a bit more complicated. Third-party company Card Kingdom also releases
Battle Decks
, at a similar level of complexity to Duel Decks, but at a higher level of power and consistency. Note that those last two aren't built for the Standard format, but are good for casual play.
* To get your physical collection started, buy a Deck Builder's Toolkit, which includes not just a starting collection of cards (including a lot of lands), but also some booster packs and a good box to store cards in. The Holiday Gift Box provides an even larger starting collection and better storage.
* The different play formats can be found
here
. The most popular formats where you start out with no deck and have to make them from scratch (Limited) are Draft and Sealed. The most popular formats where you bring a 60-card deck ahead of time (Constructed) are Standard, Modern, and Legacy. Casual play has no restrictions other than what your friends decide.
* To learn about the theories behind deckbuilding and gameplay, check out
Level One
.
* Once your skill advances, another popular way to play Magic casually is
Commander
. Wizards provides prebuilt decks for this format too.
* While game stores will often hold Magic events at other times, every store that has Magic events will have Friday Night Magic. There, you will be able to find other players in your area to both have matches with and trade with.
Find game stores here
. And to get started participating in your local game store (LGS) scene, attend a prerelease!
PRERELEASE
While the set won't officially be sold until the release date, that isn't the first time you can get your hands on the new cards. Game stores hold prerelease events for every set in the Sealed format, where every player is given a box with six booster packs and a random additional rare card. From this pool of cards, all of which you keep, each player builds a deck of 40 cards and participates in a Swiss-system tournament. This is a fun and casual event, where everyone is still trying to figure out the set, so don't worry about messing up. In addition to normal duels, there are also Two-Headed Giant events, where you pair up with another player and face off against another team.
Prerelease events will be held on January 14–15, 2017. Call your local game store a few days ahead of time to register, or they might just run out of room.
Find local game stores here
.
CHANGES
Magic now has a rarity even rarer than mythic rare! Sort of.
The Masterpiece Series
is a "set within the set" made up entirely of reprints or cards printed at a lower rarity in the normal set. These cards won't be in Standard, unless they're also printed in the normal set, but you can play them in Limited. Masterpiece cards are always premium (with foil) and have a special frame treatment and set symbol. There are around 50 cards each block, spread across the two sets, with more in the large set. You can find a Masterpiece card in roughly 1 out of every 144 booster packs, which is slightly more often than opening a premium mythic rare. They'll be available on Magic Online, but not Magic Duels.
This is completely opt-in. You don't have to get any of these cards for tournaments, and they are simply a way to bling up your deck.
Every block from now on will have a Masterpiece Series, after the success of the wallet-sculpting Zendikar Expeditions in Battle for Zendikar. They will be thematically tied into the block they are attached to. For example, Kaladesh's Masterpiece Series, Kaladesh Inventions, will be made up of artifacts that flavorfully seem like they could be made on Kaladesh.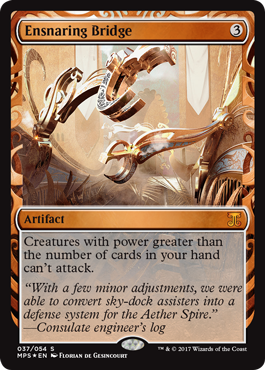 In addition, Standard rotations have changed--in some ways, a shift back. There will still be two blocks released a year, but Standard will only rotate with the start of the second block of the year (the fall set). This means that after the release of Amonkhet this spring, Standard will not rotate. The blocks in Standard will be Battle for Zendikar, Shadows over Innistrad, Kaladesh, and Amonkhet. When the "Ham" block releases in fall, BFZ and SOI will leave Standard. Standard will then be made up of Kaladesh, Amonkhet, and "Ham".
STORY
Aether Revolt trailer
Lore introduction
Guide to Kaladesh
Aether is the raw energy that exists between planes, and while it's present on many worlds, it is available in vast quantities on Kaladesh. The environment itself curves and flows in reaction to streams of the energy, forming delicate twisting patterns in everything. Some time ago, a genius inventor discovered a way to process this aether into fuel that could run automatons and other mechanical devices, launching an age of innovation and progress.
Kaladesh is ruled by the Consulate, a nominally pure meritocracy, and it provides aether to all to promote invention and artistry. However, during this time of apparent prosperity, there is a faction of renegades who feel that they have been left behind. They disagree with the strict rules and regulations the Consulate places on the people, and know the government isn't as benevolent as it presents itself.
When we arrived there, the plane was running the extravagant Inventors' Fair, where people from all over came together to pit their creations against each other. At the end of the Inventors' Fair, the Consulate seized all inventions, and captured several inventors, claiming they are protecting them from the Renegades. An evil Planeswalker named Tezzeret has become an influential part of the government, and is taking advantage of this to perfect his own creations. The heroic Gatewatch have joined the Renegades, and are preparing for a final confrontation with the Consulate.
Aether Revolt story
Story archive
CHARACTERS
Planeswalkers:
Chandra Nalaar
- Red - A chaotic human pyromancer Planeswalker who does what she wants, damn the consequences. Given that her parents were killed by them, she has no love for the Kaladesh government.
Liliana Vess
- Black - A ruthless human necromancer Planeswalker who only looks out for herself. Despite her youthful appearance, she is hundreds of years old.
Nissa Revane
- Green - A spiritual elf druid Planeswalker. She used to be a racist elf supremacist, but Wizards of the Coast wants you to forget that. Her magic allows her to control plants, summon nature elementals, and channel mana.
Ajani Goldmane
- White/Green - A leonin (cat person) Planeswalker who lost his friends and is now righting wrongs where he finds them. He is skilled at both healing and physical combat.
Saheeli Rai
- Blue/Red - A renowned human inventor Planeswalker who can skillfully manipulate metal into the lifelike animal shapes that do her bidding. Though fiercely competitive, she is kind to her friends and fans.
Dovin Baan
- Blue - A member of Kaladesh's government, this cold and calculating vedalken Planeswalker can instantly determine the weaknesses of any machine, and he believes living things are no different.
Tezzeret
- Blue/Black - A human artificer Planeswalker bound into the service of the evil
Nicol Bolas
, but he is trying to find a way out. Even on his own, he's dangerous and ruthless. He has somehow embedded himself into Kaladesh as Head Judge.
Non-Planeswalkers:
Rashimi - Green/Blue - A friend of Saheeli who believes that the mystical Great Conduit guides everything, this elf inventor developed a way to teleport an inorganic object to another location, but this creation could lead to disaster.
Pia Nalaar - Red - Chandra's mother, who is actually still alive. She's a skilled inventor and the leader of the Renegade movement on Kaladesh.
Oviya Pashiri - Green - An old woman who plays an important role in the Renegades. She is an old friend of the Nalaar family, and is helping Chandra.
CARD THEMES
Official card list
(
alternate, includes leaks
)
Official mechanics list
Returning mechanics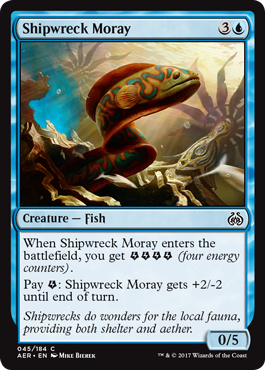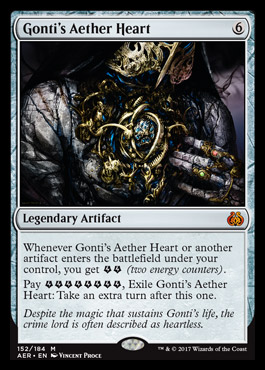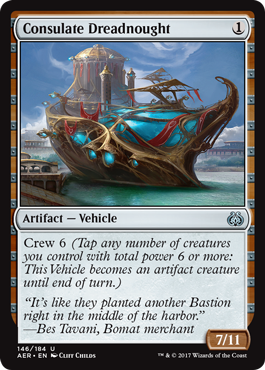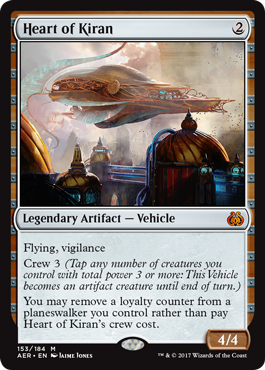 The aether that flows through Kaladesh can be converted to fuel for the various machines there.
Energy
is a separate from mana. Cards can give you energy counters, which never go away until you spend them. Cards that provide energy usually give you a way to spend them, but you can spend the energy on any card you want.
Vehicles
start out as normal artifacts, and they can't do anything on their own, but get a crew, and things start to happen. Tap any number of creatures you control to pilot the vehicle, and if their total power is greater than or equal to the crew cost, then it turns on and becomes a creature you can send into battle. While the vehicle is affected by summoning sickness, it doesn't matter if the creatures you have crew it do or not.
Fabricate
will not be returning, but you can still see it in Kaladesh booster packs during Limited. When a creature with fabricate enters the battlefield, you have to choose whether you want it to upgrade itself (put the designated number of +1/+1 counters on it), or create something new (create the designated number of Servo creatures). Depending on the state of the game, either option could be worth choosing.
This is a revolution, isn't it? I revolt.
Revolt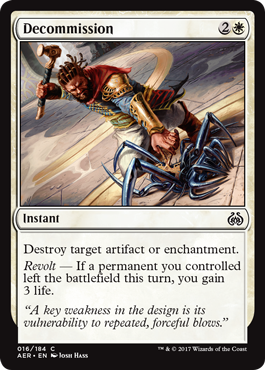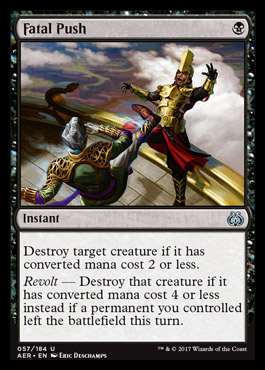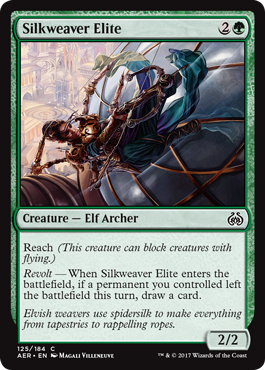 The citizens of Kaladesh tolerated a lot from the Consulate, but when they started seizing their inventions, enough was enough. Spells with
revolt
become stronger if you lost any permanent that turn, whether it went to the graveyard or your hand or elsewhere, whether you lost a creature or artifact or land or anything else, and whether an opponent is the cause or you. The effects vary card by card. Be careful about destroying your opponent's stuff if they have mana open. but on the other hand, maybe you should just accept that some destruction is inevitable in a revolution.
Innovations in convocations
Improvise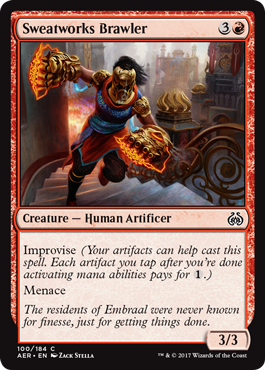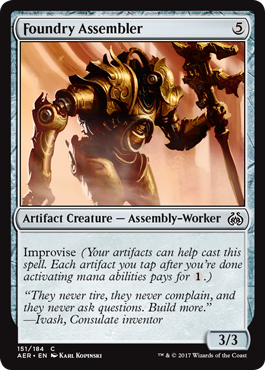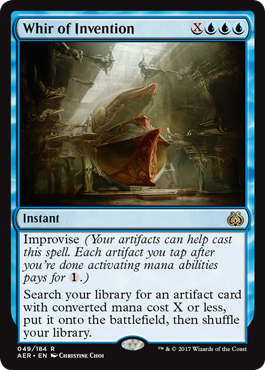 Don't the resources to bring out your big spell? No biggie, just
improvise
with the artifacts you have. When you cast a spell with improvise, you can tap any number of untapped artifacts you control to pay for (1). Note that unlike the similar
convoke
from earlier sets, this can't pay for colored costs.
RESOURCES
Official articles
- Nicknamed the Mothership, these articles are the primary source of news. Recommended columns are Making Magic, written by the head designer, Mark Rosewater (aka MaRo); Magic Story, which tells the story, written by various authors; and Latest Developments, written by various Magic developers. The other articles generally discuss deck building. For older articles before the site changed,
go here
.
Official card list
- Best way to see all of the spoiled cards together, but only updates once a day.
Blogatog
- Tumblr ran by Mark Rosewater where he answers questions, updates very frequently.
Drive to Work
- Mark Rosewater's weekly podcast about Magic that he literally records as he drives to work. Two episodes are released every Friday.
MTG Salvation's Rumor Mill
- The best place to get new card information. The community sucks, though.
Mythic Spoiler
- A good way to see what cards have been spoiled, updates throughout the day.
Gatherer
- The official method of searching through released cards. Has autocomplete.
magiccards.info
- The better search method, with bigger cards, but it doesn't have autocomplete.
Magidex
- Another search method of similar quality, updates more frequently than above.
Game store locator
PREVIOUS THREADS
Kaladesh
(OT9)
Eldritch Moon
(OT8)
Shadows over Innistrad
(OT7)
Oath of the Gatewatch OT
(OT6)
Battle for Zendikar OT
(OT5)
OT4
OT3
OT2
OT1