I assume this is one of those games that a lot of people have in their backlog. It doesn't have a massive Metacritic score and might feel tailored to a certain kind of adventure/puzzle fan. But if this game clicks with you, you are gonna be very happy you played it.
I was not ready for how amazing Trico is. His movements, his emotions, his connection to you, it's all there and it's vivid and powerful and I can't imagine how much they had to work to pull this off.
It plays like a puzzle game with light combat, you can't fight, but Trico can. You help him with navigation and finding the path, and he will break his way through. Pull levers, find food for Trico, climb ropes, shimmy on the edges, look around, and sit on top of Trico as he jumps around. That's the name of the game. You need each other to survive.
Themes of freedom and imprisonment are all over The Last Guardian. Every time you walk outside and see Trico's fur flowing in the wind and the trees and the grass moving, it's freeing, beautiful, and calming in a way, highlighted by Ueda's trademark lighting.
Trico reacts to certain light patterns, but why? why is he transfixed and put under slavery? as you desperately try to get out of the nest (the game takes place in a giant nest of sorts), you are also searching for the truth of Trico's enslavement. Why are you both trapped together here in this ancient place? this restriction of freedom is tightly tied together with philosophical notions of what it means to be connected to another.
And the size of Trico, man, there is something special about seeing a massive creature following you like that, it's always striking. There is one amazing part where you climb through a tight mine shaft, I'm not gonna spoil it, but that was fantastic.
It has problems. There is plenty of issues with controlling the boy, he feels very much like the kid in Shadow of the Colossus, with all the janky movements, there are also too many problems with the technical aspects, and the nature of some puzzles, but Trico is so special that I can overlook most of it.
Loved it, and would probably score it around a 90. My main gripe with the game is that I felt 70% of it took place in environments that felt too samey with similar puzzles over and over, and I got stuck in some places for too long.
Positives
+ Trico is stunning, easily among the top 3 companions ever in video game history. Maybe the best.
+ That intuitive gameplay from Fumito Ueda, no UI, leaving the player to experience and discover the way themselves (well, apart from those constant fucking button prompts and zooming camera angles).
+ Beautiful and calming soundtrack from Takeshi Furukawa.
+ Story is full of mystery, who are you and why are you with this creature? what exactly is Trico?
+ Completely unique game, hard to compare the experience to anything other than Ico I guess, I will always be happy I dug into my backlog and played this on a whim.
+ Some great moments, for example, at times I would just walk around looking at Trico, it almost felt like walking a dog in the park on a beautiful day.
+ Proper ending, makes you feel nostalgic for the game even if you just finished it.
+ At times, it's drop-dead gorgeous with its style and art.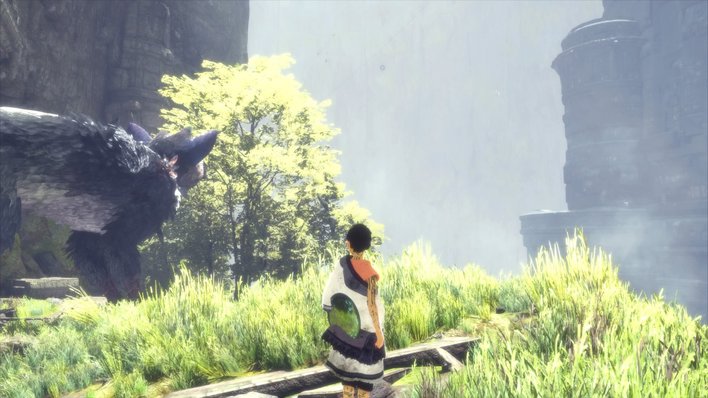 Issues
- Camera.
- Trico can at times rotate and react very slowly (this is also a plus I suppose, makes him feel lifelike).
- At times you can get completely stuck, I did 2 times, where I spent over 40 minutes figuring out something that takes 30 seconds.
- You spend too much time in environments that feel too similar. Too many cramped castle environments over and over.
- The combat is weird, it's fascinating to feel so dependent on Trico to survive, but some of those later combat sequences were too long and boring. You just wait until Trico tramples them down.
- The boy isn't the best at platforming and is too inaccurate in his movements. Feels a bit clunky.
- Repeats the same puzzles too many times.
- Heavy lag on the PS4.
Last edited: