TL;DR: Fun open world game made by the creators of Spiderman PS4 and available on game pass.
Yesterday I was looking at some titles to play on the Series S and thanks to Game Pass I got this jewel!
Made by Insomniac, this game is quite fun, the art is nice and the gameplay is excellent. It is an open world tps game with "super powers". They copied many things from the Infamous games on Playstation and overral is really well made.
The story is dumb, but that's the point, it's about a company that launches a new energy drink in a city and end's up turning people in monsters, now the company put's the city on a lockdown and the player as a survivor must do what it most to have fun....
Yes! The game is all about killing monsters and looking "cool" while doing it.
Other than the stuff that they got inspired by Infamous, the game also has unique weapons that adds a lot to the gameplay, they are similar to weapons from Ratchet and Clank and are quite fun.
Just moving around is fun enough, but with the weapons and enemies, the game becomes awesome. Talking about the enemies, they are fun to kill and when they die, most of times, they explode which adds a lot to the game visuals!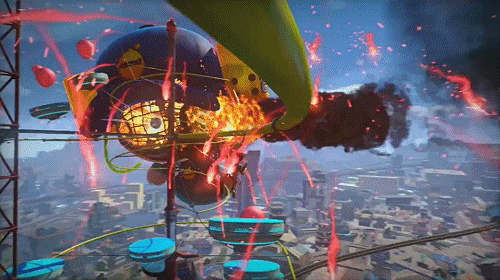 Unfortunately, it does not have an Series X/S patch.... Heck, the game was not even updated for the One X and since Sony bought Insomniac, I doubt that MS will care about it.
On the SS the game runs quite well, with no frame drops or screen tearing.... But that's it. I think that it runs at 900p, which is a shame.
Still, it is a nice and fun game available on Game Pass and if you haven't played yet, you (probably) should try it out. It is also available on PC, so it probably plays better there.