thinks Halo Infinite is a new graphical benchmark
What we're looking at here is Halo, holding great high scores on Metacritic, 343 has been to the big stage before Halo 5.
Halo 5 is released on October 27, 2015 and is the first Halo on Xbox One and first Halo to have two Human fireteams, two main character humans in Master Chief and Locke.
Love midnight launches, waiting for a game at midnight has to make you laugh inside.
Halo 5 is set up through 15 chapters but it doesn't feel long.
Awesome.
If you've played previous Halo's one thing is clear, running is back. The new rogue AI enemies from Halo 4 are back with their cool guns and the environments are just as beautiful.
Master Chief is still a big deal but for whatever reason 343 decided to thrust a new character in Locke onto the grand stage, I guess he's protecting Earth, activating portals to or from Cortona and just destroying aliens like Master Chief.
I would never go against Master Chief who won't quiet, so I'm not sure what's wrong with Locke, it doesn't go well for him going up against the GOAT Master Chief.
The relationship between Master Chief and Cortona is back, but this is the first ever Halo to include "Guardians" who are basically colossal sized robots that threaten the galaxy.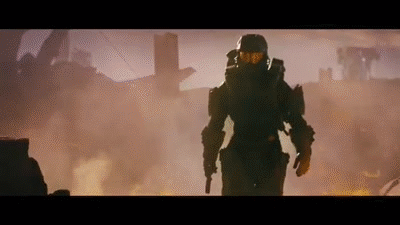 343 deserves credit here, there's nothing shocking about Halo 5, it's controls are roughly the same and it respects the historic achievements the game has taken over time. I think developers look at new games as an "opportunity" but with Halo less is more, everyone knows that.
Halo 5's multiplayer is well designed, characters get sprint, and re-charge which is generous to casual or new players. Halo's multiplayer is the one thing the internet measures and what you have are talented level designs, Xbox Live and it's party chat, optional split screen and moments like running a flag from one end of the map to the other, jumping over enemies to hold the higher ground, trash talking opponents and fighting inside alien buildings. I haven't gotten to Infinite's multiplayer but after this successful game I cannot wait.
Halo is treated like holy water in shooter circles, Xbox players believe Master Chief should be in Smash Brothers, it took 343 years to fix all of Master Chief Collection's problems but the bottom line is I give Halo 5 a perfect 10/10.
Let me know what you think GAF. Does Halo still have that shooter spirt? Is there potential of a Halo 5 HD remaster? What is currently being torched by fans today in Halo? I still think it gives Microsoft an edge but thats just me.