Developer - Stuck In Attic
Publisher - Stuck In Attic
Release Date - August 7th 2019
Platforms - (PC) (MAC) (Linux) (Steam)
(GOG)
​
What is Gibbous: A Cthulhu Adventure?
Gibbous is a cosmic horror, Lovecraftian, comedy adventure game inspired by the LucasArts classics of the genre's golden age and brought to life in a hand drawn style of animation reminiscent of The Curse of Monkey Island or Disney films. The Transylvanian developers (one of which is a regular poster in the
GAF adventure games thread
;
Mr Underhill ) have gone to great lengths, jam packing each one of their over 60 hand-painted environments and 70 fully voiced characters, with the kind of care and attention to detail rarely seen in adventure games. It even has a special guest appearance from Doug Cockle, voice of the Witcher. Gibbous promises a lengthy adventure with moments of comedy but also a darker overarching mystery.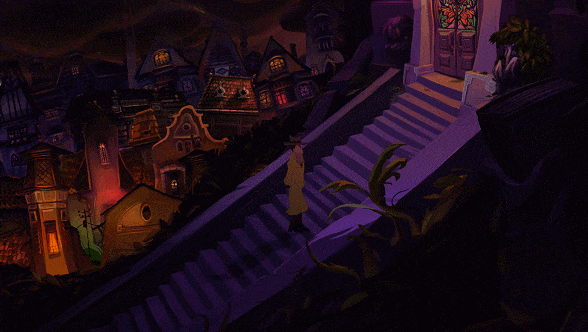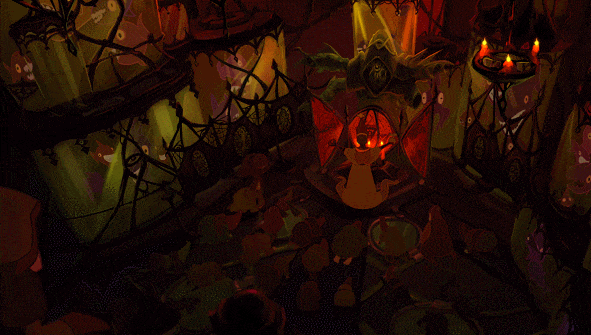 Things have been getting weird in Darkham lately. It's always been an unwelcoming, shady, place but recently a number of odd and mysterious cults have begun popping up all over. Whispers of the unholy book, The Necronomicon, are heard faintly. A detective named Don R. Ketype has been hunting down the evil book but unbeknownst to him librarian, Buzz Kerwan, finds it first. Buzz accidentally uses The Necronomicon to transform his pet cat, Kitteh, into a talking kitty with human intellect. A change that she doesn't take very kindly to.


Buzz Kerwan
Buzz is an unassuming librarian working off his student debt at the Miskatonic University Library. One day he finds The Necronomicon and accidentally transforms his pet into a talking cat.
Don R. Ketype
Don is a thoroughly grizzled, bad ass and hard-boiled detective. Hired by mysterious patrons to find the Necronomicon.
Kitteh
Kitteh is rather pissed about being unceremoniously yanked from the serenity of normal felinedom. Despite not caring for her newfound, human, concerns consisting of dark magic and spooky cults; she must deal with them to return to her normal state.


Gibbous is a classically styled but modern graphic adventure game. Inspired by the 90's LucasArts point & click titles. You will be exploring your way through various environments, examining your surroundings, collecting items, conversing with characters and solving puzzles. If you're familiar with titles like Monkey Island or Sam & Max, you know the drill, but what Stuck In Attic have done to stand apart is include an unprecedented level of detail. Not just in the fluid traditional animation, either. Most interactable items in the game have multiple unique "examine responses," every object in your inventory has a unique combination response. 70 voiced characters with over 12,000 lines of fully voiced dialogue. 4 hours of original music with live instruments. Over 60 hand-painted environments inspired by Transylvanian nature and architecture. It's that level of attention details large and small that will, hopefully, make Gibbous an absolute joy to play.



Softpedia - 8.5
Hands-down I have never played a game that was as funny as Gibbous - A Cthulhu Adventure, and I wholeheartedly recommended it as a treatment for chronic depression.
More so, despite being a game that is extremely story-centric, it doesn't really lose any of the replay value once you finish it, since you'll most likely replay it the way you watch a rerun of your favorite movie.

All in all, Gibbous - A Cthulhu Adventure is a game that no self-proclaimed point-and -click fan should overlook, as it will definitely find a place in your gaming library, comedy movie collection, and finally, your heart.
Power-Up Gaming - 9.2
I haven't shouted, cheered, or laughed this much at a point and click adventure in a very, very long time.

Gibbous A Cthulhu Adventure is a game carefully and lovingly designed to evoke these reactions as often as possible, and it certainly achieved that in my case. If you've been hankering for an adventure with some LucasArts-esque humour, this is a must-play.
GameWatcher - 6.0
If we view Gibbous - A Cthulhu Adventure in the most "objective" terms, it technically gets things right. It looks stylish, it runs smoothly, and it doesn't come with the bugs you'd expect from modern gaming. However, the details that make a game a hearty recommendation aren't there.
Ragequit.gr - 9.0
Every fan of traditional point n click adventures must play and support Gibbous: A Cthulhu Adventure. A really solid and complete game, including humorous dialogues, smart (but not very difficult) puzzles and a unique cast of characters, with only drawback its relatively short duration.
Well Played - 9.0
Playing through Gibbous – A Cthulhu Adventure made me realise how much I miss this type of adventure game. It does a fantastic job of taking the world of Lovecraft and turning it into something unique and memorable, thanks to a gorgeous art style and well-written characters. If you've got a point-and-click itch that needs scratching, then Gibbous may be the remedy you've been waiting for.
Adventure Gamers - 3/5
Gibbous: A Cthulhu Adventure looks amazing and will make you laugh, but its inability to tell a coherent story prevents this comedy cosmic horror adventure from fulfilling its abundant potential.
JustAdventure - A
I enjoyed this game immensely. The ending did what endings are supposed to do, surprise you. This game will make a Lovecraft fan out of you. Hear me, you who worship The Great Old Ones, and heed me well: Play this game!

Cthulhu fhtagn!
GameSpew - 8.0
Forget about the Cthulhu in its title; you don't need to be a fan of Lovecraft to enjoy this accomplished point and clicker. Gibbous – A Cthulhu Adventure will tickle your funny bones with its dialogue and won't leave you flummoxed when faced with its puzzles. And because of that it's fun from beginning to end. It isn't groundbreaking in any way, but did anyone expect it to be? It's just yet another very good entry into a genre that remains ever popular.
Last edited: