Mar 21, 2013
11,173
30,051
1,550
Source:
https://www.pcgamer.com/the-mind-bo...-into-red-dead-2s-incredibly-lifelike-horses/
Source:
Full GDC PowerPoint
....lot more at link and interesting read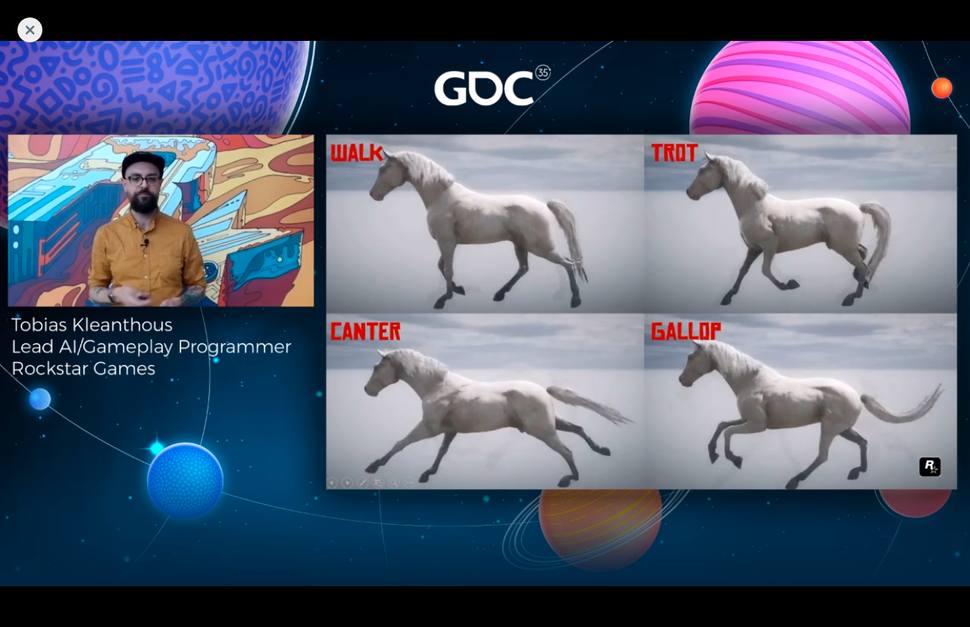 The team began by unifying what had been disparate movement systems for humans, animals and horses, with the core principle that Red Dead Redemption was a more slower-paced and grounded world than GTA. Kleanthous then showed the team's first cobbled-together animated horse, which amusingly enough already looked better than the finished horses in most other games. He himself posed the question of why Rockstar didn't just ship this, and answered that it was too functional. It had discrete speeds, no range, no variation, a limited range of movement, the turning was stiff, and it had inconsistent transitions.
"It was functional, but missing something," Kleanthous said. "It's not a car, it's not a bike." The question was "how to get livelier performance, and by that I mean the behavioural implications and personality from movement. We wanted to make it more believable."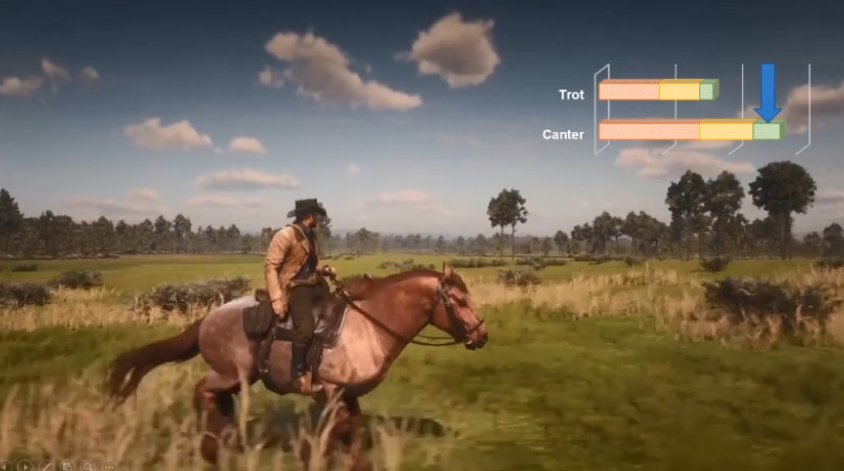 Rockstar started capturing footage of real horses in Scotland, with a video example showing how a real horse, for example, before turning would side-step and then lean into the turn. Lateral movement became a key part of the horse design from that point, a movement essential for light turning, and, Kleanthous added, one of the most difficult features to get right.
Another video showed a horse pivoting on its front feet, with them positioned under its chest, and turning laterally rather than vertically. There were clips of dressage which would be incorporated into the horses' gaits.
Kleanthous talked about how the team had also added input lag
to make it feel like Arthur is controlling an animal rather than a vehicle, and how these elements were coming together into the game's "anatomy of drift".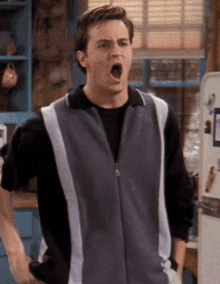 Though the team began thinking about an 'automation' approach to animations, some were sceptical about whether it would work. The idea is essentially that, rather than Red Dead's horses having a load of bespoke one-off animations for each different gait or speed, the team would create thousands of smaller animations which would be assembled on-the-fly in-game. The pool is narrowed-down based on the horse's surroundings, speed, encumbrance, mood, and so on, then stitched-together. This was apparently incredibly tough to get working right but, once they cracked it, ended up being applied across the game much more widely.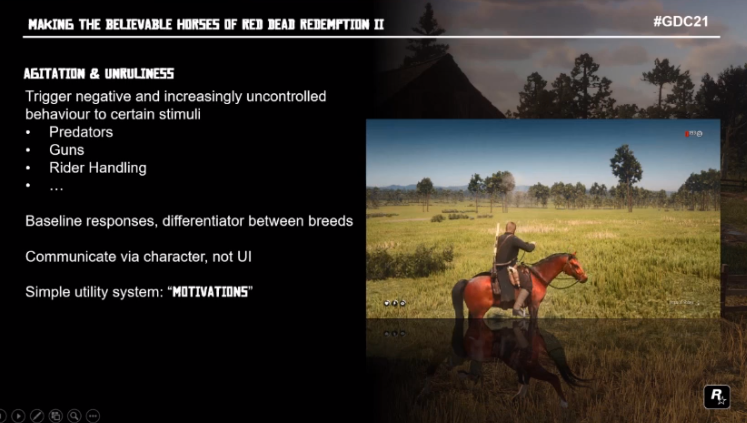 Kleanthous showed a clip of a horse walking through the snow, and explained all the variables that were going into that particular animation. The game is using the information of what type of terrain the horse is on, the depth of that terrain, the weather conditions, and from these selects a bunch of bespoke animations that suit those conditions—the examples given here were the addition of a swish to the horse's tail, reflecting the cold and the snow, and Arthur adjusting his hat because of the wind—and 'builds' on-the-fly an animation cycle reflecting all of these inputs.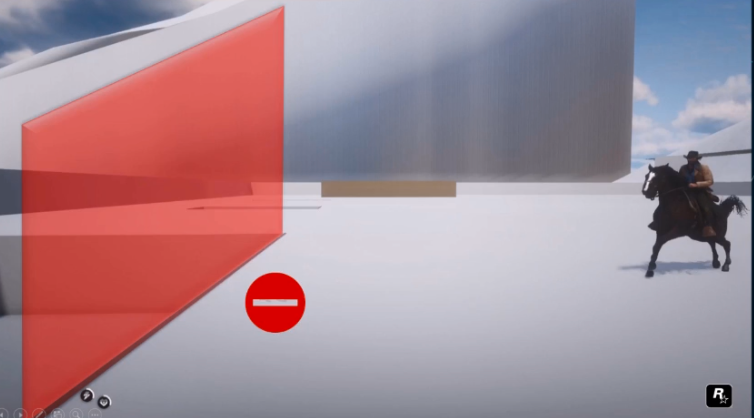 Kleanthous could not quite contain his rightful pride at the next element of Red Dead 2's horses: how they stop at the edges of cliffs. Rockstar developed a technique it calls 'stop matching' whereby the horse, upon approaching a cliff edge, begins extracting certain animations required, calculating where it wants to go and the best possible place to begin stopping and inserts that animation at the right point into the normal animation cycle.
Part of this is that all the cliffs in Red Dead 2's world were manually marked-up by Rockstar's artists (demonstrated in the above image), something that Kleanthous says "in the future" they'd like to rely less on. Red Dead 3 confirmed baby,
I knew I watched this for a reason.
Kleanthous said he was delighted to see people at release judging the accuracy of Rockstar's dressage animations, noticing how much some horses pooed, and complaining about the big dumb horses that always seemed to get in the way. He should sit-in on some of our meetings and hear our EIC talk about the musculature of their haunches.
So yeah: the horses in Red Dead Redemption 2 do look absolutely amazing, and all of the above is why. The scale and complexity of the system Rockstar built is awesome and ingenious, and its developers' ability to start from first principles and keep those at the forefront of the process is why it makes some of the best games in the world. Next time you load up Red Dead Redemption 2, maybe just take a minute to chum with your horse, give it a bit of a grooming, show that thing some big love. Because the people who made them sure did.
Last edited: