Hey everyone! This is just a quick reminder that Free Comic Book Day 2015 is
TOMORROW!
FCBD is one of
the
biggest comic events of the calendar year, and is a wonderful way to connect with dozens of other like minded comic fans, gamers, and cosplayers, and is the unofficial kickoff for the summer comic blockbuster season. I implore everyone who even has the slightest interest in comics to head out and have a good time tomorrow. Find a local shop via
www.freecomicbookday.com
, and let the fun begin! Here's all the details you'll need to get ready for the big event:
Via.
Wikipedia
:
History
In 2001, retailer Joe Field was writing columns for an industry magazine, and saw how successful feature films based on comic book franchises were providing the comic book industry with a positive cultural and financial turnaround from the speculator bust of the late 1990s,[1] Field proposed Free Comic Book Day in one of his columns, and received positive reaction to it. Then-Image Comics publisher Jim Valentino suggested having the first Free Comic Book Day on the same weekend as the opening of the 2002 Spider-Man feature film, in order to take advantage of the film's heavy promotion and related press about the comic book medium,[2][3] and thus the first event was held May 4, 2002, one day after the film's opening.[2][4] However, not all events have corresponded with the release of a film based on a comic book.[5] In 2004 it was held in July,[6] but it was moved back to the first Saturday in May the following year[7] and has been held on that day ever since.[8] On Free Comic Book Day, participating comic book store retailers give away specially printed copies of free comic books, and some offer cheaper back issues and other items to anyone who visits their establishments.[9] However, retailers do not receive the issues for free; they pay 12–50 cents per copy for the comics they give away during the event.[10][11] In addition to comic books, some stores also give away other merchandise, such as mini posters and other movie tie-in memorabilia.[12]
Purpose
Free Comic Book Day has three main purposes:[21]

To introduce everyone to the joys of reading comics.
To call back former comic book readers.
To thank current comic book buyers for their continued support.
Publishers produce special edition comics geared to attracting new non-comic readers. There is a wide diversity of comics available, from traditional comics fare like Archie and Disney, super-heroes from Marvel and DC, manga from Tokyopop, as well as work from independent publishers
Video
https://youtu.be/GcY44hx64Bw
The Books (ComicGAF Highlights)
Bobs Burgers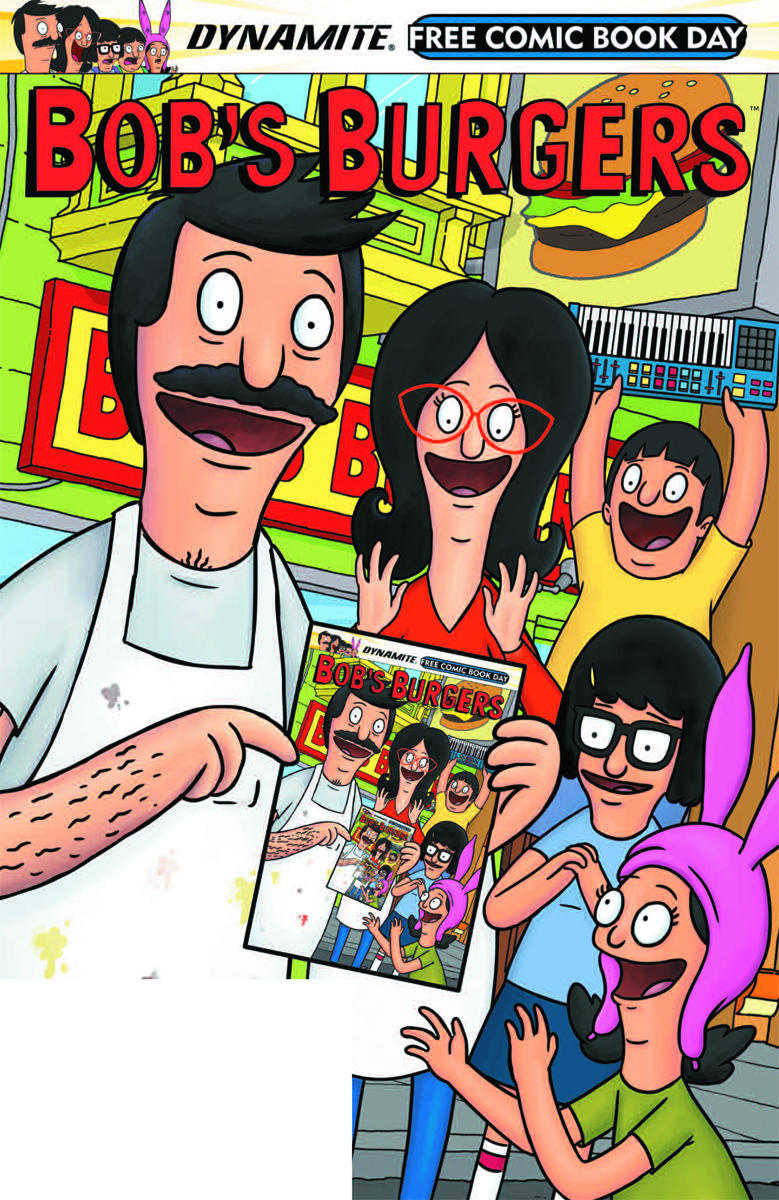 Publisher: D. E.
(W) Mike Olsen & Various (A) Bradley C. Rader & Various
Bob's Burgers, the hit TV show created by Loren Bouchard, is now a comic book! The Belcher family - parents Bob and Linda, and their children Tina, Gene, and Louise - appear in this special Free Comic Book Day edition that collects the "Best Of" in-canon stories from Dynamite's first-ever Bob's Burgers comic book series. Thrill to Tina's Friend Fiction, Louise's Unsolved Mysteries and Curious Curiosities, Gene Belcher Presents: The Musical, and more! It's an all-ages extravaganza that captures the feel of Bob's Burgers perfectly - because it's a comic 100% created by show writers and animators!
Dark Horse Presents (feat. Fight Club)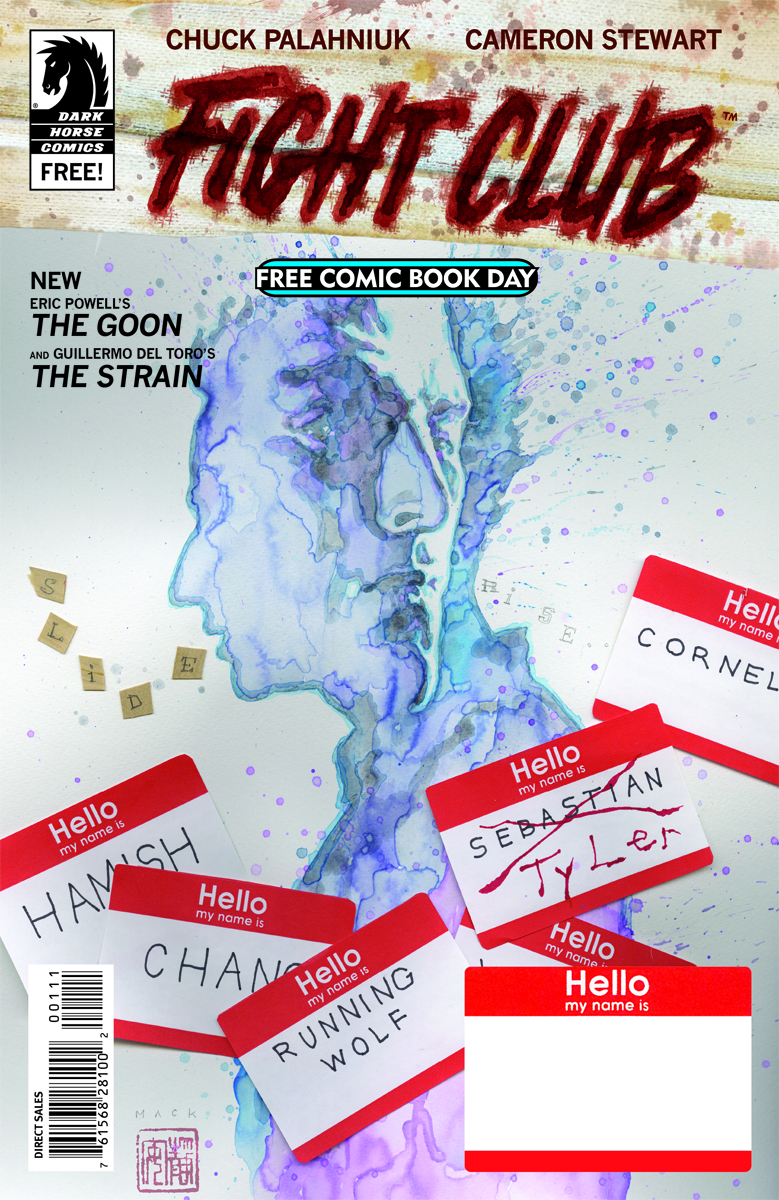 Publisher: DARK HORSE COMICS
(W) Chuck Palahniuk & Various (A) Cameron Stewart & Various (CA) David Mack
Dark Horse Comic's most thrilling FCBD to date . . . Chuck Palahniuk and Cameron Stewart premiere Fight Club! Eric Powell with all-new tragedy in The Goon! And Guillermo del Toro presents an all-new chapter from The Strain! Need we say more?
Rating: Mature Readers
Secret Wars #0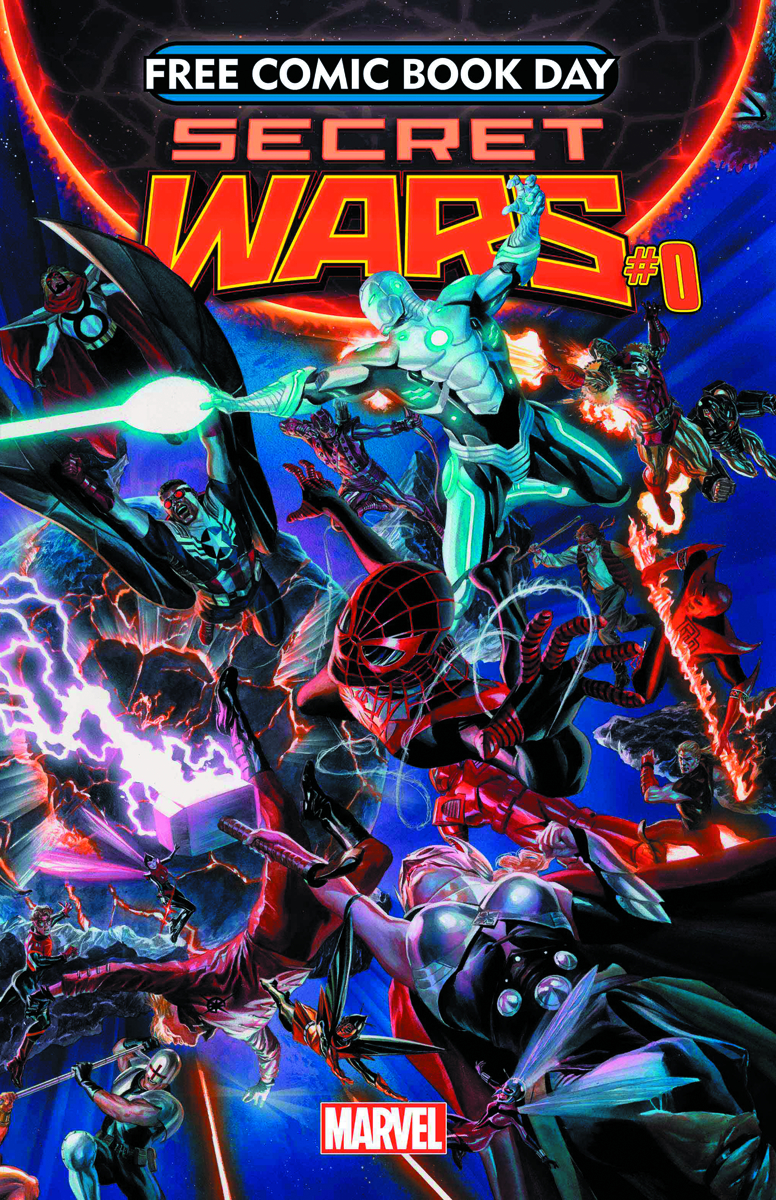 Publisher: MARVEL COMICS
Prepare yourself for the final days of the Marvel Universe as you know it as the march to the biggest comic event of the year continues! From the ashes of a decimated cosmos rises...Battleworld! Amid the strange, patchwork realm, refugees from thousands of obliterated universes struggle for survival. Even if they can endure the horrors of Battleworld - the home they knew has been destroyed! Time has run out, and the opening salvo of Secret Wars has been fired. But can anything restore the Marvel Universe that once was?
Rating: Teen+
****Additional Note****: Secret Wars #0 is one of the most anticipated free comics of the event. Secret Wars #0 is a recap for everyone who wants to read one of the biggest events in Marvel history. Prepare to have your mind blown all summer long with this guide.
2000 A.D.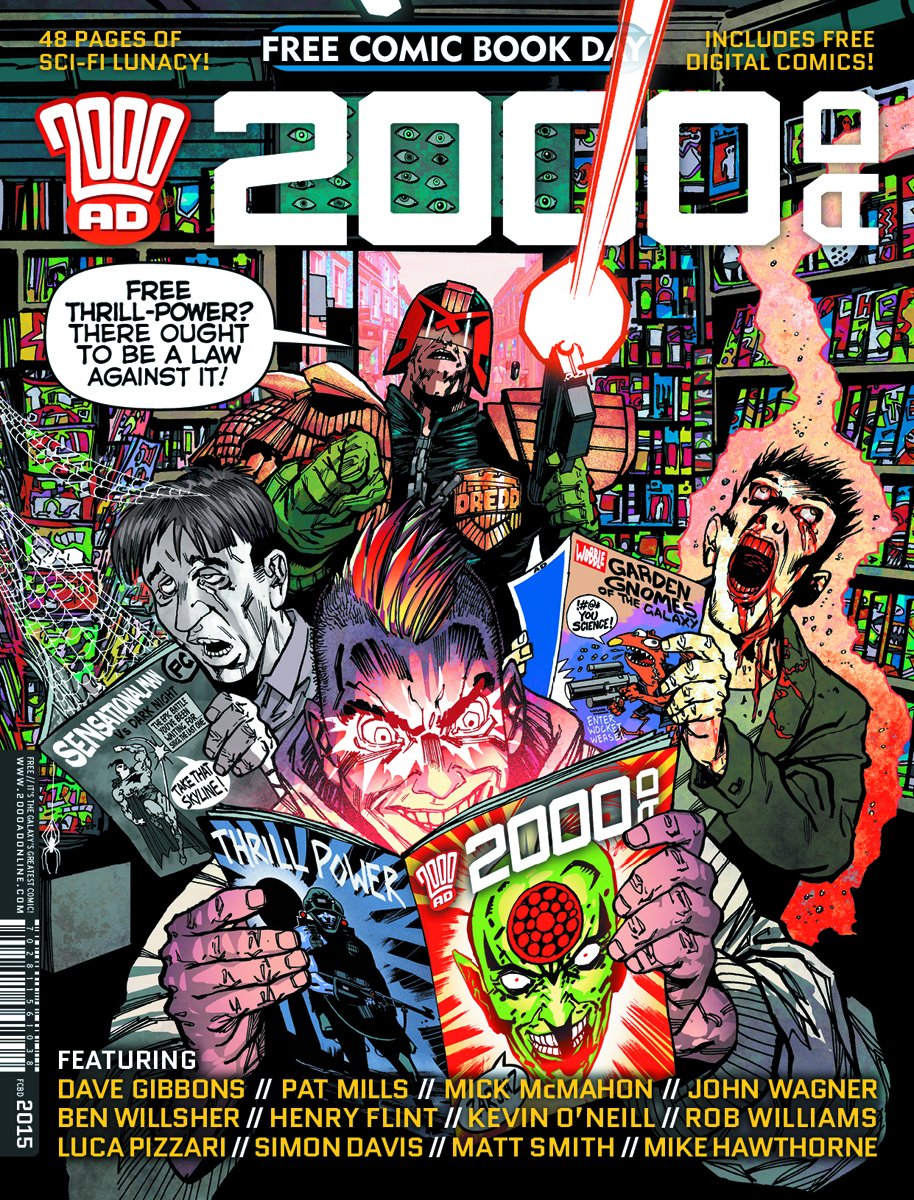 Publisher: REBELLION / 2000AD
(W) Matt Smith & Various (A) Norm Breyfogle & Various
The galaxy's greatest Eisner-nominated SF anthology returns to Free Comic Book Day with a 48 page zarjaz line-up of stories. In Through the Out Door, a brand new story from Matt Smith and Norm Breyfogle, Judge Dredd uses the iron fist of the law to settle a block dispute; in 3000 AD some jobs are murder, as proved by The Traveller from Mick McMahon; galactic frontiersman Ajax Bloodthirsty meets his match on the astronomical object of oblivion known as the Death Rock in a new tale from Ben Willsher and Barry Krishna; the Grand Master of Termight is sickened to find that his final resting place has been defiled by the legendary alien freedom fighter, Nemesis the Warlock in Tomb of Torquemada by Pat Mills and Kevin O'Neill; wizened master of the occult, Doctor Sin returns to pass on his mantle (and battle a demon) in Don't Call It A Comeback by Rob Williams and Luca Pizzari; pilot of the future, Dan Dare, discovers an alien satellite in Star Slayer by Dave Gibbons and Gerry-Finley Day; Celtic warrior Sláine acquaints more enemies with his axe in A Simple Killing by Pat Mills and Simon Davis; Judge Dredd upholds the law in some classic Dredd newspaper strips by John Wagner, Alan Grant and Ron Smith; and Prepare your mind to be melted by Tharg's Alien Invasions from supreme craz-o-naut Henry Flint.
If this wasn't enough each strip comes with a FREE digital story attached!
Rating: Teen+
****Personal Pick****: This has been one of the best deals of FCBD each year. Get a taste of the UK's biggest comic book magazine that all of your favorite writers and artists from overseas got their start in. PICK THIS UP and if you enjoy what you read, subscribe here:
www.2000adonline.com/
FCBD Avengers #1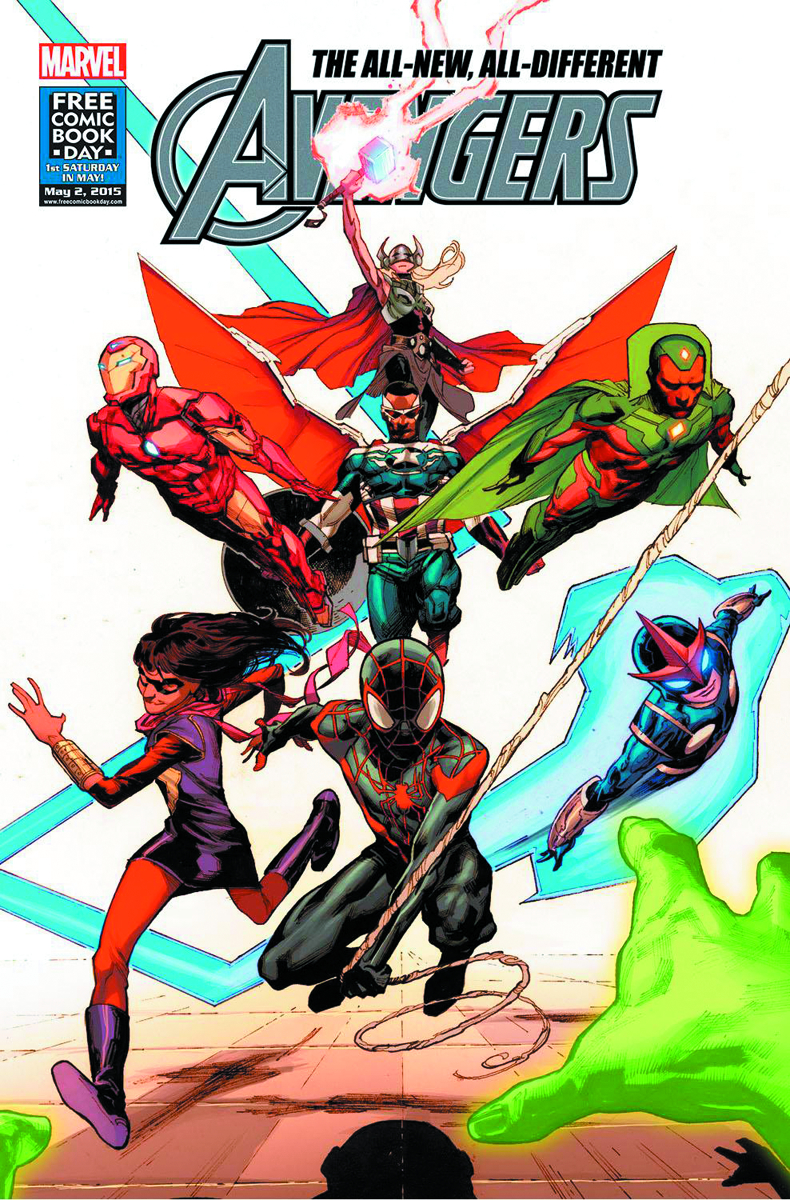 Not going to bother to post the stupid info for this, seeing as how it tries to highlight characters that aren't in the book to push The Avengers: Age of Ultron. Get a sneek peak at one of ComicGAF's most anticipated releases of the year. This isn't your dad's avengers team. It highlights recently universe displaced fan favorite Miles Morales as Spiderman, and cult favorite and Marvel superstar Kamala Khan as Ms. Marvel. This is the hypest shit. Get it!
DC COMICS DIVERGENCE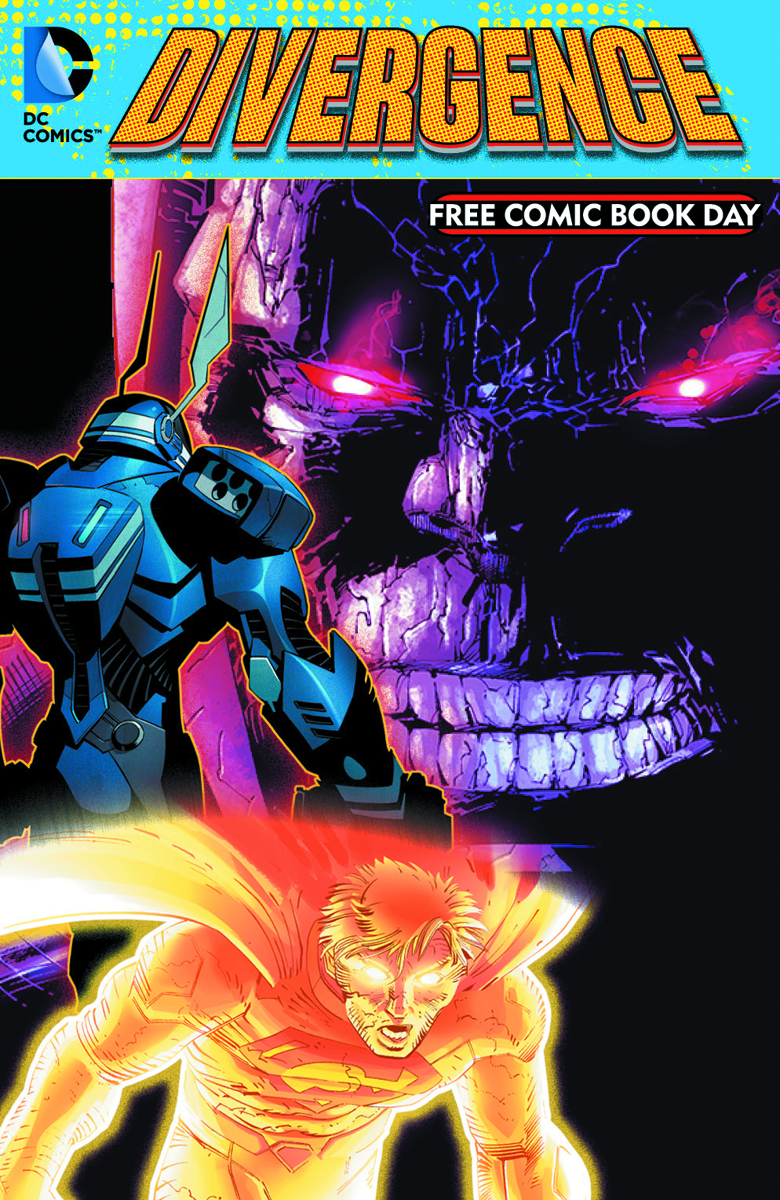 Publisher: DC
A first look at upcoming storylines! DC Comics: Divergence features three 8-page previews for the June releases of Scott Snyder and Greg Capullo's Batman, as well as Geoff Johns and Jason Fabok's launch of the "Darkseid War" within Justice League featuring the biggest villains in the DCU - Darkseid and the Anti-Monitor, and Gene Luen Yang's DC Comics debut with celebrated artist John Romita, Jr on Superman.
Rating: Teen
TMNT: Prelude To Vengeance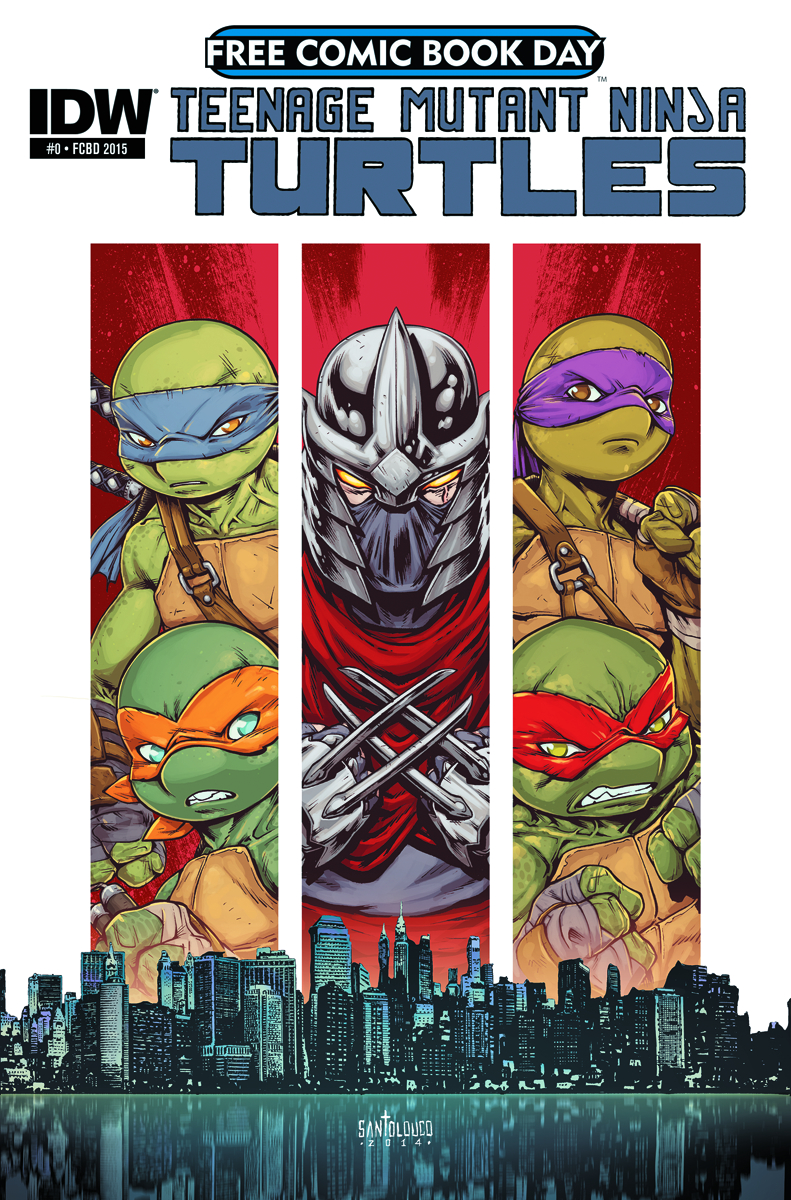 Publisher: IDW PUBLISHING
(W) Tom Waltz, Bobby Curnow (A/CA) Mateus Santolouco
The Turtles' final battle with Shredder begins here! This book will take us inside the minds of key characters in the TMNT universe, revealing the epic moments that have led to the present, as well as setting the stage for the biggest storyline yet with all new material!
Rating: Teen+
The Rest
http://www.freecomicbookday.com/Home/1/1/27/981
What are you waiting for? It's all FREE!!!! Remember though, Comic Shops do this out of their own pocket, and most good LCS go above and beyond to try to put on a good FCBD. There are huge discounts on lots of books, and other things such as food and performances that they all pay for out of their own pockets. They don't expect all of you to return, but at least try to spend a little bit and pick up a new book or two while you're there
Don't know what to read/buy? Find out more here:
The Big Comic Book Star Up Guide
Ugh, Comics...they make me sweat.