I've seen some reviewers calling this the best immersive sim they've ever played, and after playing it myself I understood why.
This game is the ultimate realization of the immersive sim design philosophy (at least on a fully 3D game). If you've ever played games like Deus Ex, Prey, System Shock, etc; you know one of the appeals they have is the ability to solve problems in a multitude of ways, including unorthodox solutions.
Well, this game fully embraces those unorthodox solutions, they stop being a mere curiosity and take the center stage. In fact, although inspired by the previously mentioned games, its very much its own thing and plays more like a puzzle game than an action one.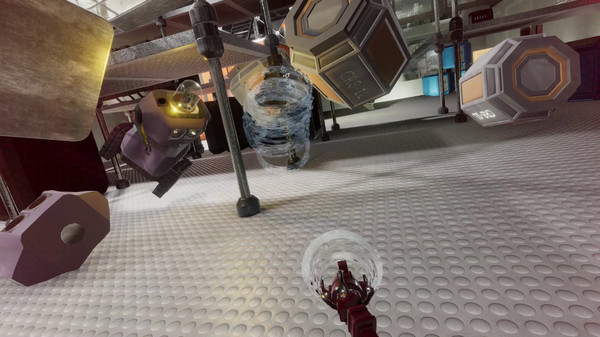 In this game you play as a disembodied ego. You have a "main body" which you can updgrade with a multitude of tools, but you aren't tied to it. You can even solve levels without ever using it at all. This disembodied ego can possess basically any device in the world, enemies included, with some limiters of course.
There are three resources you'll have to manage. Energy, Juice and Ego. These resources apply not only for your main body, but also for other bodies and devices.
>Energy is your life - or rather the life of a body. Once this bar is depleted the body will be destroyed or become incapacitated.
>Juice is energy necessary to use the tools at your disposal. To shoot a weapon for example you need to spend Juice.
>Ego is a sort of mental energy and what gives the name to the game. Unlike the previous two it can be acumulated infinitely, and is the only type of energy tied directly to your "ghost" rather than a body. To possess an enemy for example you need to spend Ego, usually in proportion to the enemy's level of threat.
One interesting aspect of this game is that there doesn't exist fail state. If your main body, or whatever body you're using gets destroyed, you'll simply go into "Ego mode", ready to possess some innocent headphone or automatic door laying around. Or alternatively reprint your main body at no cost - normally - and go at it again.
But if you can't die, what do you have to lose then? That depends. Most actions take up resources. If you, for example, try to shoot an enemy to death but gets done in instead, you just lost precious "juice" with all the beams you shot at the enemy, not to mention that enemy will most likely recharge his "energy" at some energy charging device, bringing your progress to zero again. And if your body got incapacitated instead of destroyed, you'll either have to go rescue it or reprint it at the cost of Ego.
You can even try destroying whatever is left of your body so you can reprint it at no cost again, anything goes. Suicide strategies are perfectly welcomed.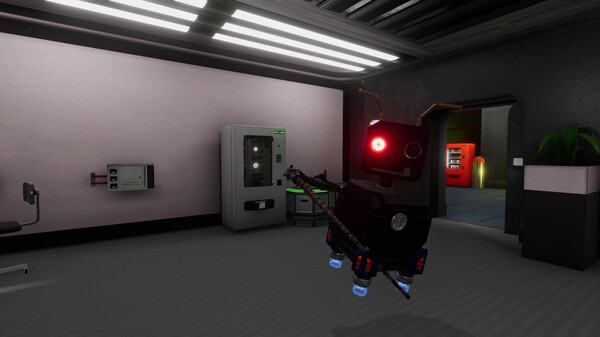 It does have a save system still, so much like other games of this type, you can very much save scum your way through it. But don't be fooled, the game can be very challenging at times, throwing situations at you where you can't help but think "How the fuck will i get through this room"... only to end up doing something completely chaotic and weird, or maybe just wasting a whole bunch of Ego you were carefully trying to save up.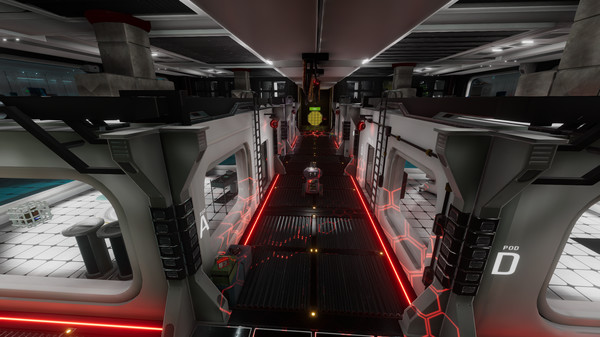 Another aspect of the game i'd like to bring attention to is the magnificent sound design. Perk your ears up because it'll help you. If you hear a sucking sound for example, you should try following where its coming from for a "Worm" is nearby (something you use to upgrade your tools). Everything you possess also has its specific sets of music tracks and sonoric style.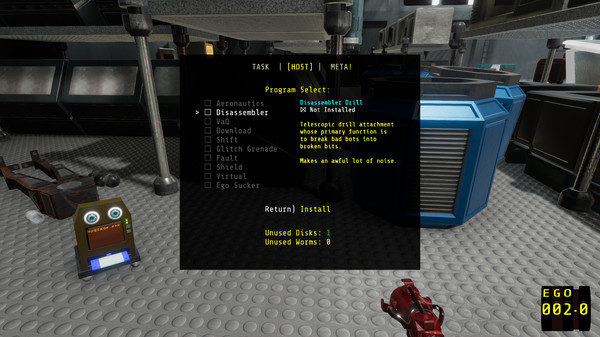 As for the story, its ok. The story clearly exists to serve the mechanics rather than the other way around and thats fine. It might make you curious about how things will turn out, but you'll probably be too busy coming up with new ways to get past those filthy robots to care about whats happening. Not to say everything doesn't have some charm to it, like the sound of some of the enemy's synthetic voices, or the Pup robot cutely barking while you figure if maybe turning him into a bomb and sending him to his death is worth the costs.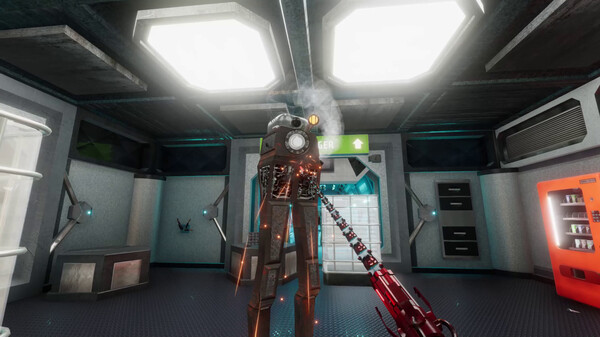 Now, i've praised the game enough, time to list some of its uglier aspects.
>Quite terrible optimization. You won't notice it much at first, but at later, larger levels, it becomes clear the game is not well adapted to large enviroments. Even with a quite potent PC and graphics set to the lowest, i still kept getting 40-50 fps in the most taxing areas - so the game is probably very CPU taxing.
>Some degree of clunkiness. All movable objects in the world are actual objects... including your body... and your arm.... so yeah, trashing your camera around can just about send any objects close to you flying, or yourself for that matter. This can become quite annoying in narrower enviroments, like one time i kept trying to aim my gun at an unsuspecting enemy but the gun kept hitting some light bulb right above my head and throwing my body backwards.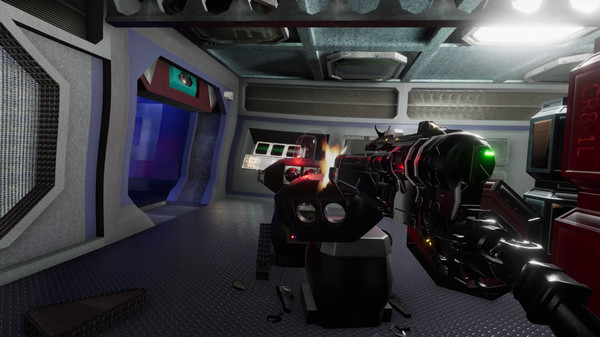 Here's the trailer and Steam page for anyone who wishes to check it out. Its seriously a crime this got so little attention, which is one of the reasons i'm doing this thread.
Last edited: