Jan 21, 2018
3,862
16,464
955
31
Available for pre-order in China, the Aya Neo is a portable console that borrows heavily from the Switch for its design and GPD Win Max for concept.
Its main asset? An AMD Ryzen "Renoir" processor!
The console takes roughly the dimensions of a Switch with a chassis of 255 x 106 x 20mm for 650 grams on the scale.
It also relies on a transparent shell with RGB lighting.
Its main advantage, however, is to embed a low-power AMD Ryzen "Renoir" chip, the latest generation launched by Lisa Su's firm on laptops.
In this case, Aya Device (the brand behind the Aya Neo) chose a Ryzen 5 4500U. As a reminder, this APU has 6 cores and 6 threads for frequencies between 2.3 and 4.0 GHz and a TDP of 15 W.
Based on AMD's Zen 2 architecture and on TSMC's 7 nm engraving, the latter can count on a graphic part based on 6 Vega calculation units clocked at a maximum of 1500 MHz.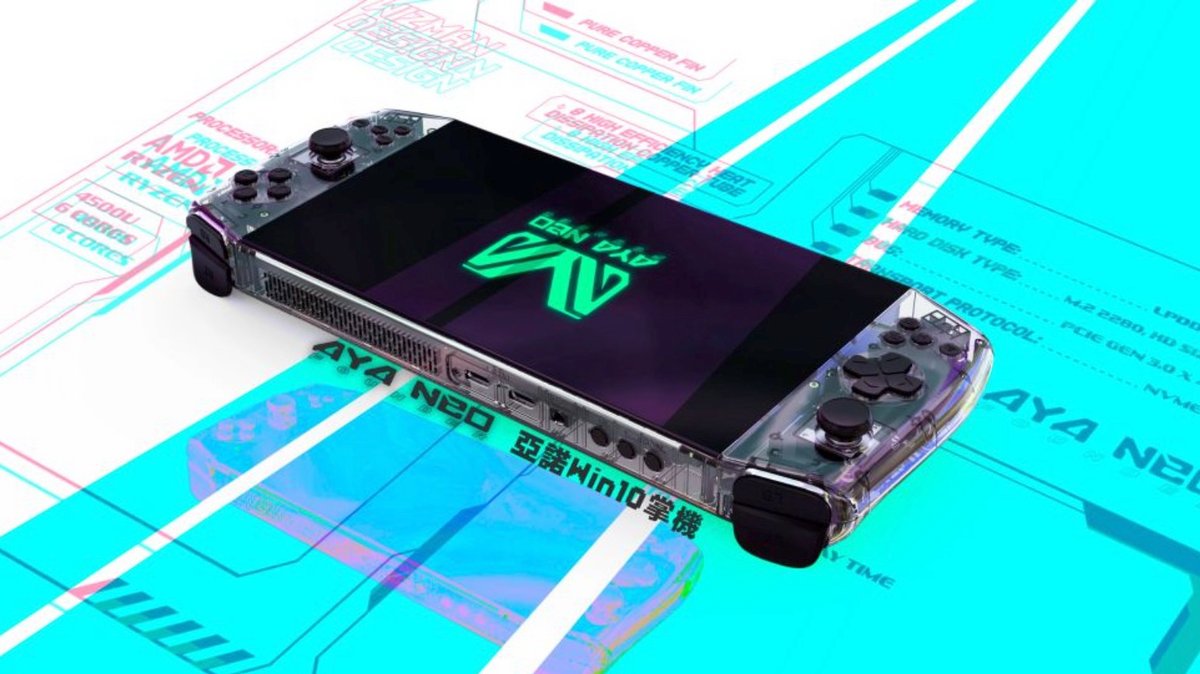 To cool this chip as well as possible, it is necessary here to be satisfied with a heat sink visibly taking advantage of two copper heat pipes 8 mm in diameter, and a copper heat sink too. The whole thing relies on a single miniature fan to remove the heat produced by AMD's APU.
This processor is also supported by 16 GB of LPDDR4X at 4266 MHz and can support 512 GB or 1 TB of storage in M.3 2280 format (via Western Digital SN550 SSDs according to Tom's Hardware). The screen is for its part limited to an HD definition (1280 by 800 pixels), which is sufficient to display a pixel density of 215 ppi on a diagonal of 7 inches. The Aya Neo finally runs on Windows 10 and uses more or less the same keys as an Xbox controller, in addition to a gravity sensor, a gyroscope and a few buttons specific to the device.
On the connectivity side, there is a 3.5 mm jack and a USB-C port. Support for Wi-Fi 6 and Bluetooth 5.0 is also in the game, as is the 65 W fast charging for the 47 Wh battery. The Aya Neo is offered in China for around $ 600 in the 512 GB version (or about 510 euros excluding taxes), against $ 680 (580 euros excluding tax) in the 1 TB version. For now, the Aya Device console is only available on Chinese soil and outside orders are refused. An Indiegogo campaign is nevertheless planned for future marketing in the West.​
Last edited: