E3 Spawns Backlash After Tweeting Insulting List Of Games Women Play
E3 retweets and then removes a gaming listicle playing heavily into damaging gender stereotypes about female gamers and games women "should" enjoy.
Within a span of hours
E3
tweeted and then deleted a link to an article titled "The Games We Play! 25 Online Games That Women Enjoy" from pop culture and lifestyle outlet
Parade
, spawning near-instant outcry from female gamers and people in the industry. The article played into damaging gender stereotypes by indicating that the most popular games that women play include card games, farming games, and pop culture games.
E3 did not take place this year, which turned a lot of game publishers toward releasing trailers and updates via their own independent streams. The viewership for the various streams and announcements was extremely high,
some surpassing the previous numbers
from publisher-specific streams at E3 2019. In this year's absence of the event, the E3 Twitter account has been devoted to tweeting and promoting video game releases and updates.
This afternoon,
E3
tweeted and deleted a link to a
Parade
article (which now links to a different article by the same author) titled "The Games We Play! 25 Online Games That Women Enjoy." To break it down, the
Parade
article proposes to feature 25 free online games that women play, with testimony by female players, game developers, etc. The list is confusing from the onset. The initial premise of free online games is immediately negated by the mention of
Animal Crossing: New Horizons
, which is most definitely not free to play and also requires a console. The first game on the list is Sudoku, while early all of the other games are lifestyle games, card games, or cooking games.
E3
's since tweeted an apology, issuing an apology for "
perpetuating a harmful stereotype
" and a promise to "
do better
."
The games listed in the article aren't at fault, nor are the people who do play and enjoy those games. There is a distinct tendency to shame women and girls
not only for the act of playing games
, but also for enjoying things that are perceived as "for women," which just creates a negative feedback loop. The enjoyment derived from the games in the article cannot be invalidated. What
is
troubling about the article is the way it plays into damaging, misogynistic stereotypes about "what women want" and fails to recognize the scope and breadth of female gamers and their interests. Women play games like
Stardew Valley
and
Sayonara Wild Hearts
, but they also play games like
Fornite
and
Warframe
(both of which are free to start playing). The real list of games women enjoy goes on and on, unchecked by preconceived, antiquated designations about things women "should" enjoy.
Not only is there a lack of recognition of the scope of games women play, but the article relies on heavily coded language to attempt to persuade women to play the games listed. Lines like, "
Who said coding is just for males
?" are threaded throughout the article. The entirety of the concept is poorly realized, especially given that, as the article's introduction notes, nearly half the gamers in the U.S. are female. That E3 retweeted it, on such a public platform, was not only tone-deaf but also potentially very alienating to the event's female followers, as well as the female game developers and creators who do so much for the industry. If E3 is truly sorry for perpetuating harmful stereotypes and wants to do better moving forward, it should maybe do a little research into a massive segment of the gaming population.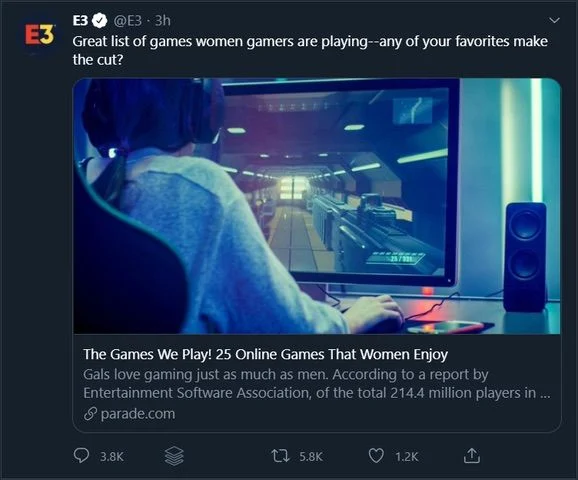 https://screenrant.com/e3-twitter-sexist-women-girl-gamer-games-parade/
Apparently women liking different games from men is sexist, does anyone know what the full list is? Parade took down the article, apparently sudoku was number 1