Pre-PS4/Xbox One
consoles it was
common
to get
ENTIRE trilogies in a 5 - 7 year console generation span.

Here are a few examples of game dev cycles of the prior gens
GTA 3 (2001) -> GTA Vice City (2002) - GTA San Andreas (2004) -> GTA IV (2008)
Splinter Cell (2002) -> Splinter Cell: Pandora Tomorrow 2004) -> Splinter Cell: Chaos Theory (2005)
Burnout 2 (2002) -> Burnout 3 (2004) -> Burnout Revenge (2005)
Need For Speed Underground (2003) -> Underground 2 (2004) -> Most Wanted (2005)
Mass Effect 1 - 3 (2007 - 2012)
Dead Space 1 - 3 (2008 - 2013)
Gears of War 1 - 3 (2006 - 2011)
Metroid Prime 1 - 3 (2002 - 2007)
Halo 1 to Halo 2 (2.5 years)
Halo 2 to Halo 3 (3 years)
Zelda Wind Waker to Zelda Twilight Princess (4 years with a bunch of GBA/DS games in between)
Devil May Cry 1 (2001) -> Devil May Cry 2 (2003) -> Devil May Cry 3 (2005)
Keep in mind the successors
to a lot of the following games
brought forth new mechanics
, that
led to the matured state of game design today
.
Here a few examples of modern game development cycle lengths.
GTA V Sequel (Approaching 10 years+)
Halo Infinite (6 years of development, and missing content Halo 1 - Reach had)
Red Dead 2 (8 years of development)
Horizon Forbidden West (6 years of development)
Cyberpunk 2077 (announced in May 2012, released in 2020)
New Elder of Scrolls (Approaching 12 years+)
New Fallout 5 (approaching 8 years+)
God of War (2018) to God of War Ragnarok (2022, with plenty of reuse)
Zelda BOTW to Zelda TOTK (6 years, with a lot of asset reuse)
The
picture
below is a
timeline of Rockstar Games release schedule
, this is just one example but it
represents the actual state of the modern development cycle length.
As
games
continue to
require more resources
this
length will continue to increase
, we're already seeing the
effects
.
As game development cycles increase
things get
more challenging in terms of meeting the expectations of something such as E3
, where people are expected to be "
wowed
" on an
annual basis
.
Sony knew this
, and was exactly why they
pulled out from E3 showings
.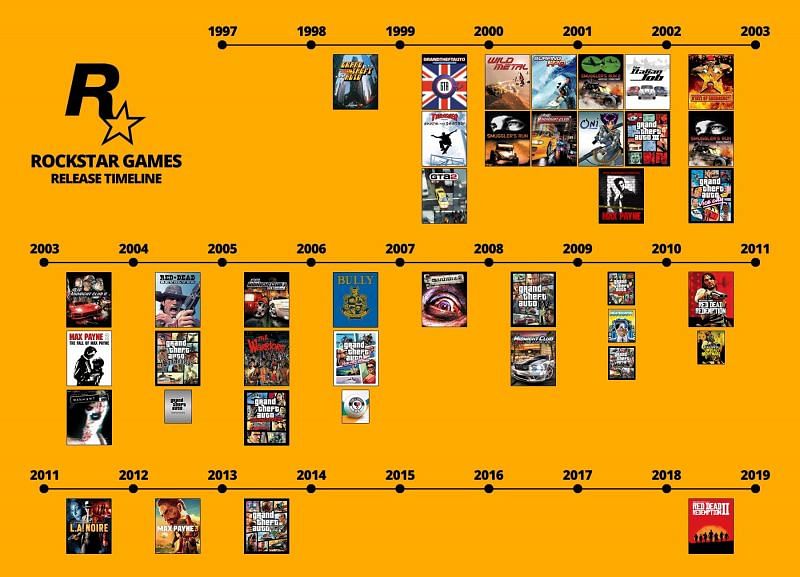 Final Verdict:
Yes
Last edited: