Jan 30, 2018
6,829
12,262
910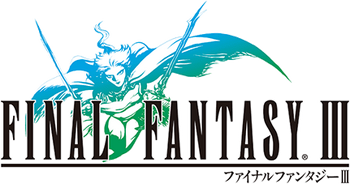 Released on April 27th, 1990 in Japan, Final Fantasy III was the third release of the hit RPG franchise, Final Fantasy. Developed and published by Squaresoft for the Famicom, it was later remade in 3D by Matrix Software and released worldwide for the Nintendo DS between 2006 and 2007. Over the years, this version was ported to iOS, Android, Playstation Portable, Windows, and more. Its story was simplistic, but engrossing for its time. Its gameplay offered a freedom of choice that few others could match and quality of life changes that many take for granted today.
In the original release, four Warriors of Light who begin as "Onion Knights" are gifted power by the Wind Crystal and are tasked with restoring balanced to the world by seeking out the other elemental crystals. These characters are completely blank slates with no personality or gender to define them in-game, though the manga serialization,
Yuukyuu no Kaze Densetsu: Final Fantasy III Yori,
provides the names of "Muuchi (ムウチ)", "Doug (ダグ)", "J. Bowie (J・ボウイ)", and "Melfi (メルフィ)". The last of which being the only female party member.
With the remake, the characters were fleshed out and provided official names (which have been adopted for all future media releases), personalities, and backstories (however minor they may be). Also introduced are a number of supporting characters that can help in battle and join the party. Luneth who starts off the adventure by finding the Wind Crystal after falling into a cave at the start of the game. Before he can help rebalance the world, he is tasked with finding the other Warriors of Light. He is joined by his best friend, Arc. Later on, they meet Refia, the daughter of a blacksmith from Kazus, and Ingus, a knight of Sasune. Together, these four do as they did in the original game.
A true evolution of the franchise, Final Fantasy III took what worked from its forefathers and introduces new mechanics that have become staples ever since. A return of the experience point system, missing in Final Fantasy II. It introduced the series to special battle commands such as the abilities Steal, Jump, and Summon. Various quality of life changes were introduced as well, such as the ability to auto-target. This particular feature was considered a boon by the majority of gamers at the time as it allowed your party to re-target to another enemy if they were to die before their turn arrived - something not found in the series to that point. However, the biggest change was its introduction of the Job System. Unlike in Final Fantasy I where you were given a list of six jobs that were unchangeable after the start for your party of 4 (though you could advance them to more powerful versions) and Final Fantasy II's complete lack of classes, you were given the choice between 23 unique jobs that you were able to find throughout the adventure. This offered over 14,000 different party configurations and offered replayability that few other games could beat at the time.
These jobs have since become a staple of the franchise, being reused ever since in both mainline and and spinoff titles. The jobs are listed below:
Onion Knight | Freelancer (Remake)
Red Mage |
Black Mage |
White Mage |
Monk |
Warrior
Ranger |
Knight |
Thief |
Scholar |
Bard
Evoker |
Dark Knight |
Black Belt |
Viking |
Dragoon
Geomancer |
Summoner |
Devout |
Magus |
Sage |
Ninja
​
Lauded as one of the best soundtracks of the NES era, many of Final Fantasy III's tracks have been reused and performed to this day. There were three major releases to take note of. The first was the
Original Sound Version
released in 1991 and re-released in '94 and '04. This particular released has been described as the game in which Uematsu's musical style "began to take a more definite form". There were 44 tracks that added up to 54 minutes and 24 seconds of audio.
The second major release was an arranged album entitled Final Fantasy III Yukyu no Kaze Densetsu. This release, once again performed by Nobuo Uematsu, contained a selection of vocal (sung by Dido, a duo composed of Michiaki Kato and Shizuru Ohtaka) and arranged musical tracks interspersed with English narration of its story. 7 tracks over 52 minutes and 32 seconds in length.
The third major release was the remake's soundtrack. This time Tsuyoshi Sekito and Keiji Kawamori rearranged the original tracks of the game. Two remixes were done as well, one by The Black Mages, a rock band formed by Sekito, Kawamori, and Uematsu, with the other by the synth operator for the soundtrack, Yasuhiro Yamanaka. This release came with a DVD containing the FMV opening, promotional videos, and interviews with the game's staff. The album featured 61 songs over 70 minutes and 56 seconds in length.
Original Famicom Version
Remakes
Sources:
Final Fantasy III is the third installment in the Final Fantasy series, developed and published by Squaresoft. It was released in April 1990 for the Family Computer exclusively in Japan. It was later remade in 3D by Matrix Software and released worldwide for the Nintendo DS, with this version... finalfantasy.fandom.com
https://www.amazon.com/Final-Fantasy-Ultimania-Archive-1/dp/1506706444
)